Building Construction | Project Prep | Videos | Post Video | Building Tips
Can You Still Build a Pole Barn in 2021?

Subscribe
Cori grew up on her family's small grain and livestock operation in Northwest Indiana. In 2018, she graduated Summa Cum Laude with a Bachelor's degree in Business Administration & Marketing from Marian University Indianapolis. Having shown beef cattle for 12 years at the county, state, and national levels, Cori chose to pursue a career in agriculture. Today, she serves as the Marketing Content Creator on the FBi team. In her free time, Cori enjoys spending time with family and friends, watching sports, listening to live music, and traveling.
"Do you have room in your construction schedule to build my pole barn?" This question is frequently asked by customers who want to put up a post-frame building by the end of the year.
It doesn't sound like it should be a problem, right? Not so fast. Like other industries, COVID-19 has impacted post-frame construction.
During the stay-at-home order, people had more time to focus on home improvement projects, such as building a pole barn. It was an opportune time to start designing a post-frame building.
Consequently, post-frame builders saw an influx of quote requests and sold building projects. But rising commodity prices, specifically lumber and steel, have made it increasingly difficult to build these pole barns in a timely manner.
Some post-frame builders (both big and small) have temporarily placed a hold on new construction projects.
So does that mean you can't build a pole barn in 2021? Not necessarily. This article details the factors affecting your construction schedule and how you can get a head start on your post-frame project.
Don't have time to read this blog in its entirety? Watch the video below for a recap.
The Effects of COVID-19 on Pole Barn Construction
1) A Shift in the Economy
Since March 2020, there have been trillions of dollars pumped into our economy and marketplace, creating a lot of movement in the construction industry.
It was deemed an "essential" business, and companies could move forward with building projects – post-frame and stick-built.
With most of the population staying and working from home, it only made sense that home improvement projects skyrocketed. Other popular examples include landscaping and renovations.
2) Lower Interest Rates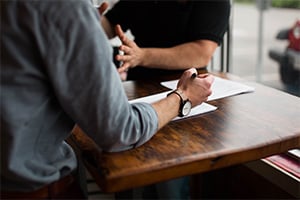 Unsurprisingly, global financial conditions have been adversely affected by COVID-19.
The Federal Open Market Committee lowered the federal fund rates to an all-time low of 0 to 0.25 percent to stimulate the economy.
Furthermore, the Committee will maintain this rate range until it's confident that the U.S. economy has weathered the aftermath of the coronavirus outbreak.
What does this mean for someone interested in building a pole barn? You can finance your post-frame building at a lower interest rate and keep it for the duration of your loan (unless stated otherwise).
We've noticed people taking advantage of this opportunity, which also explains the recent spike in construction projects.
3) Rising Commodity Prices
Next, lumber and steel prices have dramatically increased in 2021.
At the height of the global pandemic, major sawmills dialed back on or completely shut down the production of building materials.
Another industry facing severe pressure amidst COVID-19 is metal. U.S. steel prices dropped in response to key buyers suspending their operations. Consequently, the steel mills halted production and decreased their capacity utilization rates.
Meanwhile, the demand for lumber and steel continued to rise while the supply was limited, hence the higher prices. It's the law of supply and demand, a fundamental economic concept.
4) Delay of Building Features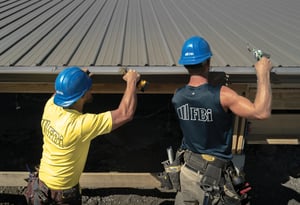 As you online shop, you've probably noticed that delivery dates are taking longer than usual. Amazon Prime's 2-day delivery isn't always, well, within two days. Convenient shipping times have spoiled us.
The same can be said about post-frame construction. To date, the following building features have longer lead times, which may affect the timely completion of your pole barn:
These delays are subject to change every week (some sooner or more prolonged than others). We recommend asking your Project Sales Consultant about lead times when discussing your post-frame project.
How Can FBi Buildings Build Pole Barns in 2021?
When you take all of these factors into account and how COVID-19 has impacted them, you can see why some post-frame builders have temporarily placed a hold on new construction projects.
At the same time, you want to build a new pole barn by the end of the year.
If you find yourself being turned away from a post-frame builder due to their unavailability, we recommend requesting a quote from FBi Buildings. We still have room in our construction schedule to build your pole barn in 2021. Here's how:
1) In-House Construction Crews
At FBi Buildings, our framing carpenters are directly employed by us. With subcontracted construction crews, you can run into job jumping issues, which causes scheduling problems.
Post-frame builders who invest in their field employees do so because direct accountability is the best way to ensure quality performance.
Furthermore, we have 26 construction crews scattered throughout Illinois, Indiana, Iowa, Michigan, Ohio, and Wisconsin. We have a higher crew power per geographical area than our competitors. This coverage allows us to build a higher volume of pole barns.
The crew size depends on the type and size of the post-frame building. Smaller residential buildings, such as garages and hobby shops, consists of 3 to 4 workers. In contrast, farm buildings or commercial businesses require 4 to 10 workers.
It's crucial to select a pole barn builder with the workforce and resources to mobilize them accordingly. This level of efficiency keeps your construction project on time and under budget.
A lack thereof results in more extensive backlogs than most post-frame builders are used to, which means they most likely won't build your pole barn in 2021.
For more helpful tips, we recommend reading our blog titled "7 Crew Questions to Ask a Quality Pole Barn Builder."
2) Purchasing Building Materials
Moreover, our Purchasing Department has been aggressive with buying building materials from the start of COVID-19.
As mentioned above, major sawmills dialed back on or completely shut down the production of lumber.
In light of these unforeseen circumstances, we reached out to multiple vendors to stay on top of our supply.
3 Ways to Get a Head Start on Your Post Frame Building Project
When customers call our office asking if we can build their pole barn in 2021, we follow up with the following questions:
With our construction schedule filling up, we highly recommend getting a head start on these tasks.
1) Land Acquisition & Site Preparation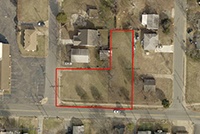 First, you'll need to purchase land to build your pole barn (if you don't already own a plot). The location can affect your construction project.
For instance, do you want to build within city limits or out in the country? Depending on the location, you may have to obtain building permits from the city hall rather than a county office. They also dictate which type of post-frame building (i.e., a barndominium) you can put up in that area.
Some cities require more paperwork and enforce more regulations (e.g., inspections and setbacks) than counties. We'll cover more permitting information in the following section.
Once you've acquired the land, you must identify the exact location of your pole barn. It would be best if you considered the following factors when picking a spot:
Site Preparation

: The work done to your land before post-frame construction. This step addresses complications (if any) upfront. You can hire an excavator or tackle it on your own.



Utilities

: Includes electric, gas, sewage, and water. Mapping them out prevents utility strikes that may cause harm to you or workers.



Site Access

: The flow of building materials, equipment, and people to your pole barn. Construction crews need ample space to do their job right and on time.



Excavation

: A level job site with menial obstacles (e.g., trees). The less excavation needed, the more money you'll save on site preparation and construction costs. If your job site is uneven or hilltop, you'll need to fill (add) or cut (remove) until the ground is flat.
Do you need help drafting a site preparation plan? Your Project Sales Consultant (PSC) will assist you.
For more helpful tips, we recommend downloading our FREE "Site Preparation: Unlock a Successful Building Project" e-book.
2) Obtain the Necessary Building Permits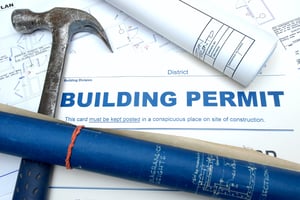 Before starting site preparation and post-frame construction, you need to obtain the necessary building permits. Unfortunately, there isn't a "one size fits all" permit. It boils down to the building use and – you guessed it – location.
Again, a building permit within city limits may have a different set of rules than the countryside. However, all pole barn permits have the following components in common:
Setback

: The minimum distance between a post frame building and the property line.



Easement

: The legal right for another owner to cross or have limited access to one's property.



Building Height & Lot Coverage Restrictions

: Limits how high you can build and what percentage of your lot can be covered by structures.
It's crucial that you understand these components and how they affect your construction project.
Be prepared to apply for multiple licenses. For example, you'll need different ones for putting in a driveaway, hooking up to utilities, and building during certain times of the year.
Furthermore, you should be ready to submit the following documents with your permit application:
Blueprint
Site plan
Plat survey
The legal description of the property
If approved, a fee for the building permits will be charged. You'll most likely pay with cash or a check as some government offices don't accept credit cards.
Once the necessary permits have been issued, post-frame construction can begin.
These papers must be visible on the job site and readily available should the building inspector pay a visit. He/she may analyze construction methods and building materials, verifying that everything is up to code.
Most local governments require inspections at various stages in the construction process, such as:
Footing and

foundation

Framing
Electrical and plumbing
Do you need help obtaining pole barn permits during COVID-19? We recommend working with a post-frame builder with proven experience in your area to minimize schedule delays and headaches.
3) Start Designing Your Pole Barn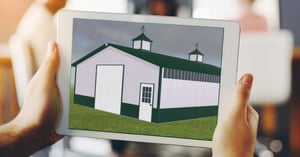 Now that you've pulled the trigger, you're tasked with designing your post-frame building.
Determining your needs and how those will affect your pole barn budget can be exhausting. Just when you think you have it all figured out, you start to second guess yourself. Sometimes you need a push in the right direction.
Did you know that we have FREE design software? It takes the guesswork out of choosing the right building size and location. You can save, print, or email your floor plan to family and friends.
If you're reading this article, there's a good chance that you're aware of the FBi Blog. Every week, our writers publish articles that cover a variety of topics, including building design. Top-performing blogs include:
Do you still need design inspiration? We strongly urge you to check out our pole barn gallery. Similar to our guidebooks, this online collection is FREE to use. No strings attached.
If you see a building design that catches your eye but you'd like to make some tweaks, please let us know. We're a custom post-frame builder. No cookie-cutter floor plans here. Our structures are built around your needs.
Will You Build a Pole Barn in 2021?
We don't want to rush you into a permanent investment, but the clock is ticking on building a pole barn by the end of the year.
Are you ready for a quote? Submit your building design to us, and a member of our sales team will give you a call to begin the estimating process.
---
Do you have more questions about pole barns that aren't covered in this article? If you need help designing and planning, please contact FBi Buildings at 800.552.2981 or click here to email us. If you're ready for a price, click here to request a quote, and a member of our Customer Engagement Team will help you determine the next steps.