Building Construction | Customer Stories | Posts | Videos | Building Features | Comparisons | Commercial Buildings | Energy Efficiency | Building Design
Post Frame Buildings vs Steel Frame Buildings: Which One is Better?

Subscribe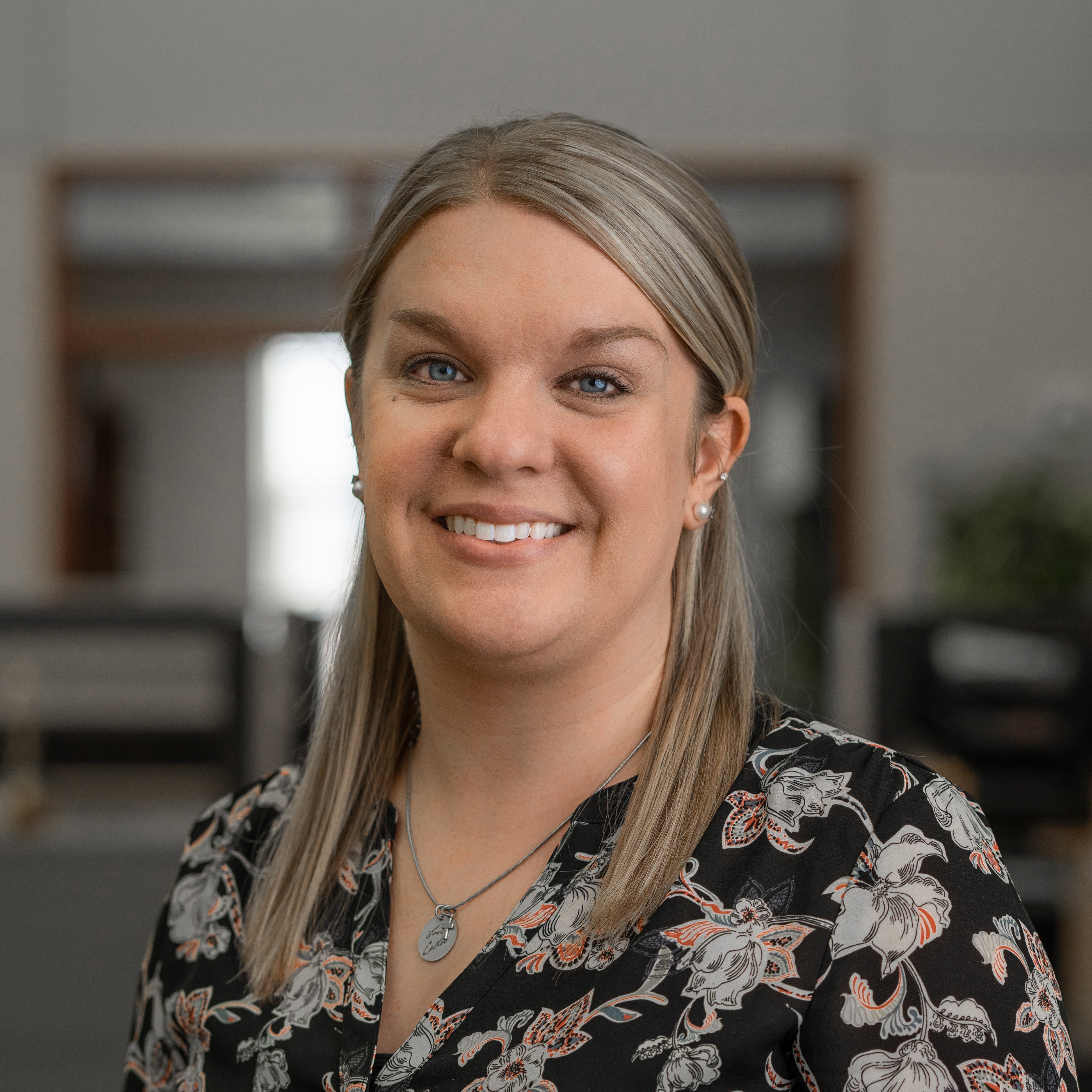 Angie graduated from Indiana State University with a Bachelor of Science in Interior Design. Prior to joining the FBi team, Angie was a kitchen and bath sales consultant in Lafayette, IN. In 2012, she started with FBi as the Inside Sales/Marketing Assistant. Today she holds the role of Sr. Marketing and Inside Sales Manager. Angie grew up in a farming community and has always enjoyed helping her family on the farm. A past 10-year 4-H Member, her passion for livestock pursued her to take a career in the agriculture field. She and her husband live in Northwest Indiana with their two daughters. In her free time, she enjoys outdoor leisure activities and spending time with friends and family.
As an entrepreneur, have you ever found yourself in the following scenario? Business is booming (pro), but the current space no longer fulfills your needs (con).
It's an exciting time, but now you're tasked with designing a new building. After much consideration, you've decided to expand your commercial operation.
You keep going back and forth between a post frame and a steel frame building in your mind. Most likely, you've convinced yourself that steel is stronger than wood. That metal will last longer than lumber. That steel beams will go up faster than wooden columns, girts, and purlins.
But, do you know if these statements are 100 percent true? Have you done actual research, or are these assumptions that you've heard over time? You know what they say about assuming…
As a pole barn builder, it's our job to provide the facts on post frame versus steel construction, and we're going to do just that.
I
s Pole Barn Construction Better than Steel Frame Construction?
For metal buildings less than 100' wide, a post frame construction is generally the better option. Why? Because it's much easier and less expensive to add specific features (e.g., high-pitched roofs, overhangs, and dormers).
Steel frame construction is a good fit for extremely wide interiors (100' and up). Popular examples of steel frame buildings include large warehouses, manufacturing facilities, multi-story towers, and other commercial developments.
However, the implementation of clear-span trusses in post frame construction allows for longer buildings (100' and up).
In this article, we'll compare the following areas of post frame and steel frame construction:
Ultimately, we want consumers to choose the type of commercial building that works best for them and their needs.
Check out this customer testimonial featuring Stoller International, an implement dealer in northern Illinois.
Their main focus was building a large shop area to service farm equipment. As they researched their building options, the Stoller leadership team realized the significant advantages of post frame construction as opposed to steel frame.
Post Frame Construction vs Steel Frame Construction: 4 Key Differences
1) Design Flexibility
First, design flexibility refers to a building's ability to evolve as the owner's needs change. An ideal building design allows for efficient use despite operational changes. If not, the structure will become obsolete.
Post Frame Buildings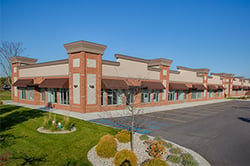 Post frame buildings are preferred over steel frame for their open, adaptable, and multi-use floor plans that offer the ultimate design freedom.
You can place doors and windows virtually anywhere. For curb appeal, you can choose from various exterior finishes such as brick, steel, stone, and vinyl siding.
Roofs (any pitch) can be covered with asphalt, metal, slate, tile, or wood. Think about it...have you ever seen a steel frame building with a high-pitched roof? Most likely, the answer is going to be "no."
Furthermore, post frame structures use engineered, clear-span trusses and load-bearing columns along the building perimeter. Consequently, the roof doesn't require additional support from stud walls. This capability is perfect for offices, showrooms, and open-concept workspaces.
Overall, the design options that post frame construction offers can make your building project more attractive and functional.
Steel Frame Buildings
Steel frame construction is a good fit for businesses interested in extremely wide interiors (100' and up). Popular examples of steel frame buildings include industrial facilities, multi-story towers, and other commercial developments.
The flexibility of steel makes it possible for the metal to be used in numerous areas throughout the design process.
However, different types of steel (e.g., alloy, carbon, stainless, and tool) are produced to meet various demands. Your architect or design/engineering team must be familiar with your building needs.
Again, steel can provide long spans and unique curves to the building design. You'll notice this facade the next time you attend a stadium event or catch a flight at the airport.
2) Energy Efficiency
Next, an energy-efficient design is one of the best opportunities for lowering utility costs. By the same token, it's your best hedge against increasing energy prices.
A structure built to minimize energy consumption can help you realize tangible savings. Not to mention, it's good for the environment!
Post Frame Buildings
Compared to other construction methods (e.g., cinder block, stud wall, or steel frame), post frame buildings are easier to install insulation.
They're well-known for having wide spaces in between the posts (average length is 8'). Continuous blankets of fiberglass batts can be fitted, resulting in less thermal leakage.
Moreover, blown insulation (when installed correctly) provides an airtight finish between the ceiling joists and bottom chords of the trusses.
A contractor with specialized equipment must apply the loose-fill. It's easy to insert (no cutting or fitting involved), can adapt to any R-value, and conform to odd-shaped spaces.
Energy prices are on the rise, and you don't want to break the bank to keep your building at a comfortable climate. Therefore, post frame construction is the best option for reducing heating and cooling costs.
Steel Frame Buildings
Despite its flexible design, steel frame buildings aren't energy-efficient.
Insulation has to be sandwiched between the outside steel and framing members, which causes crimping in "waves." Compressed insulation has very little R-value.
Plus, metal conducts heat 310x faster than wood; thus, reducing the insulating properties of wall insulation by 60 percent.
How? The steel columns act as powerful thermal bridges and transfer valuable heat to the outside during the winter.
To combat energy loss, you can use extra insulation or materials with a higher R-value rating. Spacing the studs farther apart creates fewer thermal bridges.
But if you're looking for an energy-efficient building, then steel frame construction isn't the best method for you.
3) Finishing Options
Adding curb appeal and finishing touches to your commercial business is essential. So, how do these two construction types fare?
Post Frame Buildings
We know...it's hard to imagine pole barns looking as high-end as steel frame ones. Don't believe us? See for yourself with Watseka Ford and Hunter's Moon Harley Davidson.
As mentioned above, there's a wide variety of finishing options for your post frame structure. Popular examples include:
Exterior Finishes:
Brick

Steel

Stone

Wood

Vinyl
Interior Finishes:
OSB
Plywood
Steel Liner
Combination (Plywood & Steel)
Most customers use a combination of finishes depending on their needs and wants. If you're looking for design inspiration, we recommend visiting our pole barn gallery.
Steel Frame Buildings
Steel frame buildings have multiple finishing options as well. Professional finishes like brick, stucco, and versetta stone can be applied to your steel structure.
If you'd like to change the color of your steel building, you can re-paint the panels. However, some manufacturers only guarantee their coatings, so you'll need to read their warranties before moving forward.
Please keep in mind that steel corrodes over time, including pole barn construction. It's inevitable. Of course, there are ways to prevent moisture build-up and rust. On the plus side, steel frame buildings aren't subject to insect damage like post frame structures.
4) Cost Savings
Finally, who doesn't like to save money here and there on their construction project? Below, we detail how much a post frame and steel frame building will cost you.
Post Frame Buildings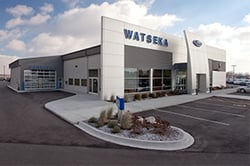 A standard pole barn shell can cost anywhere from $15 to $45 per square foot. Now, you're probably asking yourself, "Why is there such a big difference in price per square foot?" Here's why…
The following factors will determine if your pole barn is leaning towards the low/high side of the cost spectrum:
Steel Frame Buildings
Like lumber, steel is a global commodity, and its value is always subject to change. This lack of stability means that steel prices can fluctuate quickly. Any construction type that uses metal has to deal with these ups and downs.
Steel frame and post frame construction share another similarity: the price of your building depends on the features you choose.
Most steel frame companies will give you a ballpark range of $16-$20 per square foot (starting out).
Depending on the building size, time of year, or how long it'll take to build, prices can go up anywhere to $40-$50 per square foot.
Unlike pole barn construction, steel buildings require concrete work to be poured before framing. Concrete flooring can be costly (and not included in the original estimate). The same goes for a wood frame building.
All in all, no black and white number works for everyone, whether you're building with post frame or steel frame construction.
Which Type of Building Will You Choose?
As much as we'd want you to choose a post frame building, you're the one who knows what's best for your commercial business.
It's our job to provide you with different aspects of the construction process to consider. From there, you can determine the best fit for you and your operation.
The sky's the limit with post frame construction, and we'll be here to help you in whatever way we can.
For more information on designing and developing a new commercial building, you can download our "Business Facility Guidebook: 7 Tips to Add Value to Your Building."
Are you interested in seeing custom floor plans? Check out our large-scale commercial building portfolio. We included material specifications and involved parties, so you know what to expect from your building project.
Are you ready for a quote? Submit your building design, and a member of our sales team will give you a call to begin the estimating process.
---
Do you have more questions about post frame construction that are not covered in this article? If you need help designing and planning, please contact FBi Buildings at 800.552.2981 or click here to email us. If you're ready to get a price, click here to request a quote and a member of our Customer Engagement Team will help you determine the next steps of your project.