Subscribe
Pole Barn Warranty: One That Can't Be Beat
It's not uncommon for a pole barn or post frame builder to have different warranties, but would you know where to look for a warranty before you spoke with a salesman over the phone?
If I had to guess, you would probably assume that the information would lie under the 'About Us' section of a builder's website, but what if you have a hard time finding that?
Most customers would find themselves searching for "pole barn warranties" through Google. It's very possible that you've made a similar search, probably while reading this blog. Did you find the information that you were looking for?
Warranties shouldn't be a secret, including our own pole barn warranty. In this blog, we will dive deep into our own warranty - what's covered, what's not, and who's eligible. But, before we begin...do you know the purpose of a warranty?
What is a pole barn warranty?
A pole barn warranty is simply a promise to stand behind a product or service. All warranties are limited, and there is no standard warranty in the post frame industry. A warranty is usually a written document that provides guarantees and limitations on what the builder will repair or replace if something is defective.
What's Covered Under Our Pole Barn Warranty?
1. Columns: Lifetime
Our columns are rated for a lifetime warranty (except for a business which is limited to 50 years) to the purchaser of the structure. We will repair or replace without charge the pressure treated section (3-ply 2x6) of any laminated column which fails due to decay or insect damage. If it's 10 years after the completion date, we will supply replacement material for any 4x6 solid post which fails from decay or insect damage. A good example of 4x6 post replacement would be for interior deck systems and exterior porches.
Please note: if you did not purchase the structure, then we cannot transfer the warranty to you.
2. Roof Structure: 20 Years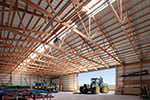 After the completion date, we will repair or replace without charge the original building roof structure if the damage is due to snow loads that are within the design parameters of the building. We will honor the structure warranty for 20 years. The building would not be covered if the snow loads were greater than what it was designed for.
3. Red Rust: 15 Years
For 15 years after the completion date, we will repaint or replace any painted galvalume roof or wall panels that exhibit discoloration due to red rust under normal conditions clearly visible in casual observation.
Please note: If you have red rust at the cut edges of steel it will not be covered under this warranty.
4. Paint: 40 Years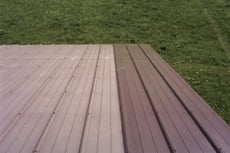 After the completion date (for roof and wall panels) we will repair or replace any panel where the paint separated from the panel due to cracking, peeling, or chipping. We will honor this for 40 years.
We will also repair or repaint any panel that experiences chalking or color change in excess for the following numerical units:
Chalk: Not in excess of 8 Units. ASTM D-4214-89. Method D659
Color Change: Not more than 5 ∆E Hunter Units. ASTM D-2244-93.
Panels that experience chalking or color change will be honored for 20 years.
5. Gloss Loss: 5 Years
For 5 years from the date of installation when the components are used in a sidewall configuration, there will be no measurable loss in gloss per ASTM D 523.
Fasteners with Red Rust: Lifetime
For the lifetime of the purchaser of the structure, we will repair or replace any exterior screw fastener that shows visible stains or fails structurally due to red rust or white rust corrosion.
Please note: if you did not purchase the structure, then we cannot transfer the warranty to you.
6. Roof Leaks: 5 Years
For 5 years after the completion date, we will repair without charge any roof leak due to defects in material or workmanship.
7. Sliding Doors: Lifetime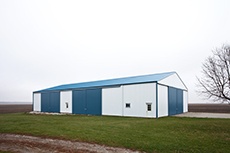 For the lifetime of the purchaser of the structure, we will supply replacement parts for any horizontal sliding door part that fails under normal use.
Please note: if you did not purchase the structure, then we cannot transfer the warranty to you. If your sliding door fails due to being backed into, then we cannot honor the warranty free of charge.
Materials and Workmanship: 1 Year
For 1 year after completion, we will repair or replace any building part defective due to material or workmanship.
We will notify you before your year is up. It's important that you look over your building prior to your year ending.


What's Not Covered by Our Warranty
If you think you have a warranty issue that needs to be addressed, it's vital that you read what's not covered. It's not uncommon for pole barn builders to have a section after their warranty that lists any items not covered. The following items are ours:
Any item not furnished and installed by the seller.
Buildings not erected by the seller.
The building structure when snow load exceeds historical norms as stated in American National Standard Institute A 53.1-1989 Section 7.2, or when the purchaser does not notify the seller of snow load problems within 24 hours. The seller suggests purchaser maintain collapse insurance to cover excessive loads, clean-up and damage to contents of the building.
Red rust at cut edges of the steel.
Red rust which occurs anywhere else on the panel less than ¾" in any dimension.
Steel exposed to corrosive atmospheric conditions. This exclusion includes, but is not limited to, contamination from chemicals, cellulose insulation, and animal confinement usage.
Roof leaks where the roof is connected to an adjoining building.
Doors where all doors on the building have not been closed and secured with all latches provided by the seller.
Sliding doors damaged due to excessive or abnormal wind loads.
Sliding door does not include overhead, bifold, or hydraulic type doors.
StepSaver sliding door latch has a 1-year warranty on parts and labor.
Exclusions of Warranties
These warranties are made to the original purchaser only and are in effect for the periods stated. They may not be transferred or assigned. Lifetime is for the natural life of the person signing the purchase agreement. If the owner is a business, the lifetime is then limited to 50 years.
These warranties are limited to the stated terms only, and there are no other warranties whether written or oral, expressed or implied, including, but not limited to, any implied warranty or merchantability or fitness for a particular purpose.
Exclusive Remedy
The decision whether to repair, replace, rebuild or repaint, as the case may be, will be made by the seller. The seller's liability is limited to the cost of such repair, replacement, rebuilding, or repainting, and shall not exceed the original purchase price of the building.
The seller will not be liable for damages for injury to persons or property or incidental and consequential damages for loss of use, revenues or profit, not for damage to interior walls, ceilings, partitions, equipment or contents, the cost of site preparation or clean-up.
These warranties do not cover any component which fails because of misuse, neglect, accident, or alterations which affect the building reliability, or corrosive materials other than normal acid rain coming in contact with the building.
The terms and conditions in this warranty constitute the buyer's sole remedy and the seller's sole obligation.
Now that you have a good understanding of our pole barn warranty, it's also important to keep this information in mind when you're looking at our competitors. If you have a warranty issue that needs addressed, does your builder of choice have a service crew that focuses on repairs? If not, you could potentially wait longer to get taken care of.
We understand that purchasing a pole barn is a long term investment, and we also want to make sure that you get the building you're looking for. Take the next step and request our free Structural Integrity Guidebook. This will give you insight into why we use the materials that we do, compare and contrast like materials, and help you understand how having a structurally sound building will save you money in the long run.
Disclaimer: The original purchaser of an FBi building erected after January 1, 2015, is eligible for the benefits of this warranty. Warranty is validated only for the purchaser and job number listed on your warranty with the signature of FBi Buildings representative.
---
Have more questions about post frame warranties not covered in this article? Please contact FBi Buildings at 1.800.552.2981 or click here to email us. If you are ready to get a price, click here to request a quote and a member of our sales team will call you!