Subscribe
5 Common Spring Pole Barn Repairs
Posts | Structural Integrity | Repairs & Renovations
At last, the long-anticipated moment we have all been waiting for has arrived: Spring.
After endless amounts of snow and cold weather, the last traces of winter have thawed and the first signs of spring have arrived.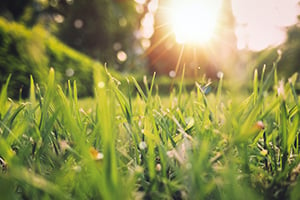 As we pack up our winter coats and snow boots, we begin to envision all the things we need to accomplish now that the weather is warm and fair.
Perhaps your spring to-do list might look something like this:
Prep the gardens for new plants or returning blooms
Tune the lawnmower for months of endless grass cutting
Power-wash the siding and clean the windows
Spring clean and declutter the garage and pole barn
Start any DIY projects you dreamed up during winter
What might not be on your to-do list are pole barn repairs needed to fix the damage caused by snow and ice over the last few months.
We didn't want to go there, but sometimes pole barn damage is inevitable and it can't be avoided.
While it's not a fun topic to discuss, it is a topic we're well versed on so we can bring you the ease of mind and the confidence needed to get those post frame repairs taken care of right away.
Let's take a look at the 5 most common pole barn repairs and what you can do to get the damage fixed before summer.
What Happens If I Don't Repair My Pole Barn Damage?
It might seem appealing to avoid feeling stress or spending money getting your post frame building repaired, but that's not something we recommend.
You might imagine you're saving money by "letting it be", but in reality, the damage could become worse over time leaving you with a pole barn that's unfit to be in or around.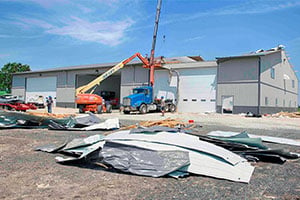 What might look like one broken truss could eventually lead to your metal roof collapsing.
Or, what might look like a measly broken gutter could lead to water damage and structural failure over time.
Structural integrity is the most crucial component of any post frame building, and if this becomes jeopardized, so does your pole barn.
It will cost you less money to fix the smaller damage now than it will to fix the extensive damage that could happen if left neglected.
If you want to spend this spring and upcoming summer months enjoying your hobby shop or garage as much as possible, we highly recommend contacting your local post frame builder to see how they can help.
Most post frame companies have a knowledgeable repair crew to send out to your property to get the problem fixed right away.
Knowing you have a trustworthy crew out to take care of your post frame building can help alleviate any heavy-lifting and headaches on your end.
What are the 5 Most Common Spring Pole Barn Repairs?
Now that we've stressed the importance of structural integrity and tackling those pole barn repairs right away, let's take a look at which repairs are most common so you know what to look for in your post frame building.
1) Sagging or Cracked Trusses
This damage is a major factor in the overall structural integrity of your post frame building.
As we mentioned earlier, any damage done to the trusses can cause roof failure which can potentially cause total building failure.
Sagging or cracked trusses are a cause of the improper calculation of snow load or an uncommon amount of snowfall in an area that doesn't see much accumulation.
When trusses begin to sag or crack, there is a chance this could lead to damage of your roof or the steel panels over time. There is also an increased risk of a leaky roof as strained steel and screws could potentially cause penetrations where water can seep through and cause further damage.
In the long run, these issues can end up costing you more money in repairs than it would have to fix the damaged trusses up front.
It's important to find a post frame company that has a team of in-house engineers that focuses on important details like this. They can ensure the structural integrity of your pole barn will not be jeopardized so that damages like this can be avoided.
If you notice any damage to your trusses, it's crucial to have repairs done right away so that no further damage will happen.
2) Punctured Steel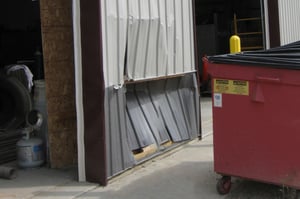 When pole barn steel becomes punctured, this can leave room for water damage, rust, or inhabitants making a home inside your post frame building without your consent.
Perhaps you had an unfortunate incident with a snowplow running into the side of your building, or maybe the tree overhead lost large branches due to accumulating ice.
However the steel got punctured, it's important to get it repaired right away to prevent any further damage from becoming apparent.
The good news is only the affected steel panels will need to be repaired. This will save you time and money by not having to completely re-skin your pole barn because of one affected area.
This repair can easily be done in one afternoon, so you won't need to lose an entire day having to call a post frame repair crew out.
3) Broken or Damaged Gutters
Gutters can become damaged when the weight of snow becomes too much to handle.
Or, when the snow melts and turns to ice, your gutters can break and leave you with a mess.
If you don't have snow guards on your pole barn, the snow and ice will slide off your roof as it's melting and can potentially take off the gutter completely or loosen it up, resulting in an improper flow of water.
If a gutter cannot properly flow water to its designated downspout, water will go wherever it needs to which can leave you with water damage to your pole barn.
Water damage can then leave you with rotten trusses or columns which could potentially fail once the rot has taken over.
In turn, this can jeopardize the structural integrity of your pole barn because the rot could lead to building failure.
We know that April showers bring May flowers, so it's essential to get those gutters fixed before rainy April arrives.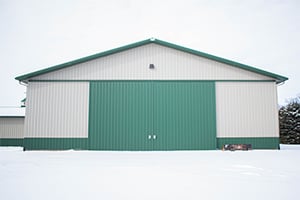 4) Sliding Door or Track Damage
As the weather turns icy cold, sliding doors tend to get stuck or become frozen shut since the door tracks are on the ground making it easy for snow and ice to build up.
Since sliding doors don't see much use in the winter months, debris such as rocks or sticks can collect around the door track making it difficult to open which means you'd need to use force to get them open.
By trying to force the doors open, they can either become damaged or come off the track making it difficult or impossible to properly open and close the doors.
If you can't open the doors, you can't move vehicles or equipment in and out, so it's important to call your post frame repair crew as soon as you can.
The best-case scenario is that your pole barn repair crew can repair the doors or get them back on track for a relatively low cost.
The other scenario is that you'll need a full sliding door replacement which could be slightly more costly than you imagined.
Again, it's crucial to repair pole barn damage as soon as you see it to prevent any further damage from happening and more money from being spent.
5) Walk Door or Overhead Door Seals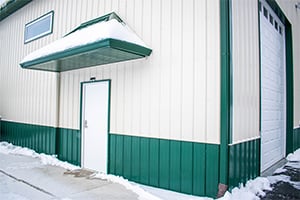 Overhead doors and walk doors tend to get stuck too when the weather turns brutally cold.
If you have a difficult time opening your walk door or your overhead door, there is a good chance your seals suffered some damage from the drop in temperatures.
While this may not seem like a huge concern to have, damaged seals could leave you with heating and cooling issues in your pole barn.
Cold air will seep through during the winter months which means your heating bill could easily skyrocket trying to keep your pole barn heated.
Hot air will seep through during the summer months which means you could see condensation issues as the air temperature drops at night.
Condensation buildup can lead to even more damage, so, you guessed it, it's best to repair those seals right away.
Are You Ready To Repair Your Spring Pole Barn Damage?
We can't stress enough how crucial it is to get those pole barn damages repaired as soon as possible.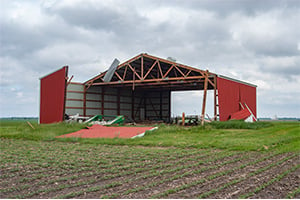 While it's not the most fun task to accomplish on your spring to-do list, it is one of the first things that should be done if you want to spend ample time in your post frame building during the upcoming warmer months.
Whether you're looking to replace a gutter or replace a truss, just give your local post frame repair specialists a call so they can take care of you.
These repair specialists will be able to answer any questions you might have and they can walk you through the process so you know what to expect.
If you need some resources, check out our online repair gallery to see the before and after pictures of our pole barns that endured some damage. You might just find one that relates to your current predicament.
Rest easy knowing that post frame damages are not uncommon and can be repaired when you're ready.
Just remember to always build and repair with confidence.
---
Do you have more questions about common pole barn repairs that are not covered in this article? If you need help designing and planning, please contact FBi Buildings at 800.552.2981 or click here to email us. If you're ready to get a price, click here to request a quote, and a member of our Customer Engagement Team will help you determine the next steps of your project.