Building Maintenance | Posts | Building Features | Structural Integrity | Repairs & Renovations
Is It Time to Replace the Sliding Doors on Your Pole Barn?

Subscribe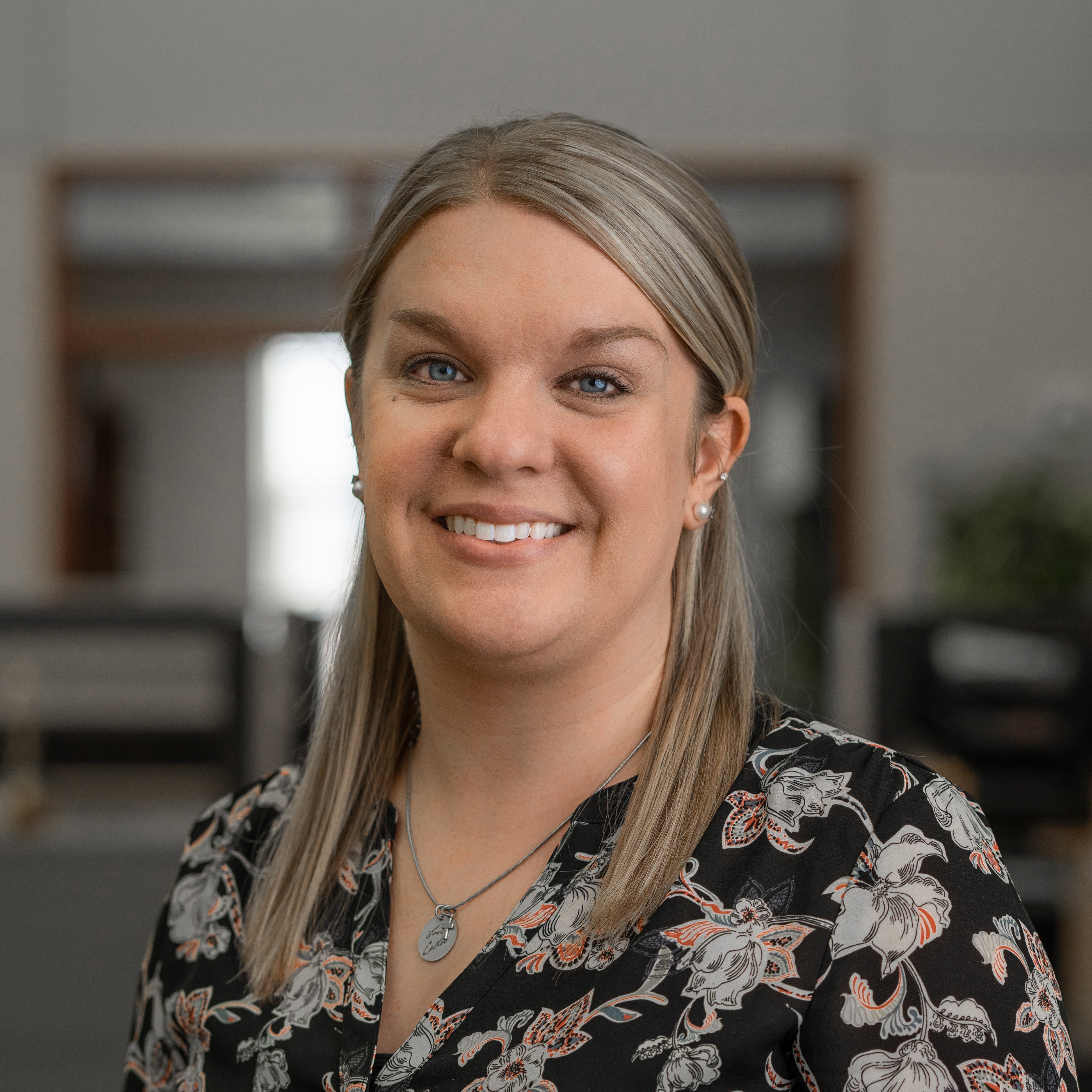 Angie graduated from Indiana State University with a Bachelor of Science in Interior Design. Prior to joining the FBi team, Angie was a kitchen and bath sales consultant in Lafayette, IN. In 2012, she started with FBi as the Inside Sales/Marketing Assistant. Today she holds the role of Sr. Marketing and Inside Sales Manager. Angie grew up in a farming community and has always enjoyed helping her family on the farm. A past 10-year 4-H Member, her passion for livestock pursued her to take a career in the agriculture field. She and her husband live in Northwest Indiana with their two daughters. In her free time, she enjoys outdoor leisure activities and spending time with friends and family.
Proper maintenance is a crucial part of extending any product's useful life.
We change the oil and rotate the tires on our vehicles. We install software updates on our electronics. We hire landscapers to increase the curb appeal around our residential dwelling.
While no pole barn (just like vehicles, electronics, and landscaping) lasts forever, you can span its lifetime with regular building maintenance.
One concern for older post-frame buildings, aside from rotten columns, is the functionality of the sliding doors.
Are they hard to open? Have they been deflected from high winds? Is metal-on-metal friction causing them to drag?
If you answered "yes," then there's a good chance that it's time to replace your pole barn sliding doors.
How Do Sliding Doors Affect Pole Barn Structural Integrity?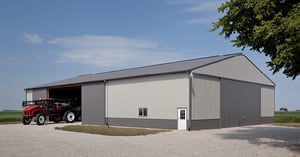 A sliding door system is only as strong as the weakest link; therefore, you need to look for one that's engineered to perform well.
The size and placement of door openings play a significant role in pole barn structural integrity. The frameout must be rigid enough to keep critical sliding door components aligned. A slight deflection in the header can hinder performance.
The following factors also affect the longevity of your post-frame building (and sliding doors):
A

building design

that considers if the doors are open or closed
The type of

pole barn flooring

installed
The footings and

truss-to-column connections
Editor's Note: Your post-frame builder must be familiar with frameout tolerances and forces to ensure a functional door system for years to come. Avoid frameout approaches that aren't approved by a professional engineer.
What Are the Advantages of the EasyMotion Sliding Door?
If you're ready to replace the sliding doors on your pole barn, you may want to consider FBi Buildings.
Their sliding doors have been designed from top to bottom with ease of use, strength, and aesthetics in mind. This high-quality, engineer-approved door system is known as EasyMotion. It was made to operate smoothly in adverse, real-world conditions.
1) Posi-Guide Track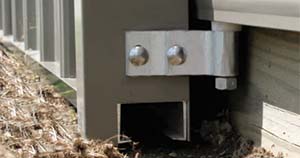 Weather and wildlife cause usability issues for sliding doors with a lower track. Accumulation of gravel, ice, leaves, and snow can make it difficult or impossible to operate. The Posi-Guide Track was designed to eliminate these problems.
A unique low-friction polymer roller is protected behind and underneath the track. This system keeps the sliding doors snug to the post-frame building as it operates, allowing the protected polymer roller to glide freely behind the track.
It's self-cleaning, and the rollers never need oiled, which allows the sliding door to operate smoothly year after year.
Moreover, the Posi-Guide Track is made of powder-coated aluminum to match your pole barn color and will not rust. Whereas friction from an unpainted metal track rubbing against the door frame causes dragging.
2) StepSaver Latch System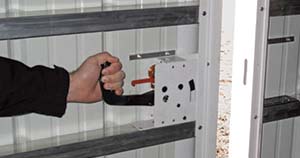 FBi Buildings introduced the StepSaver Latch system in 2010. This patented sliding door latch is the first of its kind in the post-frame industry.
This exclusive feature lets you open and unlocks your sliding doors inside or outside the pole barn. Cam latches at door jambs and snugger chains in the center are not needed. Instead, turn the key and grab the handle. It's that easy!
3) Increased Sliding Door Strength
Next, the strength of a sliding door (or any type for that matter) is primarily determined by the frame.
The EasyMotion frame consists of aircraft-grade aluminum that interlocks from top-to-bottom when closed. This system provides a strong connection between the split sliding doors to withstand high winds and minimize deflection.
Other sliding doors on the market don't interlock, which means they can move independently of each other in cases of severe weather, causing excessive deflection.
4) Integrated to Fit Your Operation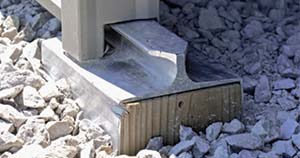 No matter what door size you choose, FBi Buildings offers (3) integrated center door guide options that will work well with your operation, whether it be agricultural, residential, or equine.
A wood center door stub

(pictured)

is the most cost-effective option if your approach and building pad will be gravel. It's also used when considering a future

concrete floor

.


A concrete center door stub provides more stability and is ideal when a concrete floor

is not

in the plans. They're made out of steel (as opposed to aluminum) and are less likely to be damaged by farm equipment.


A concrete apron approach is the most stable against strong winds when closed and during use. The T-guides are positioned close to the angle iron step,

minimizing

bird nesting and rodent entry when the sliding doors are closed.
Overall, EasyMotion sliding doors are designed to operate effortlessly when newly installed and many years down the road. Given normal usage, routine adjustments are not necessary to keep your door running smoothly.
However, in the event of a collision, your sliding door will most likely need to be adjusted. Watch the video below to fix your sliding door in five easy steps.
Are You Ready to Replace Your Pole Barn Sliding Doors?
A popular renovation project is replacing old, heavy, hard-to-move doors with new, smooth-sliding, aluminum-framed doors.
FBi's Repair & Renovation Team will get your door back on track (no pun intended). These specially-trained construction crews work exclusively on building repairs and renovation projects.
Their in-house experts have the knowledge, experience, building materials, and equipment necessary to:
Repair your pole barn
Enhance its visual appeal
Extend its useful life
Reconfigure the structure for a new purpose
Best of all, it doesn't matter who built the original structure.
---
Do you have more questions that are not covered in this article? If you need help designing and planning, please contact FBi Buildings at 800.552.2981 or click here to email us. If you are ready to get a price, click here to request a quote, and a member of our customer engagement team will help you determine the next steps of your project.