Subscribe
Is it Time to Replace the Sliding Doors on Your Post Frame Building?
Are your sliding doors getting harder to open? Are they starting to deflect or warp due to extreme weather? Is there too much friction causing the door to drag? If you answered yes to any of these questions, there are several things you might want to consider before investing in new doors.
A door system is only as strong as the weakest link; therefore, look for a door system that is engineered to perform well in your building and perform as expected. The width, height and placement of the door opening are also important factors in your building's overall structural integrity.
3 Key elements that impact a doors performance include:
Sliding door track & guides (upper and lower)
Door size & components
Materials used
FBi Buildings' aluminum-frame sliding doors have led the industry for years. We redesigned our doors from top to bottom, improving ease of use, strength and aesthetics. We called this high quality engineered door EasyMotion. This door was designed to operate smoothly in adverse, real-world conditions.
The 4 advantages of the EasyMotion door and its components are: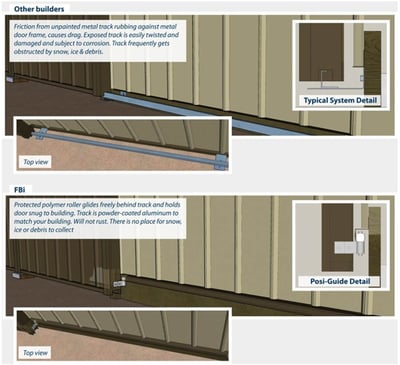 1. The Posi-Guide Track
Our track does not collect rain, ice, snow or debris, as most competing door tracks that are installed at ground level. A unique low-friction polymer roller is protected behind and underneath the track. FBi's system keeps the door snug to the building as it operates, allowing the protected polymer roller to glide freely behind the track.
Advantage: Doors roll smoothly and easily in all types of weather, year after year with our self-cleaning Posi-Guide. Without Posi-Guide, door tracks collect all sorts of debris. Other industry standard doors allow birds' nests, leaves and other debris to clog the upper track. The EasyMotion door was designed to eliminate these issues.
2. Engineered for Strength and Longevity
The strength of a sliding door is largely determined by the frame. The EasyMotion frame is thick, extruded aluminum that interlocks. The door has been engineered for minimal deflection and lasting endurance.
Advantage: Minimal deflection in high winds makes it consistently easy to operate. High strength aluminum alloy is utilized as part of a fully engineered door system that strikes an unmatched balance of strength, weight and durability.
3. Integrated to Fit Your Operation
No matter what size door you choose, FBi offers integrated center door guide options that will work well with your operation.A wood center door stub is the most cost effective option if your approach and building pad will be gravel. This option is also used when considering a future concrete floor. A concrete center door stub provides more stability and is ideal when a concrete floor is not in the plans. Because these are made of steel vs. aluminum, they are less likely to become damaged by equipment. A concrete apron approach provides the most stability against high winds when closed and during operation. The t-guides are positioned close to the angle iron step, which minimizes bird and rodent entry when the doors are closed.
4. Service After the Sale
FBi has a Repair & Renovation Team that works on all brands of buildings. Replacing heavy, old, hard-to-move doors with new smooth-sliding aluminum frame doors is a popular combination.


---
Have more questions about building costs not covered in this article? If you need help designing and planning, please contact FBi Buildings at 1.800.552.2981 or click here to email us. If you are ready to get a price, click here to request a quote and a member of our sales team will call you!