Subscribe
3 Reasons Why You Should Consider an Open-Sided Building
Are you a hard-working farmer interested in extra storage space for your heavy equipment? Are you a commercial business owner looking to protect your product/service from the Midwest weather conditions?
No matter your livelihood, you may find yourself tired of rearranging your pole barn to use one piece of machinery. Or maybe you're tired of leaving your equipment outdoors. Whatever the reason, you'll want to consider purchasing an open-sided building.
Why? Because open-sided and open-ended buildings are among the most versatile post frame structures on the market. This building type differs in size, shape, and materials used. As a result, you'll need to give some thought to current and future use when planning your open-sided structure.
Now, you're probably wondering, "Is this the best option for my specific needs?" Below, we discuss the three main reasons why so many people have decided to build open-sided structures.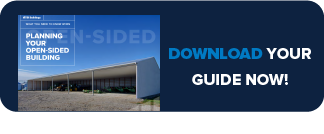 1. Convenient and Flexible Entry
We understand that farmers and business owners are busy individuals, so site flow is crucial for their operation's efficiency. For many, it's a matter of mobility.
Do you plan to use your pole barn for machine storage? Then, you'll love not having to open/close sliding doors as you move equipment in/out.
For instance, with planting season upon us, farmers can leave their tractor and wide row planter attached. It's easier to park and avoid bottlenecks when you need to move multiple pieces of equipment at the same time.
The result? Equipment is more accessible, saving you time and energy. You have the basic functionality of a large door without the added expense.
2. Lower Overall Maintenance Costs
Next, an open-sided building has fewer features, such as doors and windows. As a result, long-term maintenance costs are usually lower.
However, a building with three walls must yield the same structural loads as one with four.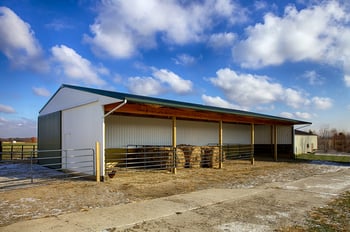 Initially, they're not less expensive than a fully-enclosed structure. Addressing structural integrity may increase pole barn costs because extra support is required. Savings in labor costs are often used to:
Upgrade to full concrete footings
Install larger steel header support columns
Reinforce other parts of the structure
For more information about structural integrity, check out the top five building components of a pole barn.
Also, prolonged exposure to weather (sunlight, rain, dirt, etc.) will damage your equipment. It's inevitable. Machinery stored in a shelter has lower maintenance costs and depreciates slower compared to equipment left outside.
3. Adapt Your Building Over Time
Lastly, you can always add features to your building at a later date. Some customers choose an open-sided structure but plan to install doors. Others prefer an unfinished floor or gravel, intending to pour a concrete floor in the future.
Again, open-sided buildings are adaptable and can be modified over time as your needs change. We sometimes consider this a "Phase I" building option.
Other benefits of an open-sided post frame building include:
Lower risk of damage to doors
Less wasted interior space
Superior non-mechanical ventilation
How Will You Use Your Open-Sided Building?
As mentioned previously, it's imperative to carefully consider your structure's intended use. Why? The pole barn application will influence the way it's constructed.
For example, let's say you plan to use your building to safely store farm equipment. Depending on the size of machinery you intend to store (both present and future), different bay spacing and clearances may be required. If you want individual bays for each piece of equipment, this will change the layout and support column arrangement.
In addition, you may want to add concrete bollards at each column to prevent building damage from tractor collision. If a column suffers a hit, it may cause racking, sagging, or even building collapse. Different and customized solutions may be required to meet your unique needs.
What Are Your Future Plans?
No matter your open-sided structure's intended use, site flow must be considered. An ideal building location will factor your property's future. Ask yourself, what will it look like in five years? Ten? Twenty? If possible, avoid a location that prohibits site traffic or prevents you from building on in the future.
Look for a builder that will help you develop a site plan that includes the future layout of your land. If you plan to modify your open-sided building at a later date, this may influence both structural design and placement.
To illustrate, do you plan to add a door? This may require upgraded footings, columns, and headers. Having a proactive design can save you time and money. It is important to account for these potential modifications in the early stages of planning.
Final Thoughts
Whether you're a farmer or commercial business owner, you can benefit from a versatile and efficient open-sided building. To review, these structures:
Can be constructed quickly
Allow for easy entry
Are inexpensive in the long run
Can be modified or added to over time
For more information, download our "Open-Sided Building Guide." If you feel an open-sided building is the right option for you, check out our FREE FBiPlanner Design Online Tool. This feature showcases a variety of open-sided building floor plans. You can experiment with different layouts and even save and print your design plan.

---
Have more questions about open-sided buildings not covered in this article? Please contact FBi Buildings at 1.800.552.2981 or click here to email us. If you're ready to get a price, click here to request a quote and a member of our sales team will call you.