Posts | Farm Buildings | Commercial Buildings | Open-Sided Buildings
3 Reasons Why You Should Consider an Open-Sided Building

Subscribe
Cori grew up on her family's small grain and livestock operation in Northwest Indiana. In 2018, she graduated Summa Cum Laude with a Bachelor's degree in Business Administration & Marketing from Marian University Indianapolis. Having shown beef cattle for 12 years at the county, state, and national levels, Cori chose to pursue a career in agriculture. Today, she serves as the Marketing Content Creator on the FBi team. In her free time, Cori enjoys spending time with family and friends, watching sports, listening to live music, and traveling.
Are you a hardworking farmer interested in extra storage space for large implements?
Are you a commercial business owner looking to protect your products or services from the elements?
Livelihoods aside, you may find yourself tiring of rearranging your pole barn to use one piece of machinery.
Maybe you're tired of leaving your equipment outdoors. We all know how unpredictable and uncontrollable Mother Nature can be, especially in the Midwest.
Or you're simply looking for a cost-effective solution to one of the above scenarios. You refuse to settle on a post frame building until you find the one that works best for your operation.
Whatever the reason, it's time for you to consider purchasing an open-sided building.
What is an Open-Sided or Open-Ended Building?
Open-sided or open-ended buildings are one of the most versatile post frame structures on the market. This custom pole barn differs in shape, size, height, and building materials used.
Consequently, you'll need to give some serious thought to the intended use and future plans/purchases. These considerations will influence building design.
Now, you're probably wondering, "Is this the best option for my specific needs?"
To help answer your question, we discuss the 3 main reasons why so many consumers are building open-sided structures.
3 Reasons Why You Should Consider an Open-Sided Building
1) Open-Sided Buildings Provide Convenient and Flexible Entry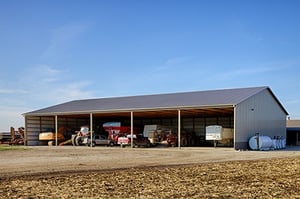 One of the most common uses for an open-sided or open-ended building is for machinery storage.
Also, they're built for commercial purposes, such as:
Transportation depots (e.g., buses and semis)
Storage facilities (e.g., lumber and steel)
Many consumers like to combine aspects of open-sided and post frame buildings. They park in-season equipment underneath the lean-to for easy access. Meanwhile, out-of-season equipment is stored in the enclosed structure.
We understand that farmers and business owners are busy individuals. Therefore, site flow is crucial to the efficiency of their operation. For many, it's a matter of mobility and time management.
Think about how you move around your property. Are there any potential obstacles that could impact your site flow? Existing structures? Landscaping? Driveways?
You'll need to consider these barriers before selecting a location for your open-sided building.
Most importantly, how are you currently using your pole barn? If the answer is "storage," then you'll love not having to open/close the sliding doors as you move machinery in/out.
For instance, when planting season is upon us, farmers can pull into the building with their tractor and wide row planter still attached. This advantage makes it easier to park and avoid bottlenecks when it's time to move implements around.
The end result? Your equipment will be more accessible, saving your valuable time and energy. It's like having the basic functionality of a large door opening without the added expense.
2) Open-sided Buildings Have Lower Maintenance Costs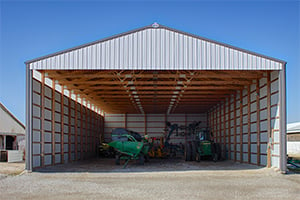 Next, an open-sided building has fewer features. Walk-in doors and windows are the most obvious features missing from the building design.
However, a building with three walls must be able to yield the same structural loads as one with four.
Initially, an open-ended building isn't less expensive than a fully-enclosed pole barn. Addressing structural integrity concerns may increase costs. Extra support is required.
Although labor costs are significantly less, those savings can be accounted towards the following:
Are you interested in learning about pole barn structural integrity? Download our FREE "Structural Integrity in Post Frame Construction" e-book for more information.
Not to mention, prolonged exposure to the weather (e.g., dirt, sunlight, and rain) will harm your equipment. Whether we like it or not, the damage is inevitable.
By storing your machinery in an open-sided building, you'll benefit from the lower maintenance costs and slower depreciation rates compared to exposed implements.
3) Open-Sided Buildings Allow for Future Modifications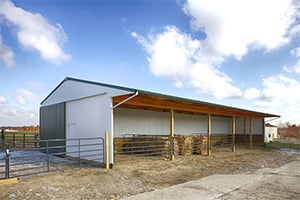 Lastly, you can always add features to your open-ended building at a later date. We refer to this building option as a "Phase I" option.
For example, most open-sided buildings have gravel floors. This filling type is a durable surface with the ability to withstand the weight of heavy machinery. It also provides significant drainage.
While it gets the job done, some consumers plan to save their money and pour a concrete floor.
Other benefits of an open-sided structure include:
How Will You Use Your Open-Sided Building?
As mentioned above, it's imperative that you consider the intended use of your post frame building. Why? Because the pole barn application will greatly influence the way it's constructed.
Let's stick to the farming narrative. You plan to use your pole barn to store large implements. Depending on the size of machinery you intend to store (both present and future), different bay sizes and clearances may be required.
If you want individual bays for each piece of equipment, you may have to alter the floor plan and support column arrangement.
In addition, you may want to add concrete bollards at each column to prevent pole barn damage caused by collision. If this component is harmed, it may cause racking, sagging, or building collapse.
Racking is the effect of lateral loads (e.g., strong winds). If the building diaphragm is weakened, the pole barn won't be able to resist structural loads or external pressures, which may cause leaning.
Have You Considered Your Future Building Plans?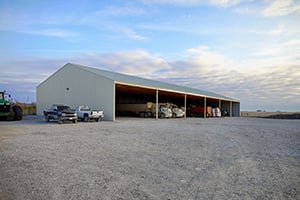 No matter the intended use of your open-sided building, you should really consider site flow. The building location will affect the future of your property.
What will it look like in 5 years? 10 years? 20 years? If possible, we recommend avoiding a location that prohibits traffic or prevents building additions.
Moreover, you should hire a post frame builder who will help you develop a comprehensive site plan that includes your future plans.
Don't forget to contemplate future modifications, as these add-ons may affect the building design and placement.
For example, do you plan to enclose the structure and install doors? This feature may require upgraded columns, footings, and headers.
It's crucial that you account for these potential modifications in the early stages of planning and designing. Being proactive will spare you from buyer's remorse and growing pains.
Is an Open-Sided Building Right for You?
Whether you're a hardworking farmer or savvy commercial business owner, you can benefit from a versatile and efficient open-sided building.
In summary, these post frame structures:
Can be constructed in a timely fashion
Allow for easy access and entry
Are relatively inexpensive in the long run
Can be modified or expanded upon over time
For more information, you can download our FREE "Open-Sided Building Guide." This e-book will further explain:
Why an open-ended building can be a viable option for your operation
How to plan an effective layout that maximizes site and workflow
How to avoid structural failures caused by heavy snow and high winds
If you feel that an open-sided building is the right option for you, go ahead and check out our Design Online Tool. This feature showcases a variety of open-ended floor plans.
Are you ready for a quote? Submit your building design to us, and a member of our sales team will give you a call to begin the estimating process.
---
Have more questions about open-sided buildings not covered in this article? Please contact FBi Buildings at 1.800.552.2981 or click here to email us. If you're ready to get a price, click here to request a quote and a member of our sales team will call you.