Posts | Cost | Energy Efficiency | Repairs & Renovations
Can You Spray Foam an Existing Pole Barn?

Subscribe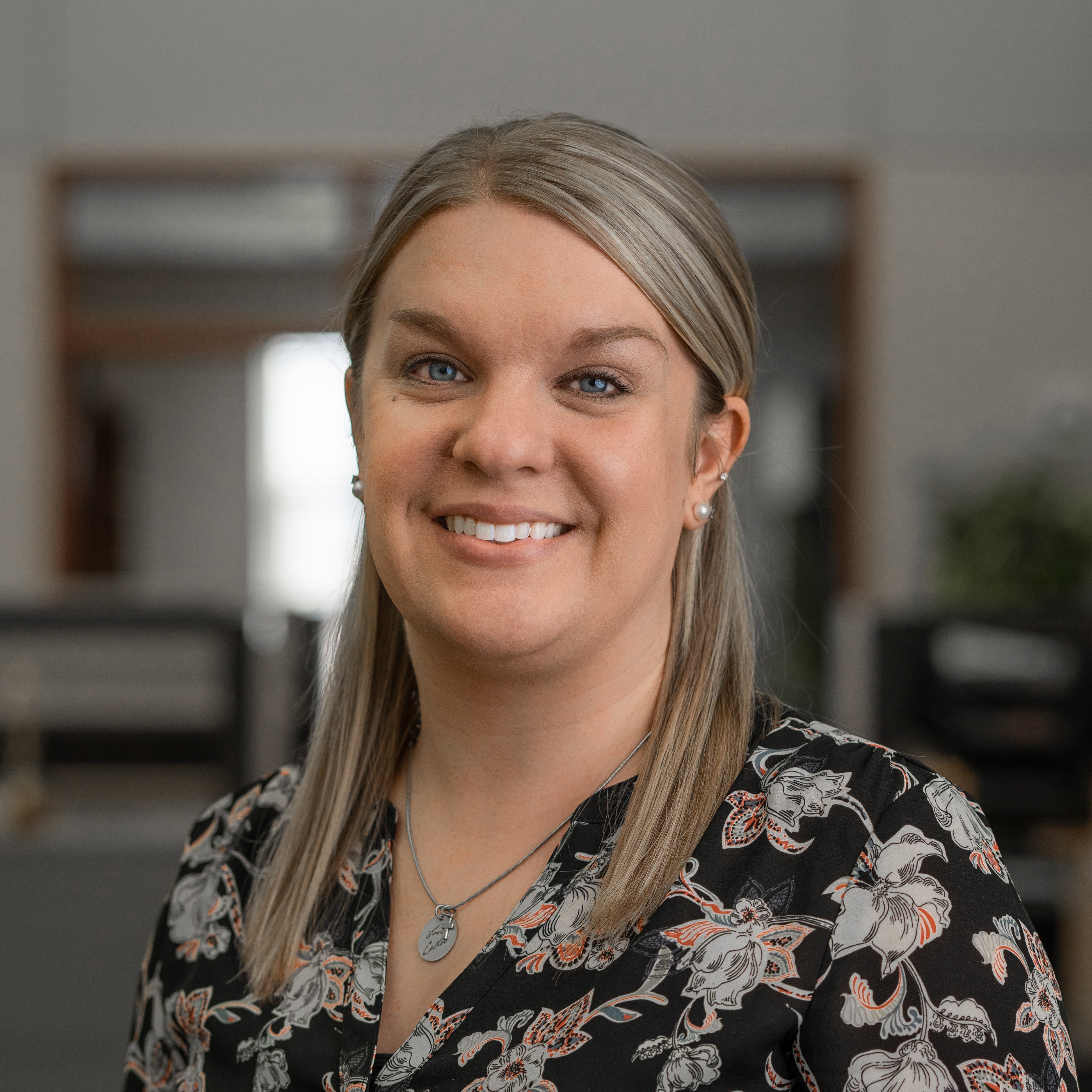 Angie graduated from Indiana State University with a Bachelor of Science in Interior Design. Prior to joining the FBi team, Angie was a kitchen and bath sales consultant in Lafayette, IN. In 2012, she started with FBi as the Inside Sales/Marketing Assistant. Today she holds the role of Sr. Marketing and Inside Sales Manager. Angie grew up in a farming community and has always enjoyed helping her family on the farm. A past 10-year 4-H Member, her passion for livestock pursued her to take a career in the agriculture field. She and her husband live in Northwest Indiana with their two daughters. In her free time, she enjoys outdoor leisure activities and spending time with friends and family.
Do you have an existing post-frame building that you want to renovate? Perhaps you're tired of a cold, drafty farm shop or garage and want to add insulation.
As a pole barn builder, we want to ensure that you understand the importance of energy efficiency in post-frame construction. There are several insulating materials to defend your pole barn from heat loss, but our customers frequently ask about spray foam insulation.
Is spray foam insulation the best solution for your post-frame building? The answer depends on the type of treatment you want and how much you're willing to spend.
This article explains the benefits and preferred installation treatment of spray foam insulation.
Who Installs Spray Foam Insulation?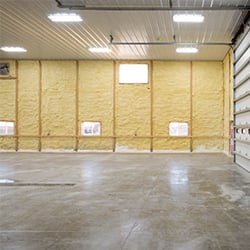 Sprayed polyurethane foam (SPF) is a popular but more expensive alternative to fiberglass batts. SPF fills and seals all exposed areas and cracks within the pole barn, giving you greater protection from air drafts and moisture.
Due to the chemicals and equipment involved, you should hire a professional spray foam contractor. While FBi Buildings does not install spray foam insulation, our Project Sales Consultants (PSCs) can recommend contractors in your area.
However, if your metal panels need to be replaced, this glue-like insulating material can be challenging to remove. Hence, we recommend installing building wrap (e.g., Tyvek) on your pole barn steel before adding spray foam.
Moreover, some spray foam products haven't been tested or approved for metal use. In fact, cellulose insulation can cause pole barn rust due to its ingredients (e.g., fire retardant chemicals).
As a result, some metal manufacturers won't provide warranty coverage if SPF is applied. Remember to ask your post-frame builder before making a final decision. You might void your pole barn warranty by installing spray foam insulation.
The installed price ranges from $3.50 to $5.50 per square foot of wall.
What Type of Spray Foam Insulation Do You Need?
Spray foam insulation is a type of insulating material that seals walls, floors, and ceilings against heat loss. For instance, it can be sprayed into attics, crawl spaces, and rim joists in new construction.
Spray foam insulation can be installed in homes, commercial buildings, and agricultural pole barns as long as the cavities are open.
You can use closed-cell or open-cell spray foam when insulating a pole barn. However, we recommend using closed-cell spray foam on exposed walls and open-cell spray foam on ceilings.
How Is Spray Foam Insulation Installed?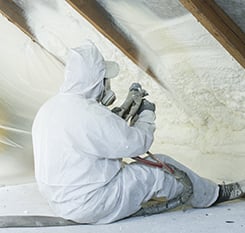 Before installing spray foam insulation, you must move any items inside your existing post-frame building to the center. Then, you can cover your belongings with tarps or remove them from the pole barn entirely for added protection.
Once everything has been removed from the walls, the spray foam crew will tape heavy-duty plastic over doors and windows. This covering ensures that the insulating material stays between the wall studs and doesn't come into contact with other building features.
Proper personal protective equipment (PPE) is used with spray foam insulation. The last step is for the installation crew to "suit up" before spraying.
Spray foam is a very dense insulating material that you can supplement with fiberglass batts. At FBi Buildings, we recommend an R-6 value for every inch.
Will You Add Spray Foam Insulation to Your Existing Pole Barn?
As you've learned, spray foam insulation is a costly undertaking. However, it creates an airtight seal with energy savings you can't beat. The comfort level inside your farm shop or garage will be top-notch during the winter months.
If you want to learn more about insulating your pole barn, we recommend downloading our FREE "Ultimate Guide to Pole Barn Insulation" ebook.
This guide will help you find a suitable insulating material and heating system. With our expertise, you'll enjoy the cost-saving benefits of your new or existing post-frame building.
Ultimately, how you choose to insulate your pole barn is up to you. But, as one of the top post-frame builders in the Midwest, we recommend heating solutions to help you get the most out of your space.
Additional Resources:
What is Spray Foam Insulation?
Ultimate Guide to Pole Barn Repairs & Renovations
---
Do you have more questions about pole barn insulation that aren't covered in this article? If you need help designing and planning, please contact FBi Buildings at 800.552.2981 or click here to email us. If you're ready to get a price, click here to request a quote, and a member of our Customer Engagement team will determine the next steps of your project.