Posts | Repairs & Renovations | Pole Barn Insurance
Pole Barn Insurance: 3 Steps to Take When Filing a Claim

Subscribe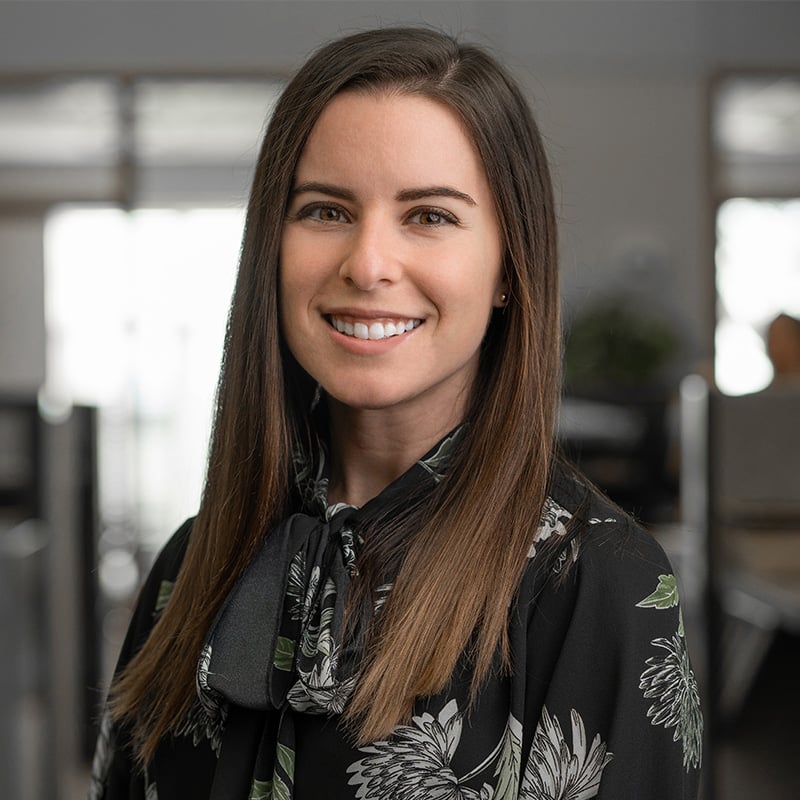 After working in the banking industry for 5 years after college, Courtney realized she needed a change and decided to pursue a new career path. Growing up she has always been creative and enjoyed writing, taking pictures, or painting. Now as the Marketing Content Creator for FBi Buildings, she gets to utilize her creative abilities in her everyday work. In her free time, you can find Courtney at home reading a book, partaking in any and all outdoor activities, or traveling and photographing her adventures. Courtney resides in Northwest Indiana with Lacey, her red tick coonhound.
You've probably always thought to yourself, "this will never happen to me," and let's be honest, who hasn't thought this? Statistics say it happens to one in a million, so you can't possibly be that one, right? But unfortunately, you are that statistic, and now you've found yourself reading this blog because it did happen to you.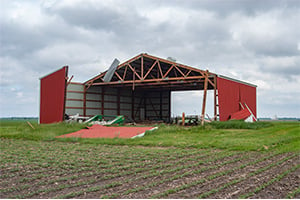 Your pole barn is the recipient of some unforeseen damage, and now you're ready to come to terms with the inevitable.
Pole barn damage comes in many shapes, forms, and stages of anger. To name a few, you have:
That vicious, pop-up summer storm that brought with it some high-speed winds and took with it half of your roof
A broken window from a game of baseball that went south real quick, even though you told your kids not to play so close to the barn
A truck that plowed through an overhead door because you forgot to open it before throwing the truck in reverse - don't worry, we won't tell
While you can try everything imaginable to prevent damage from occurring, accidents are still going to happen - that's why they call them accidents. However, realizing you're covered will hopefully ease your mind knowing that the damage will be repaired. The hard part is figuring out where you need to begin with filing an insurance claim.
I bet you cringed when you read the words "insurance claim," didn't you? Pole barn insurance can be intimidating - there is no other way to describe it. Don't worry, though, we know the process from start to finish, so we're here to help you with the process, and get you the most out of your claim.
What is the First Step in Filing a Pole Barn Insurance Claim?
After the initial step of worrying and panicking for a short period of time, it's time to figure out where to start with filing an insurance claim. We've taken the liberty of breaking down the process in detail to help you see an overview of how everything will typically go. We can't guarantee the headache will subside, but we can try to alleviate it some.
Keep reading for the steps to take when filing a pole barn insurance claim.
Step 1: Contact Your Insurance Agent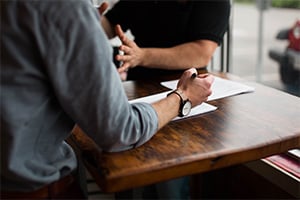 The first thing that needs to be done in the claims process is to document your pole barn damage. You will want to take as many pictures of the damage as you can so you can provide these pictures to your insurance agent. Having this documented proof will make it easier to defend your claim and have it get accepted.
Once you have all the documentation gathered, it's time to call your insurance agent to get the claims process moving forward. They'll ask for your policy number and a detailed explanation of the damage, so make sure you have that handy when you call. The quicker you can start the claims process, the better chances you'll have of getting your claim approved.
Your insurance agent will inform you of how you can be covered, and what your next steps are in the claims process. They're going to want to know the cost of the damage, so they'll recommend contacting your pole barn or post frame builder for an estimate.
Some insurance companies will recommend getting several quotes in order to start the process, but this isn't necessary. Legally they are not required to ask for multiple quotes, so it's best to find a reputable insurance company that will have your best interests in mind. A high-end company will ensure you get a quote with everything involved, and won't short you on your insurance claim.
Step 2: Have the Pole Barn Damage Assessed
Once you've contacted your pole barn builder and explained your situation, they will send out a repair and renovation specialist to your property to assess the damage. What you see is a tree that has fallen on your roof, but your builder might see something that is a little more elaborate.
"Did the tree only cause damage to the metal roof? Or did it cause damage to the pole barn trusses underneath?"
"If the tree caused damage to the trusses, how has the overall structural integrity of the pole barn been impacted?"
Your pole barn's structural integrity is the number one detail that should be taken into consideration when assessing the damage. Once it's been determined if the integrity has been impacted or not, everything else will follow suit. Repair the post frame building to make it structurally sound again, replace the metal roof, plant a new tree… but maybe further away from the barn this time.
What if there is an extensive amount of damage done that will result in a more significant claim?
As we mentioned earlier in this blog, damages come in many different forms of severity. For example, you have the following types of post-frame damage that can occur:
1. Storm Damage
Wind removing a roof or siding panel
Hail causing dents in the metal or breaking a pole barn window
Water damage caused by a leak
A tree falling on top of the structure
Snow impacting the structure due to the hefty weight
Lightning striking your building
2. Accidental Damage
A baseball shattering a window or denting a siding panel
Driving a vehicle through the overhead door
Rocks denting the siding after being thrown from the lawnmower
An electrical fire caused by faulty wiring
Smoke damage from the electrical fire
Explosions
Vandalism that was done by those pesky neighborhood teenagers
3. Aging
Wood columns rotting
Leaking
Discolored steel due to many hours in the sun
Broken gutters
Warped roof or siding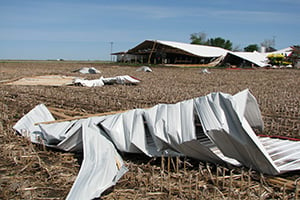 For damages that are unfortunately a lot more extensive than a simple window or siding replacement, your insurance company may want to send out an insurance claims adjuster. Unfortunately, there is no universal code for when an adjuster would need to be sent out. This is all dependent on which insurance company you're working with.
An adjuster is a representative of the insurance company who acts as their eyes in these instances. In short, this representative will coordinate the appraisal, take pictures of the damage, and gather the facts, then report the details of the claim back to the insurance company.
From there, your insurance company will determine if the damage incurred is covered or not. If they have any reason to believe the damage was due to your own negligence, they may recommend to your agent that the instance should not be covered. However, if you can prove otherwise that the damage is not your fault, they will reevaluate your property.
Adjusters will work directly with your builder to settle the claim. Your builder will be able to bring a high level of knowledge and experience on how a post frame building needs to be repaired. They will ensure the adjuster is adequately informed of the situation and the cost it will take to restore the pole barn to its original state.
Having a post frame company that has its own in-house engineering team is a big plus, too. Engineers can be sent to the property if needed to assess the damage and determine its severity. Not every pole barn company can offer this, so this factor is something to keep in mind when contacting a pole barn builder for repairs.
Step 3: Settling the Insurance Claim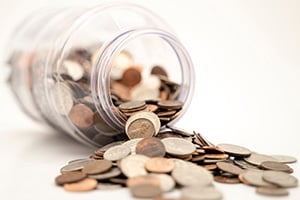 Now that the damage has been evaluated and you've been given an insurance quote, your agent will provide you with a claim number. Your agent will want a detailed breakdown from your post frame builder on the damages that were sustained. Depending on the insurance company you're working with, they may require further documentation.
When your insurance company has everything they need from you and your pole barn builder, they will begin to work up a settlement. This process could entail some back and forth between you, the insurance agent, and your post frame builder until everyone agrees on a payout. Your builder will know what it truly costs to repair a pole barn, so they'll be a big help with this part of the process to ensure you get the amount you deserve.
Once a payout is agreed upon, your insurance agent will cut a check to you to get started on the repair process. Depending on the amount issued for the severity of the damage, receiving a check could take a day or two, or it could take a week or two. When the check makes its way to you, it's time to call up your post frame construction company to get started on those repairs.
You will want to ensure your post frame builder sends out a repair and renovation specialist to assess the damage on your building. Without this step, it's impossible to know if the quote you are receiving is taking into account the full scope of work needed. When going through an insurance company to get the damage resolved, it's critical for your builder and insurance company to have a good relationship in order to adequately help you when working through cost.
Do You Feel Confident in Filing a Pole Barn Insurance Claim?
While we hope you're never put in this predicament where your pole barn becomes damaged in some way, do you feel confident enough to handle the situation with ease now that you know each step? The good news is that you'll have your builder by your side to help you along your journey to getting your pole barn repaired.
Filing an insurance claim on your damaged pole barn can definitely be a stressful process, but it shouldn't have to be a scary one. Knowing what to expect and what the process entails can greatly ease your mind now that you know what you're getting yourself into. Just remember to always build and repair with confidence.
---
Do you have more questions about pole barn insurance that are not covered in this article? If you need help designing and planning, please contact FBi Buildings at 800.552.2981 or click here to email us. If you're ready to get a price, click here to request a quote, and a member of our Customer Engagement Team will help you determine the next steps of your project.