Subscribe
What Are Our Top Commercial Pole Barn Sizes?
When you hear the term "pole barn," chances are that you envision a farm shop or cold storage building.
However, the typical post frame building isn't so typical in today's day and age. In fact, some of the more popular styles include pole barn homes, hobby shops, and storage sheds.
However, there's one type of post frame building that might not be so obvious. Commercial buildings gain popularity within post frame construction for its design flexibility, energy efficiency, cost savings, and durability.
In this article, we'll cover the different types of commercial post frame buildings and their popular sizes.
Ultimately, we want consumers to choose a pole barn that works best for them and their business needs.
Check out this customer testimonial featuring Stoller International, an implement dealer in northern Illinois.
Their main focus was to build a large shop area to service farm equipment. As they researched their building options, the Stoller leadership team realized the significant advantages of post frame construction.
Which Type of Commercial Post Frame Building Do You Want to Build?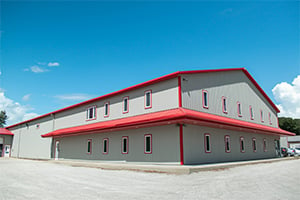 Out of the following pole barn styles, which one are you looking to expand your commercial business with?
Once you've selected one of the options above, you've already mastered the first step in the decision-making process.
The second step would be determining which products or services you'll be offering to finalize your building size.
Understanding what's going inside your post frame structure can help visualize the building design. But thankfully, there's a tool that can help you picture the interior and exterior of your commercial pole barn.
Our Design Online Tool creates a 3D version of your post frame building before blueprints are drawn up. It can be accessed from the comfort of your home, meaning you can design your pole barn before talking with a Project Sales Consultant (PSC).
On the exterior, you can select a stylish color scheme and add custom building features (e.g., cupolas, doors, porches, wainscoting, and windows).
Inside, you can install drywall, pick flooring, and place furniture. These items are fit to scale, so you're designing with the correct square footage.
However, if you run out of space, you can rest easy knowing it's possible to add on to your post frame building at a later date.
Now, let's break down each type of commercial pole barn and find out which sizes are most popular with business owners.
Are you interested in building a suburban building or equine facility too? Check out our blogs on the most popular residential and horse barn sizes.
6 Types of Commercial Post Frame Buildings
1) Automotive or Implement Dealership
Typically, dealerships are an open-concept design, including the office space.
The newest sports cars or lawnmowers are displayed in the large showroom, but cubicles or desk line the perimeter. There's customer seating, a break room for employees, and a storage room hidden in the back.
Most dealerships have a shop where you can bring purchased vehicles or equipment for maintenance. This area is as big, if not bigger, than the main lobby.
If you're interested in building a post frame dealership, you'll need to consider the following:
Number of vehicles or equipment in the showroom
Number of cubicles, desks, and other office furniture needed
Space for customer seating
Break room for employees
Storage area
Number of required bays for servicing vehicles and machinery
Most Popular Dealership Sizes:
60' x 120' x 14'
80' x 200' x 14'
90' x 120' x 20'
Do you need design inspiration? Check out the Watseka Ford dealership located in Iroquois County (IL).
2) Mini Storage Buildings
Mini storage buildings can be a quick and inexpensive investment. Post frame buildings are highly versatile, meaning you can design these units however you want.
These structures are simple, so you won't have to fret about the building design too much.
No storage unit size is too big or small. Walk-in doors and overhead doors can be placed virtually anywhere for easy access.
The solid lineup of interior finishing options will keep valuables safe, giving customers peace of mind.
Most Popular Mini Storage Sizes:
20' x 180' x 9'
40' x 200' x 9'
70' x 112' x 16'
Need help designing your mini storage building? Check out BSK Miniwarehouses in Porter County (IN).
3) Municipalities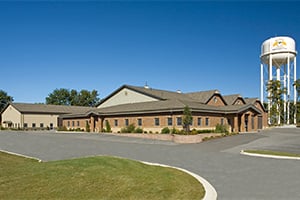 Municipal buildings are a place where community members can come together to enjoy and support one another. Popular examples include:
Schools
Fire stations
Government offices
Let's say you're interested in building a fire station. You'll need to account for living quarters, office space, storage for equipment, and a shop area with enough bays for fire trucks. Check out this post frame fire station in Madison County (IN).
If you're interested in building a school, you'll need to plan for grade levels and classrooms. Don't forget about the front offices, storage, or the gymnasium!
Most Popular Municipal Sizes:
40' x 60' x 15'
66' x 110' x 17'
74' x 172' x 20'
4) Professional Services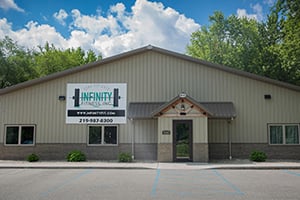 As with municipalities, post frame buildings can be used for a wide variety of professional services, including:
Gyms
Offices
Venues
Auto Repair Shops
Landscaping Centers
Building a post frame gym requires ample space for exercise equipment, free weights, and workout classes. Don't forget about restrooms or extra amenities (e.g., massages, pools, saunas, and tanning beds).
Moreover, post frame construction is perfect for event planning. What is the maximum seating capacity you'd like your wedding venue to hold? You'll need to factor in tables, chairs, a spacious dance floor, kitchen, restrooms, dressing rooms, and storage.
For design inspiration, check out Meadow Springs Venue Hall in Pulaski County (IN).
Most Popular Professional Services Sizes:
40' x 40' x 10'
60' x 136' x 14'
80' x 132' x 16'
5) Retail Businesses
Again, pole barn construction offers flexible floor plans and exterior options.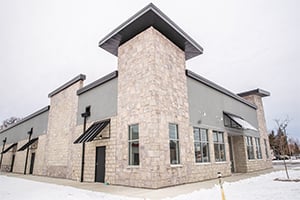 You can invite customers into your retail space with attractive features like brick, stucco, or versetta stone. These attributes are the very reason why retail post frame buildings are so popular.
Whether you're building a strip mall or a pole barn for your seasonal business, you must understand the purpose of your operation.
How many customers do you think will be in and out of your business daily? You'll want to plan enough square footage so they can browse comfortably.
Furthermore, what items will you be selling? Are they free-standing, or do they require shelving units? It's crucial to consider these factors, too.
Don't forget about space for a customer service counter and offices for your employees.
Most Popular Retail Sizes:
45' x 72' x 16'
60' x 160' x 10'
84' x 128' x 17'
No two retail businesses are alike, and neither should their stores. Check out our lineup of post frame buildings using our online gallery.
6) Warehouse and Industrial Facilities
Post frame buildings are a common construction method for warehouses or industrial facilities.
So, why do these businesses (e.g., oil and trucking) turn to pole barn construction for their building needs? It circles back to the use of clear-span trusses and a wide array of dooring options.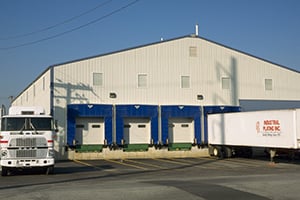 These building components, along with pole barn height, allow for a flawless flow of the following areas essential to their operation:
Trucks
Deliveries
Assembly lines
Large equipment
Industrial storage
Material handling
Most Popular Warehouse and Industrial Sizes:
42' x 80' x 14'
76' x 180' x 19'
90' x 120' x 18'
Are you interested in building a warehouse or industrial facility? Check out Precision Turbo located in Porter County (IN).
Are You Ready to Build Your Commercial Post Frame Building?
Now that you know the most popular commercial pole barn sizes, are you ready to build your own?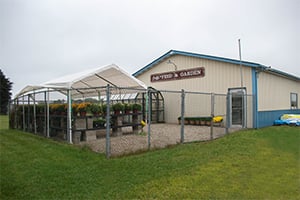 Designing and developing a new commercial building isn't easy. Those who take time to familiarize themselves with the steps involved can have a memorable and rewarding experience. For more information, you can download our "Business Facility Guidebook: 7 Tips to Add Value to Your Building."
Are you interested in seeing custom floor plans? Check out our large-scale commercial building portfolio. We included material specifications and involved parties, so you know what to expect from your building project.
Are you ready for a quote? Submit your building design, and a member of our sales team will give you a call to begin the estimate process.
Just remember to always build with confidence.
---
Have more questions about commercial buildings not covered in this article? Please contact FBi Buildings at 1.800.552.2981 or click here to email us. If you're ready to get a price, click here to request a quote and a member of our sales team will call you.