Building Construction | Building Features | Comparisons | Cost
How Much Does it Cost to Build a Pole Barn in Michigan?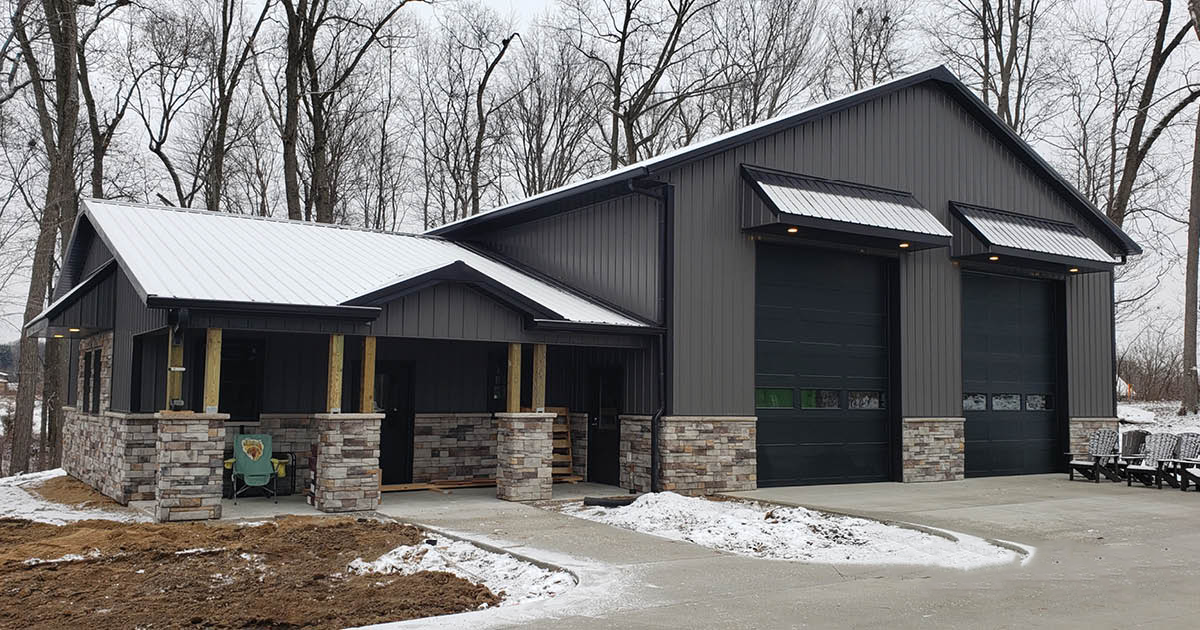 Subscribe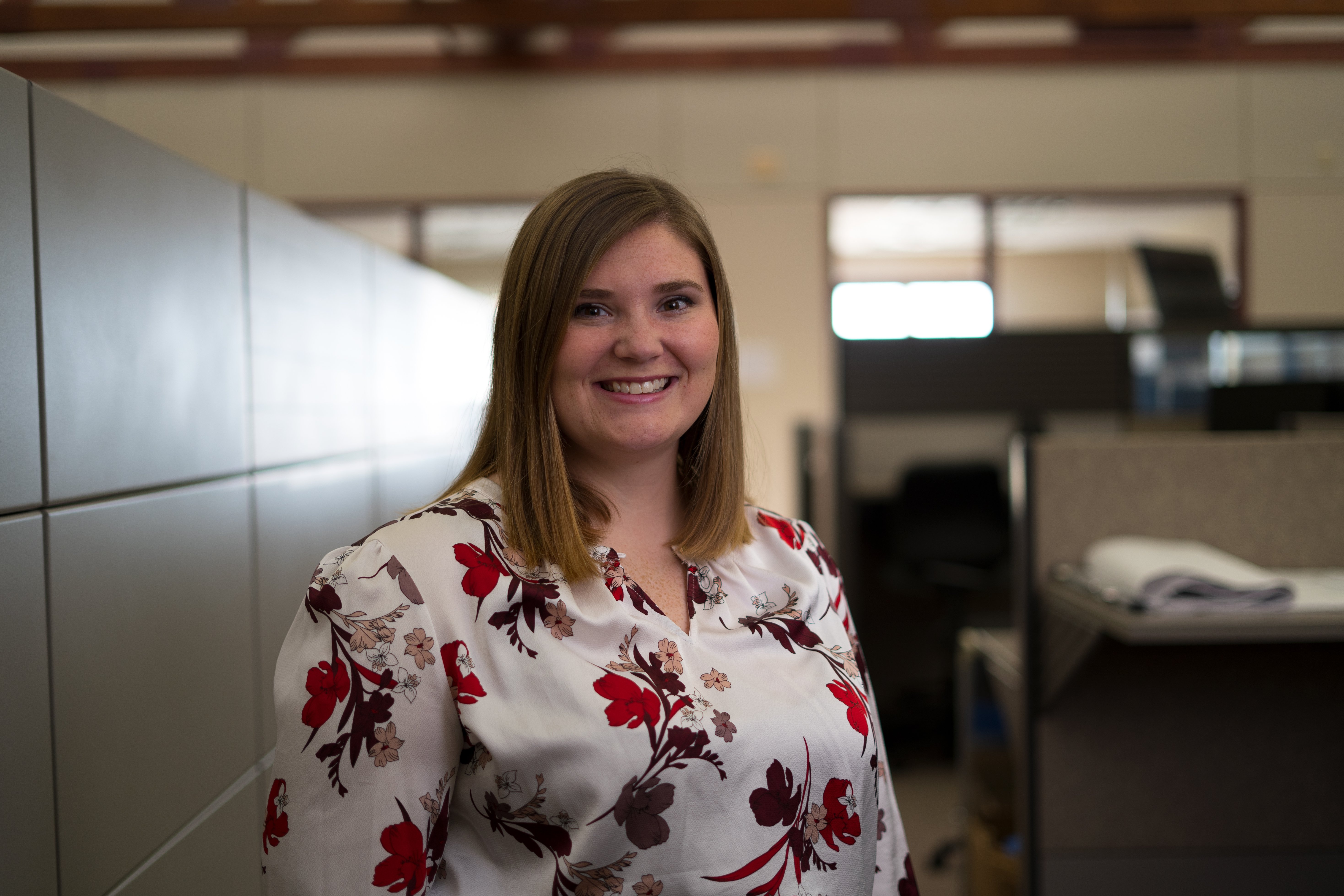 Nettie joined the FBi Marketing team in 2022 as the Marketing Content Creator. Nettie grew up just outside of Des Moines, IA. In 2016, she received her BS in Agriculture Communications from Iowa State University. Upon graduation, she has worked in agriculture sales and marketing. She moved to Indiana in 2020. Outside of work, Nettie enjoys quilting, crocheting, crafting, canning, gardening, fishing, and hunting. She is married and enjoys spending time with her husband and dog.
Have you ever looked into buying a new car? Similar to vehicles, pole buildings have multiple sizes to choose from and building features that you can add. However, unlike cars, purchasing a pole barn does not have an MSRP price.
Depending on the size, the average cost for just the shell of a pole barn can range from $19-45 per square foot.

But don't fret; within this blog, we will discuss the ten factors that play into pole barn cost.
Ten Factors That Affect Pole Barn Cost
FBi Buildings is here to help you build a custom pole barn that is:
1) Building Location
The price will vary, just like buying a car in Michigan vs. California. Location, location, location is key in real estate and in post-frame construction. The first step is securing land to build your pole barn on. Next, check our service area to see if we cover your county.
While we would love to build your pole building, we understand that some of you are do-it-yourselfers. If you want a DIY pole barn, we sell building kits!

A pole barn kit is a great option to get the high-quality materials that FBi Buildings has on all of our post-frame buildings while removing the cost of labor.
Whether we build your post-frame building or you put up a kit, you must prepare the site. Site prep is the work done on your ground before construction–finalizing location details, gaining access to the site, drainage, and more. This process allows you to identify site complications and address them before post-frame construction begins.

Costs can vary depending on if you put stone down to create a pad versus dirt or sand pads. Additional charges include bringing in dirt to level the pad and the cost of materials to make a driveway for the building, whether stone or concrete. All of these things add to the price. If you plan to pour concrete, adding stone is critical.
Naturally, some projects require more site prep than others, affecting the cost. Below are the typical site costs for the following building types:
| | |
| --- | --- |
| Agricultural | $1,000 to $30,000 |
| Residential | $500 to $9,000 |
| Commercial | $1,000 to $50,000 |
| Equine | $500 to $20,000 |
*Please note that the information above is averaged to help with your planning. Costs may vary by project size.


Proper site preparation will extend your building's lifetime and reduce construction costs. In addition, you can further lower costs by owning the machinery and performing your excavation.
2) Pole Barn Snow Loads
Growing up in the midwest, you know that AWD or 4WD vehicles are king when a blizzard hits. But, just like adding 4WD to your vehicle package, accounting for snow loads on your building will add to the price of your structure.
According to michigan.org, the upper peninsula can get 200 inches of snow a year. While the lower part of the state, on average, gets ⅓ of the snow, the weight from snow on your roof is a factor we must consider when engineering your pole barn.
Snow load plays into your pole barn's structural integrity. The steps we take to ensure your pole barn can withstand a record blizzard include the following:
3) Soil Bearing Capacity
You probably would prefer to drive a Ford F-150 over a Honda Civic across a farm field. But, just as in cars, building it to navigate the terrain is essential.
When selecting the land you want to build on, you may have picked it since it is part of your family's farm, has hunting potential, or was what you could afford. All of those are important, but you may have yet to think about the soil-bearing capacity.
Due to specific soil types, the soil-bearing capacity in Michigan is reduced to 2,000 PSF.
Essentially, this means we are assuming that the soil can support less load per square foot. Foundation sizes need to be increased to spread the building load out over a larger square footage, to avoid the building settling.
Engineering a more robust building will add more cost than a building in southern Indiana. Still, nothing would be worse than a brand-new pole barn with a collapsed roof, especially during a blizzard.
4) Pole Barn Design
Just as the automotive companies have added a build your vehicle online, we have a free design online tool. In addition, we offer free articles to answer all your questions about pole barn construction.
Once you have determined where you will build, the next step is designing your pole barn. Many look to Pinterest or pictures to get ideas of pole barn sizes, colors, and features. We offer free catalogs showing floor plans if you are interested in a horse barn or pole barn home.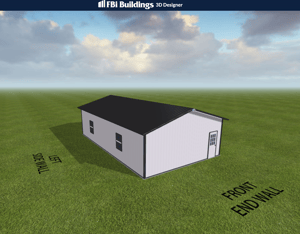 In addition, our industry-leading free 3D design online tool allows you to bring your ideas to life. In our latest upgrade, we added additional objects for scale, and you can now insert your design onto Google maps.
You can even enter an address, longitude, and latitude coordinates to apply your 3D barn to Google maps. This allows you to see if your project meets your desired size and scale.
FBi Buildings continues to expand to serve our customers better. In 2022, we added 13 new crews, with two in Michigan! With over 60 years of post-frame construction experience, we are here with you every step of the way for your building project!
5)Pole Barn Size
When selecting a vehicle, you base it on the number of passengers, the size of the cargo room, and the overall vehicle size. When selecting a pole barn, the same can be true. For horse barns, you need to consider how many stalls you want, if you are a farmer and need a bigger farm shop to store that new planter in, and for a barndominium, how much room you want to entertain in.
Choosing the function(s) of your pole barn will then help you determine the pole barn size.
They say bigger is better, and in pole barn projects, that can be true! But did you know that smaller barns can cost more per square foot?
Several factors play into the cost per square foot. First, no matter the size of your project, there will always be initial:
Processing

Engineering

Drawing

Administration expenses



These costs are consistent for all projects.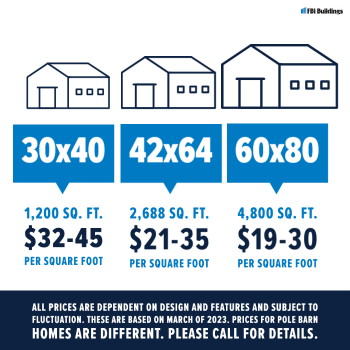 The next factor that plays into the cost per square foot is the three (3) Ms. Every project requires getting:
Men

Materials

And machines to the construction site
For all projects, we have to factor in the preparation and transportation of materials; whether the semi is a full or a half load plays into the cost.
Since these costs are consistent, the cost gets divided across the price for square footage. That is why large pole barns are less per square foot.
6) Building Features
You may add a sunroof, floor liner package, and chrome trim to a car. The equivalent in a pole barn would be adding eavelites, interior liner package, and wainscoting.
But what if you want more features than the average pole barn? The sky's the limit when it comes to customizing your pole barn, so there's no way for us to give an exact number for what your specific project will cost—but we can give you some examples of how much different options can add up:
Wrap around porch - $25-$37 per square foot of porch

Overhead Doors - $1500-$12000

Windows - $700-$1500
7) Pole Barn Permits
One of the not-so-fun things about buying a car is updating your car insurance and plates and paying taxes.
Just as every post-frame project is unique, so are the county's permit requirements. You can expect the cost to range from $0 to several thousand dollars.
Some counties do not require building permits, which would save you time and money. When going through the building process, we help customers obtain their permits by doing it for them.



Also, you can expect additional fees for commercial buildings to cover fire and life safety, review drainage plans, retention water plans, and more. On average, you can expect to pay

$200-600 for most projects.
8) Labor
When getting your car fixed, you take it to a dealership or service shop you trust to do the job right the first time. We know that choosing a pole barn builder in Michigan can feel overwhelming. You must select a quality builder when making this investment.
What sets us apart from our competitors is the following:
Our

QYLFT Building System

. The QLYFT building system is an unprecedented way of erecting post-frame structures. It was created to improve field employee safety while taking building quality to new heights.
A sales team with a consultation approach with customers. We want to help answer all your questions so you can build with confidence.

We employ the crews and procure your project's materials under one roof.

We have our engineers to ensure your project is structurally sound.

Our truss plant builds high-quality trusses.
FBi Buildings continues to expand to serve our customers better. In 2022, we added 13 new crews, with two in Michigan! With over 65 years of post-frame construction experience, we are here with you every step of the way for your building project!
9) Materials
When building your pole barn with FBi Buildings, you choose a company that puts quality first. We're the Cadillac of pole barns since we only use the best materials!
When investing in a pole barn, it is vital to have quality materials so your building will last for years. We have a team that specializes in purchasing wood, metal, and screws to help you get high-quality products at a more affordable cost for your pole barn project.
Here's a list of some of the quality materials we include in all FBi Building projects.
Steel
Many builders emphasize low initial cost over building longevity and strength. But, as with most things in life, when it comes to post-frame buildings, we get what we pay for.
When considering a new pole barn or re-siding your existing building, it's vital to ensure you are getting the best steel to ensure structural integrity. Watch this video to learn more about galvalum vs galvanized steel.
We compared our steel to Morton and Menards regarding steel tear, drop dent, and shotgun tests.
2. Lumber
Did you know that FBi has its own truss plant? When building our trusses, we build differently than other manufacturers.
For example, others roll the gusset plate (flat metal plate with teeth at the joints on trusses) onto the truss. By doing so, the teeth in the plate can go in at an angle. Instead, we machine stamp ours into the truss. This process takes a little extra time, but it ensures a straight plate.
Speaking of lumber, we also go with the best! Machine stress-rated (MSR) lumber undergoes testing to measure its ability to perform under stress. It also must meet specific visual grade requirements.
Wood is graded based on any defects(knots, splits, warping, etc.) and the size of the wood.
Typically, you will hear wood referred to as #1 or #2 and their species, such as #2 Southern Yellow Pine(SYP).
The MSR grade we use in every FBi Building trust and SYP for the columns and purlins is specifically selected to ensure the strength of each board exceeds the standards required where it is used.
3. Screws
Regarding the quality of screws, we don't screw around! The screws we use have a high and low thread combo on the shank.
This makes our screws like a steel and wood combo. In addition, the cap on the screw is made out of stainless steel. They are designed to umbrella over the washer, so they do not deteriorate as fast.
Plus, we have a lifetime warranty on our screws! Finally, since the cap is stainless steel, you do not have to worry about future rust streaks down the side of your building from your screws. While the head is stainless steel the screw itself is not, due to have more strength. Stainless steel is a softer steel. So the head being stainless stops it from rusting, but the rest of the screw is in the wood so that is not a risk, you want that to be strong so it hold better.
Check out this video comparing competitor screws.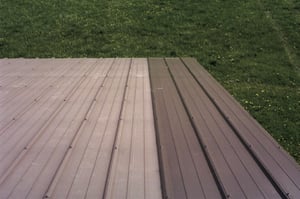 4. Paint
We offer industry leaders such as Kynar 500 paint system. Nothing says quality like the Kynar 500 paint system. Your metal panels will have that "just painted" freshness for years.
The result is a durable structure that withstands abrasion, ultraviolet radiation, extreme weather, chemicals, and solvents.
5. Purlins
In addition, we screw the purlin differently than any other pole barn builders. We screw the purlin vs nailing the purlin. Also, we put the pulin on edge vs flat. Check out this video to learn more.
To ensure quality with every project, we precut building materials. For example, the roof purlin material is precut and predrilled to help with straight angles at installation.
In addition, the wall girts are precut and color coordinated. These are just a few things we do to ensure the building process goes quickly without sacrificing quality.
10) Finishing Touches
Adding an automatic start, a sticker to your back windshield, and tint to your car's windows are all final touches to complete your vehicle.
While FBi Buildings only builds the shell, finishing costs are at your discretion. Your project is unique as you are, and no two projects will cost the same. The cost to complete can vary significantly based on the above factors and make the total cost of your project differ significantly.
You could hire a general contractor to build your dream interior with all the bells and whistles. Or perhaps you are more of a DIY person; you could save money, but it may take more time to complete. There are many finish options when it comes to the interior.
You must consider concrete, insulation, drywall, plywood, steel, and more!
The finishes go beyond finishing a couple of walls. Finishes also include landscaping, rock or concrete driveway, and more. Since they all vary by building type and project scope, you can spend a wide range on this category.
Are You Ready to Get a Pole Barn Quote?
The answer to How Much Does it Cost to Build in Michigan depends on several factors, including the size and type of pole barn you want. The cost of building a pole barn in Michigan can vary greatly depending on the square footage, how many windows and doors you have installed, if you want an attached shop to your Pole Barn Home, and many other factors.
However, pole barns are an excellent investment for any homeowner, and they're also a good option for farmers in Michigan.
If you are ready to take the next step with building a pole barn in Michigan, fill out our request a quote form, and our sales team will be happy to start the partnership with you today!
---
Have more questions about pole barn trusses not covered in this article? Please contact FBi Buildings at 1.800.552.2981 or click here to email us. If you are ready to get a price, click here to request a quote, and a sales team member will call you.