Posts | Post Video | Building Tips
Which Season is the Best for Pole Barn Construction?

Subscribe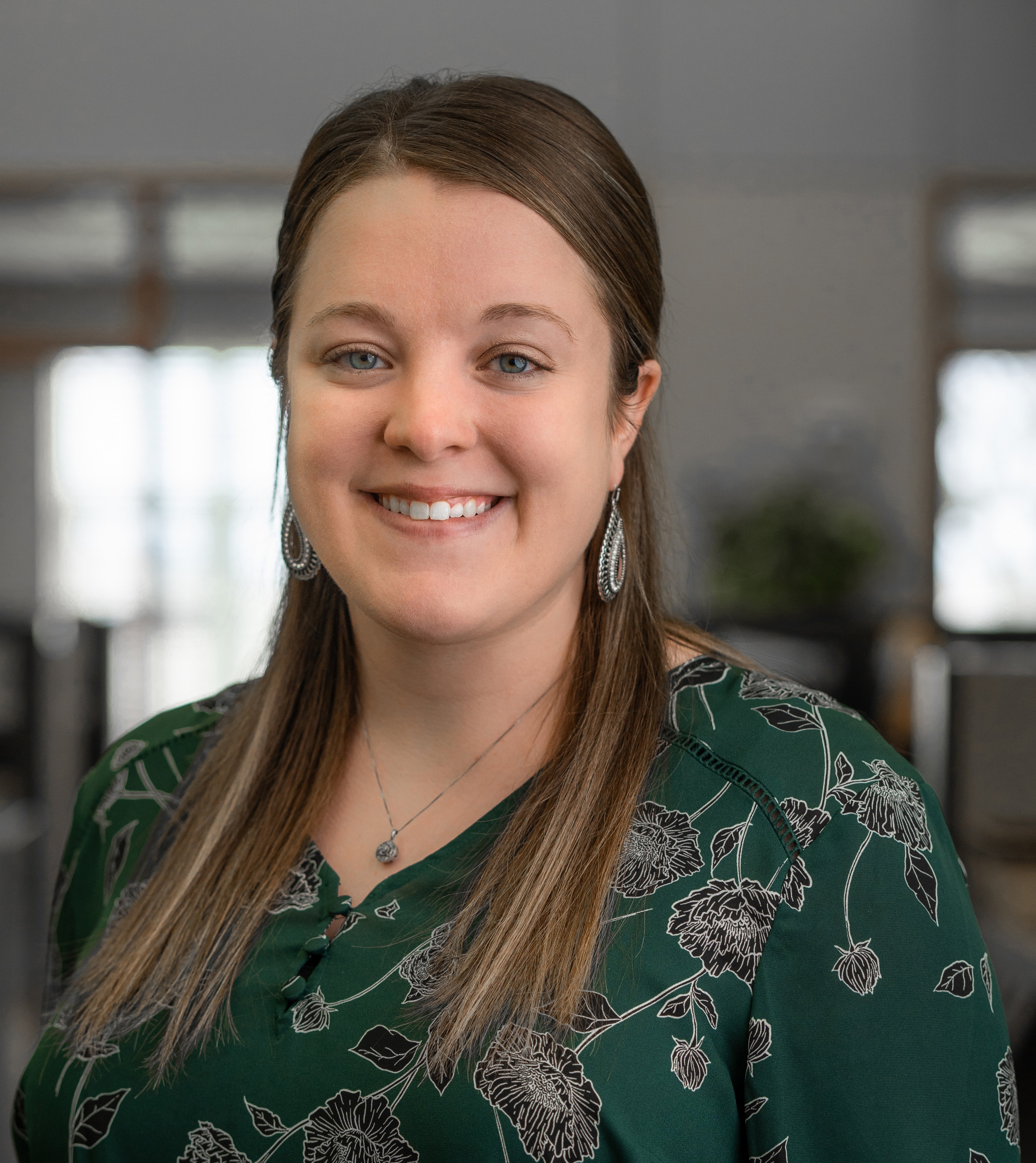 Cori grew up on her family's small grain and livestock operation in Northwest Indiana. In 2018, she graduated Summa Cum Laude with a Bachelor's degree in Business Administration/Marketing from Marian University Indianapolis. Having shown beef cattle for 12 years at the county, state, and national level, Cori chose to pursue a career in the agriculture field. Today, she serves as the Marketing Content Creator on the FBi team. In her free time, Cori enjoys spending time with family and friends, watching sports, listening to music, and traveling.
You recently decided to build a pole barn, which is exciting news, but you're afraid that you've missed the window. Sure, post-frame construction is an outside profession, but it's available year-round (even in the winter months).
This article breaks down the pros and cons of each season so you and your post-frame builder can discuss scheduling options. We also provide three helpful tips for getting your pole barn project off the ground as soon as possible.
Which Season is the Best for Pole Barn Construction?
A) Spring
Spring is often described as a reawakening period. The remaining evidence of last winter's snowfall melts away. Seeds start to take root. The surrounding scenery comes to life with new sprouts and blossoms. The warmer temperatures are here to stay for a while.
Most post-frame builders kick off the new year with a lower backlog, meaning they have more flexibility to get on the job site and meet your timeframe. With fewer pole barns being built, your Project Manager (PM) will have more time to focus on yours.
However, you'll need to get a head start on the site preparation. Excavators are typically in high demand during this time of the year, especially since most people want their grade work and concrete ready for summer builds.
Moreover, springtime in the Midwest is notoriously damp. Having dirt or grassy building perimeter can lead to ruts, causing rainwater to pool. Construction crews are limited in flooded or muddy areas.
B) Summer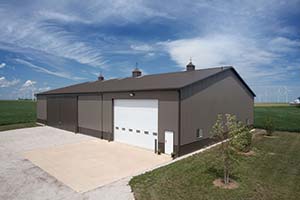 Summer is an ideal season for pretty much anything outdoor-related. Concerts, cookouts, sporting events, vacations, and you guessed it – post-frame construction.
Pole barn builders are very busy during this time of the year, so you can expect backlogs to be far out. If you want to construct your post-frame building during the summer, then you better reserve your spot in advance.
Furthermore, the warmer months experience fewer weather delays (aside from the occasional pop-up storm). The summer heat keeps your building pad dry and accessible for field employees.
Plus, you have plenty of time to pour concrete flooring or finish the landscaping around your pole barn.
C) Fall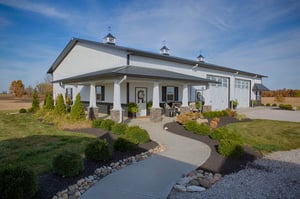 One could argue that fall is by far the best season for building a pole barn.
It's not too hot, not too cold. The average rainfall is lower than the summer months, and there's no need to worry about the ground freezing quite yet.
As a result, construction companies are still going strong. Customers want to put their post-frame building up before the end of the year. Excavation contractors are also sought-after.
Autumn provides a flexible start date for your pole barn project, as long as you're on top of your to-do list. Of course, the longer it takes to check the big-ticket items off, the tighter the deadlines will be.
Editor's Note: Overall, summer and fall are prime seasons for post-frame construction.
D) Winter
During the colder months, customers call our office or message us on social media and ask, "Can you build a pole barn in the winter?" The answer is simple – yes, you can.
It might come as a shock to some people because of the following misconceptions:
The ground is frozen. Sure, grade work (if not done in the fall) can be challenging, but it's possible.


The product quality is lower because construction crews are uncomfortable. This statement is 100% false. Our field employees bundle up and do not let the cold temperatures affect their work. Although inclement weather (e.g., ice accumulation and heavy snowfall) can cause delays, Mother Nature is outside their control.
Watch the video below to see how FBi Buildings busts the myths associated with building a pole barn in the winter.
Backlogs tend to be lower, and post-frame builders can complete projects in a timelier manner. Depending on the construction company, you can take advantage of their winter deals and save some money.
While you'll have to hold off on the outside curb appeal until springtime, you can spend the winter months finishing the pole barn interior.
3 Ways to Meet Your Pole Barn Schedule
We live in a society that thrives on instant gratification, so it's normal for customers to want their post-frame building completed as soon as possible. While scheduling is out of your hands, there are still three ways you can move forward with your pole barn project.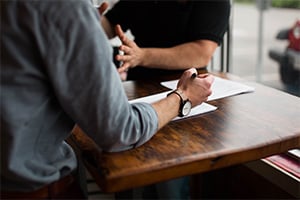 1) Secure Financing
First, you must consider how you're going to pay for your post-frame building. Some customers set money aside, while others need to explore their pole barn financing options.
Your post-frame builder should provide a list of lender recommendations. If they don't, we have you covered.
From there, you can ask the bank for a loan and discuss how long their approval process will take. Depending on the financial institution, a "green light" can take one week to one month. The timing varies by pole barn project and its complexities.
Regardless, post-frame construction won't start until the down payment is received.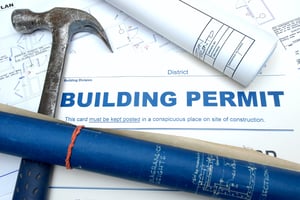 2) Obtain the Necessary Permits
Before you can start site preparation and pole barn construction, you must obtain the necessary permits. Unfortunately, there isn't a "one size fits all." It boils down to the intended use and location.
A building permit within city limits may have a different set of rules than the countryside. For instance, a farm shop has fewer steps than a retail business. However, each permit lists the setbacks, easements, building height, and lot coverage restrictions.
When you're ready to obtain the permits, you must complete an application and submit it to the appropriate office. At a minimum, you'll need to include the blueprint, site plan, plat survey, and a legal description of the property.
Be prepared to apply for multiple licenses. For example, you'll need different ones for putting in a driveway, hooking up to utilities, and building a pole barn during certain times of the year.
If approved, you will be charged a fee for the permits. You'll most likely pay with cash or check as some government offices don't accept credit cards.
Once the permits are issued, work on your post-frame building can begin. The paperwork must be visible on the job site and readily available for the inspectors. They analyze construction methods and building materials, verifying that everything is up to code.
Do you need help pulling pole barn permits? We recommend working with a post-frame builder who has proven experience in your area to minimize schedule delays and headaches.
3) Complete Site Preparation
Lastly, site preparation is the work done to your land before post-frame construction. This step includes finalizing the building location, gaining access to the job site, installing drainage, and more.
Again, excavators are in high demand during certain seasons. So you'll need to decide who is going to do the work and when.
Pad structure is critical, so we highly recommend downloading our "Site Preparation: Unlock a Successful Building Project" for more information.
Which Season Will You Choose for Pole Barn Construction?
Ultimately, whenever you choose to build your pole barn is up to you. Each season presents its advantages and disadvantages for post-frame construction. Our tips will help you meet your project goals, no matter the time of year.
---
Do you have more questions that are not covered in this article? If you need help designing and planning, please contact FBi Buildings at 800.552.2981 or click here to email us. If you're ready to get a price, click here to request a quote, and a member of our Customer Engagement Team will help determine the next steps of your project.