Subscribe
What Are the Advantages of Building a Post Frame Horse Barn?
Horse barns have come a long way over the last few decades.
At one point, horse barns were a simple wooden structure where the horses were kept safe at night.
Nowadays, horse barns are unique stick-built or post frame structures that have a little bit of everything no matter what kind of rider you are.
If you're a leisure rider who has horses just to ride in your free time, you might not need some luxurious post frame horse barn.
However, if showing horses is more your style, you might want a post frame horse barn that has more to offer.
No matter what purpose you need your horse barn to serve, the main goal is a structure that keeps your horses happy and safe from the outside elements.
If building a post frame horse barn is your dream, we've got you covered.
Continue reading to learn about the advantages and disadvantages to see if this dream is right for you.
What Is a Post Frame Horse Barn?
The terms "pole barn" and "post frame" are often used interchangeably and mean the same thing, for the most part.
When pole barns were first built, they got their name from the round poles that were driven into the ground.
In today's industry, laminated columns or perma columns, also known as posts, are now used in construction, hence the name post frame.
These posts are driven into the ground and secured by a precast concrete pad with uplift anchors. Columns support the roofing system, so no interior stud-walls are needed.
What Are the Pros of Building a Post Frame Horse Barn?
There are numerous advantages when it comes to building a post frame style structure.
Below are just a few advantages you can expect when building your dream post frame horse barn:
1) Swift Construction Timeline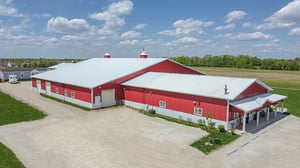 Post frame construction does not require as many materials as stick-built construction.
Therefore, your post frame horse barn can be erected much quicker than a traditional stick-built barn could be.
With advancements in the post frame construction industry, such as the Q-LYFT system, construction time can be cut even further with this system in place.
Q-LYFT allows our construction crews to do a majority of the work from the ground before the building is lifted.
Because of this, our crews can actually focus on the work being done instead of focusing on keeping their balance and not sliding off.
Construction is safer, more efficient, and quicker than ever before.
2) Numerous Flooring Options
There are 6 flooring options that could work best in your post frame horse barn:

1. Soil or Sand
2. Wood


3. Concrete


4. Asphalt
5. Interlocking Brick
6. Grid Floors

The best flooring for an indoor riding arena will be dirt or sand as this is the softest for horses to run on.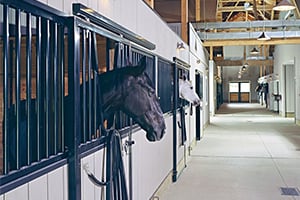 If you want to get creative in areas of your post frame horse barn where the horses can't go, you can spruce up a tack room or viewing area with a vinyl wood floor or brick pavers.
When it comes to your horses, it's crucial to take into serious consideration what they will be standing on all day.
Horses that are kept in stalls during the day will stand still for long periods on the flooring you choose, which can potentially be hard on their legs, and flooring will need to be carefully chosen.
You'll also want to consider how much maintenance and upkeep these floors will require over time. You want to spend as much time with your horses as possible, so the less upkeep the better.
Let's take a quick look at which flooring option is best for your post frame horse barn:
Soil or Sand
Leaving the soil or sand after construction is finished is great if you don't want to spend a fortune on flooring.
However, this option could require a lot of maintenance to keep the floor level for your horse. The soil or sand can also stay saturated for a while allowing your horse to dig and leave holes quite easily.
Wood
Wood was the standard option for flooring and is still a popular choice today.
It's easy on the horse's legs, doesn't require much upkeep, and treated wood can eliminate rot from drainage and rodents or bugs.
The downside to wood flooring is that it can be a costly option, especially if you have several horse stalls.
Concrete
Another popular option that is a common choice for riders is concrete.
It's not difficult to clean, it doesn't damage easily, and can be used throughout the barn in the aisles and tack room.
However, this option can be harder on your horse's legs, so it's imperative to have plenty of bedding laid for them to make the surface softer to stand on.
Asphalt
Asphalt is slightly easier on your horse's legs than concrete, and it's also less expensive.
The only problem is asphalt is prone to cracking, so you'll need to pour it thick enough to prevent this from happening.
This option might not be as good as a long-term solution.
Interlocking Brick
Brick or pavers might be the most attractive option, but they might be best for aisle and tack rooms.
Like concrete, the brick can be harder on a horse's legs, unless they have ample bedding or rubber mats to make it softer for them.
The grooves in the brick can be hard to clean, so maintenance is higher than most riders would like.
Grid Floors
Grid floors are rubber mats with a honeycomb shape that can be laid over dirt or sand.
Once the mats are laid, they are covered with more dirt or sand to fill in the gaps, and then shavings can be placed on top.
These floors offer ample drainage and are extremely soft for your horses to stand on.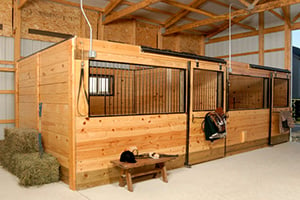 3) Energy-Efficiency
When it comes to energy efficiency, post frame construction offers significant advantages.
Studs in stick-built homes are placed every 16'' to 24'' on center. These gaps allow less space for insulation, which creates room for heat transfer (loss).
Whereas, pole barn columns are spaced 8' or more apart. Long spans of fiberglass batts or spray foam insulation can be placed in-between posts, resulting in fewer breaks (or air leaks).
Not only will you cut down on utility costs, but your horses will be kept cool in summer and warm in winter.
4) Less Exterior Maintenance
When it comes to maintenance, you'll want something that doesn't require much attention because you'll want to give all your attention to riding instead.
Pole barns are extremely sturdy and can withstand most damage that is thrown their way.
The metal panels that line the sides and the roof of your post frame horse barn are extremely hardy and won't require much upkeep.
If you have a horse that enjoys kicking and bucking, you can add 3 feet of plywood at the bottom to prevent the horse from kicking through the metal panels and requiring repairs.
You won't need to worry about the color fading, either, as our Kynar-500 paint system eliminates any fading or chipping of the paint.
Quality materials produce a quality product that will last for many years to come, but we'll talk about that more in a little bit.
5) Numerous Design Options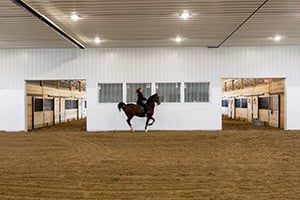 When it comes to designing your post frame horse barn, you won't feel like you have to give up on the style and features you want.
Here are just a few of the features that can be included in your horse barn:
Indoor

riding arena

Tack room
Wash bay for the horses
Viewing area
Hayloft
Space for an office
Sitting area/kitchen
To get a feel for what your post frame horse barn could look like, check out our Design Online Tool that allows you to see your vision in 3D.
With this free tool, you can design the interior of your horse barn and add in details such as hay bales and horses to get a feel for what size and shape pole barn you'll need.
6) Superior Longevity
As we mentioned before, quality materials create a quality product.
If your post frame horse barn is built correctly with structural integrity in mind, your pole barn will last 40-60 years to come.
Quality materials such as Kynar-500 paint, perma-columns, and stainless-steel screws will keep your post frame horse band structurally sound and looking great.
The less time you have to spend calling a post frame repair crew for repairs on your horse barn, the more time you'll have to spend riding your horses.
Is a Post Frame Horse Barn Right For You?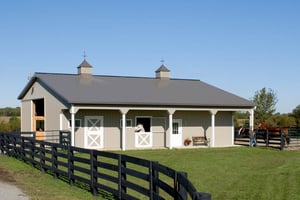 After reading the advantages of building a post frame horse barn, are you ready to grab hold of the reins and make your vision come to life?
We're not horsing around when we say we have over 60+ years of experience in the post frame industry and have the knowledge and competency it takes to build your dream horse barn.
Our post frame professionals are ready to saddle up and answer any questions you might have about the process, pricing, and overall experience you can expect during construction.
When you're ready to build, just give us a call and we'll be there to help you along your ride.
Just remember to always build with confidence.
---
Do you have more questions about post frame horse barns that aren't covered in this article? If you need help designing and planning, please contact FBi Buildings at 800.552.2981 or click here to email us. If you're ready to get a price, click here to request a quote, and a member of our Customer Engagement team will determine the next steps of your project.