Posts | News | Videos | Post Video | Farm Buildings | Repairs & Renovations
3 Reasons Why You Should Attend the 2023 Farm Progress Show

Subscribe
Cori grew up on her family's small grain and livestock operation in Northwest Indiana. In 2018, she graduated Summa Cum Laude with a Bachelor's degree in Business Administration & Marketing from Marian University Indianapolis. Having shown beef cattle for 12 years at the county, state, and national levels, Cori chose to pursue a career in agriculture. Today, she serves as the Marketing Content Creator on the FBi team. In her free time, Cori enjoys spending time with family and friends, watching sports, listening to live music, and traveling.
Wow, it's hard to believe it's been two years since we showcased our revolutionary QLYFT building system at the 2021 Farm Progress Show! And now, we're getting ready for another three full days at the nation's largest outdoor event in Decatur, Illinois.
For 70 years, the Farm Progress Show has been a beloved tradition for farmers and their families. Imagine learning about the latest agricultural equipment and technology with your parents or grandparents. They've instilled in you their passion and strong work ethic, and one day, you'll proudly carry the torch and pass it down to the next generation.
Ritual or not, this article discusses the three reasons why you and your family should attend the 2023 Farm Progress Show.
But first, you can take a trip down memory lane with us by watching this short recap video of the 2021 outdoor event.
So, What is the Farm Progress Show?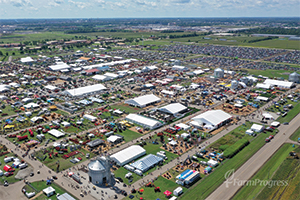 Every day, agribusinesses and manufacturers work hard to design and build products/services that will improve the agriculture industry. The Farm Progress Show is a platform for these forward-thinking companies to showcase their advancements while providing invaluable hands-on knowledge for farmers like you.

This one-of-a-kind event boasts an impressive lineup of 600+ exhibitors from around the world. They'll proudly display their newest machinery, seed and crop protection products, and a wide array of farm-related services and supplies.

Moreover, field demonstrations are a show staple. You can witness side-by-side tillage techniques to the latest advancements in global positioning systems (GPS) and get a chance to compare the different farm equipment performances.

Do you own livestock? Ranchers can get their hands on the newest cattle chutes, and animal health products, and learn cutting-edge handling techniques.

Furthermore, the Farm Progress Show wouldn't be an agricultural trade show without antique tractors and country music entertainment.

Fun Fact: The Farm Progress Show rotates between two permanent locations. Boone, Iowa, hosts the event during even-numbered years, while Decatur, Illinois, welcomes attendees during odd-numbered years.

This three-day extravaganza offers an unparalleled learning experience for hard-working producers like yourself.
3 Reasons Why You Should Attend the 2023 Farm Progress Show
1) Plan Your Next Post-Frame Building With Our Project Sales Consultants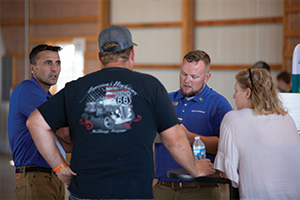 Are you interested in building a pole barn? If so, you must add FBi Buildings (Lot 167) to your itinerary.
The Farm Progress Show is the perfect time to speak with our Project Sales Consultants (PSCs) about building the ultimate farm shop, garage, machine storage shed, pole barn home, or horse barn.
Grab a copy of our agricultural, equine, or residential floor plans for pole barn design inspiration, all of which are fully customizable.
Not to mention, we'll have the following resources on hand to help you:
Our salespeople can walk you through our innovations that continue to raise standards in the post-frame construction industry:
If you need pole barn financing options, Anjie Erbsen will be on-site to explain how you can finance your new post-frame building with Compeer Financial.
2) Inquire About Our Special Pole Barn Prices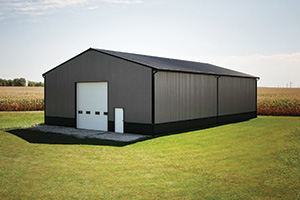 Unfortunately, pole barn costs and interest rates have fluctuated in recent years. As we gear up for the 2023 Farm Progress Show, we're excited to unveil our exclusive building specials in Illinois, Indiana, Iowa, Michigan, Ohio, and Wisconsin.
These limited-time offers are designed to meet your specific needs while keeping your pole barn budget in mind. Customers can take advantage of discounted pricing on the following post-frame building sizes:
30'x 40' x 10'
40' x 60' x 16'
48' x 88' x 16'
60' x 120' x 16'
90' x 160' x 18'
Even if you're not in the market for a new post-frame building, you can save 13% on ANY pole barn repair and renovation project, including:
You can also speak directly with PSCs about our quality building materials and extensive warranty coverage. They'll provide a personalized experience to help you decide whether to repair or renovate your pole barn or build brand new.
Our dedicated Repair & Renovation Experts have the knowledge, resources, and manpower to extend ANY pole barn's useful life or reconfigure it for a new purpose. Best of all, it doesn't matter who built the original structure!
3) Register to Win $25K Off a New Post-Frame Building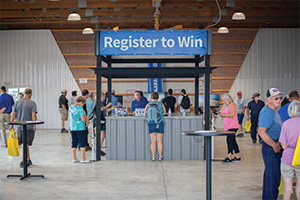 As always, we have fun giveaways in store for Farm Progress Show attendees. Join us (Lot 167) for a chance to win $25K off a new post-frame building! Please click here to read the terms and conditions.
If you can't attend the Farm Progress Show, you can register here or call (800) 552-2981 for more information.
One lucky winner will be announced on Friday, September 8th. Be sure to follow FBi Buildings on Facebook for updates.
But that's not all! We'll be giving away cool freebies to show-goers. It's the perfect opportunity to grab some FBi swag and learn about pole barn construction.
Will You Attend the 2023 Farm Progress Show?
Now that you have three compelling reasons, we hope you'll attend the 70th Annual Farm Progress Show on August 29th – 31st in Decatur, Illinois.
All are welcome to attend (you don't have to be a farmer). We look forward to seeing you there!
---
Do you have more questions that aren't covered in this article? If you need help designing and planning, please call FBi Buildings at 800.552.2981 or click here to email us. If you're ready to get a price, click here to request a quote, and a member of our Customer Engagement team will determine the next steps of your project.