Posts | Videos | Building Tips | Repairs & Renovations | Building Design
Can You Add Interior Finishes to Your Existing Pole Barn?

Subscribe
Cori grew up on her family's small grain and livestock operation in Northwest Indiana. In 2018, she graduated Summa Cum Laude with a Bachelor's degree in Business Administration & Marketing from Marian University Indianapolis. Having shown beef cattle for 12 years at the county, state, and national levels, Cori chose to pursue a career in agriculture. Today, she serves as the Marketing Content Creator on the FBi team. In her free time, Cori enjoys spending time with family and friends, watching sports, listening to live music, and traveling.
The beauty of post-frame construction is its flexible design to meet your building needs long after your pole barn is completed. In fact, it's not uncommon to renovate an existing post-frame building for a new purpose.
For example, farmers upgrade their cold storage building into an insulated farm shop. Homeowners transform their basic pole barn garage into a man cave. We've even had customers convert their tool shed into a barndominium!
As you can imagine, these renovation projects are complex. You're altering the original floor plan and intended use, which requires additional building materials and subsequent design loads (i.e., extra weight).
This article discusses the four factors to consider when adding interior finishes to your existing pole barn.
Remember to download our FREE checklist to help decide if this renovation project is practical.
Do you need design inspiration? Watch these short YouTube videos to learn more about the six ways to finish your pole barn interior. Don't forget to subscribe to the Post-Frame Channel for more helpful tips!
4 Factors to Consider When Adding Interior Finishes to Your Existing Pole Barn
1) Current State of Pole Barn Interior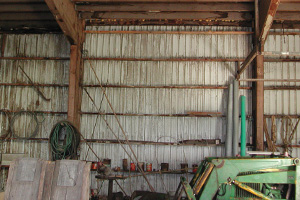 First, you must consider the current state of your pole barn interior.
If your belongings are stored inside, you must remove them for post-frame construction to take place. Our Repair & Renovation construction crews need the entire floor to prep your pole barn for a new interior finish.
Editor's Note: Your Project Manager (PM) will communicate their start date so you have time to move and store items out of the way.
Utilities, old and new, must be located within the post-frame building. Examples include electricity, gas (i.e., heating and cooling), and water.
Most pole barn builders specialize in the building shell. Therefore, an electrician or HVAC contractor will be hired to disconnect light fixtures, ceiling fans, central air conditioning systems, and furnaces.
Pole barn organization, like pegboards above your workbench or wall-mounted shelving, must be dismantled. You can repurpose these storage solutions once the inside of your post-frame building is completed.
Moreover, tracks will need to be removed by your overhead door company. Now is the perfect time to change your garage door size or style! Our Repair & Renovation construction crews will adjust the door header and jamb columns.
Do you have gravel pole barn flooring? We recommend pouring a concrete slab before our Repair & Renovation construction crews arrive. You can save money by renting smaller equipment. For instance, a rough terrain scissor lift costs double that of a lightweight one. (Source: Sunbelt Rentals)
2) Pole Barn Structural Integrity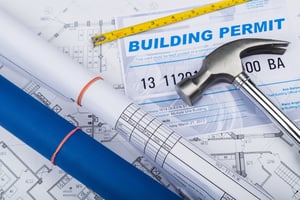 Now it's time to inspect your pole barn's structural integrity. The condition of your post-frame building will determine how you can finish the inside.
As mentioned above, adding an interior finish places extra weight on your existing pole barn. This post-frame building must withstand design loads without breaking. One "weak link" can cause significant structural damage.
The best-case scenario is to submit your original floor plan to a post-frame builder with an in-house design and engineering team. They'll review the blueprint to see how the pole barn was designed. Then, they'll re-engineer the post-frame building to support extra building materials without compromising the structural integrity.
If you misplaced the original construction drawings, an outside engineering firm can be consulted to determine if your pole barn will handle the added stress.
Furthermore, our Repair & Renovation Specialists can look over your pole barn with a fine-tooth comb. They will suggest repairing your post-frame building before starting a renovation project. Common pole barn repairs with older post-frame buildings include metal roof leaks, rotted columns, and sagging trusses.
Editor's Note: Ultimately, the purchasers assume the risk of finishing their pole barn interior.
3) Additional Pole Barn Project Scope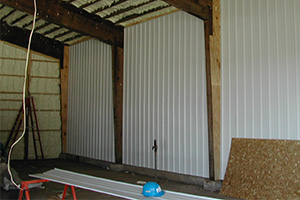 So, you've reinforced the pole barn structural integrity and removed all "obstructions" inside your post-frame building. Now, it's time to start hanging drywall, right? If only renovation projects were that easy.
In some cases, your pole barn interior may require additional work. For example, you may hire an electrician or HVAC contractor to install new utilities.
Most importantly, you may install building components that promote air circulation. If you cover your walls with an extra layer of [insert type of interior finish], your post-frame building must be able to breathe.
Installing overhangs and replacing your (outdated) aluminum ridge cap will pull warm air out of your pole barn roof and allow fresh air.
Updating your walk doors and windows will also improve ventilation and insulation inside your post-frame building.
Older pole barns with knee braces may require more labor as they're challenging to work around with an interior finish.
4) Scheduling a Pole Barn Builder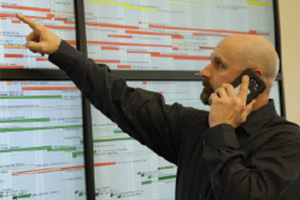 Lastly, you must determine how soon you'd like to finish your pole barn interior.
How flexible is your timeline for hiring a post-frame builder? Sure, a smaller contractor can work on your renovation project sooner, but the in-house engineering capabilities of a bigger builder are second to none. Not to mention, you'll need enough time to remove belongings from the existing pole barn.
Most post-frame builders are only responsible for the building shell, so you'll act as the General Contractor (GC). You must hire the following subcontractors: concrete, drywall, electrical, HVAC, overhead doors, plumbing, and whatever else you need inside your post-frame building.
For more information about lining up subcontractors for your pole barn construction project, we recommend downloading our FREE "General Contracting Your Post-Frame Building" guide.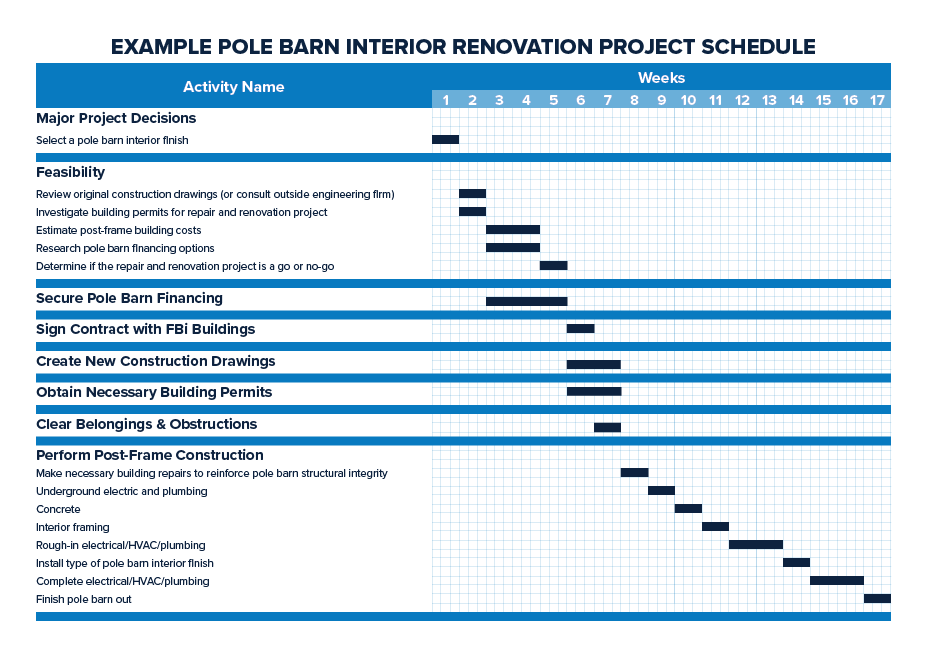 Editor's Note: This chart represents the duration of an average pole barn interior renovation project. The schedule for your post-frame building may be shorter or longer. Please note that delays caused by permitting complications or problems with subcontractors will cause this timeline to change.
Will You Add Interior Finishes to Your Existing Pole Barn?
Now that you better understand the complexity of finishing your pole barn interior, you can get started on this renovation project!
If you have any questions, our Project Sales Consultants can inspect your existing pole barn. Best of all, it doesn't matter who constructed the original post-frame building! Our dedicated team has the knowledge, resources, and manpower to extend ANY pole barn's useful life or reconfigure it for a new purpose.
Whenever you're ready, please call our corporate office at (800) 552-2981 to request a FREE pole barn repair and renovation quote.
---
Do you have more questions that aren't covered in this article? If you need help designing and planning, please contact FBi Buildings at 800.552.2981 or click here to email us. If you're ready for a price, click here to request a quote, and a member of our Customer Engagement Team will help you determine the next steps.