Building Construction | Posts | Structural Integrity | Comparisons | Repairs & Renovations
Pole Barn Renovation vs New Construction: Which One is Right for You?

Subscribe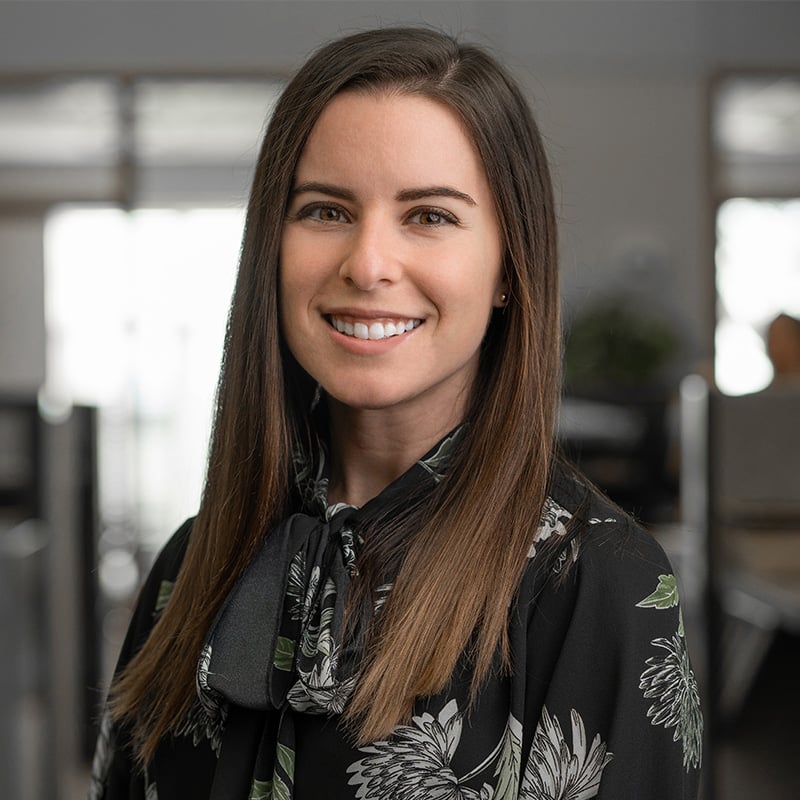 After working in the banking industry for 5 years after college, Courtney realized she needed a change and decided to pursue a new career path. Growing up she has always been creative and enjoyed writing, taking pictures, or painting. Now as the Marketing Content Creator for FBi Buildings, she gets to utilize her creative abilities in her everyday work. In her free time, you can find Courtney at home reading a book, partaking in any and all outdoor activities, or traveling and photographing her adventures. Courtney resides in Northwest Indiana with Lacey, her red tick coonhound.
Is your post frame building showing signs of age? Are prior repairs not holding up like they once did?
While we wish pole barns were invincible, that's just not how things work.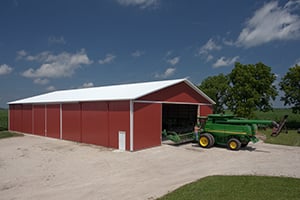 Because your post frame structure sits in the elements every day, building wear and tear is inevitable.
Some weathering is minor and won't impact your pole barn's structural integrity. Meanwhile, some aging can be destructive if not taken care of immediately.
So, how do you know if and when your pole barn is past the point of repair or renovation? Some signs are noticeable and can be spotted with ease. Whereas, other signs might be lingering underneath the surface.
During our 60+ years in post frame construction, we've learned a thing or two about the aging effects on pole barns.
Whether your building needs a little face-lift or complete overhaul, we cover the signs you'll need to be aware of before making a final decision.
Why Should I Invest in My Older Pole Barn?
Maybe you purchased a property with an existing pole barn, or already have a pole barn in the backyard that needs some TLC.
If your post frame building appears to be in good condition, why not fix it up? Investing in your older pole barn makes sense if: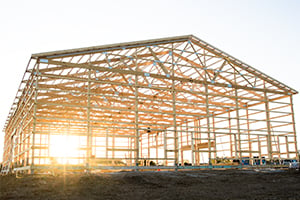 1) The wood framing is good.
Structural integrity is a critical component of post frame construction. If your pole barn isn't bowing, sagging, or lifting at any point, it may be salvageable.
Most of these issues can be seen by inspecting your building first. If you do see bowing in the trusses or the columns are lifting or settling, the next step would be to call your post frame builder.
These experts know to look for the wear and tear signs that can jeopardize structural integrity. If building damages are found, a pole barn builder with dedicated repair teams can fix the issues at hand.
If your building has structural damage that jeopardizes its integrity, it would be a good idea to weigh the costs to fix these damages as opposed to building new.
2) You don't need a new building.
Your pole barn may not look like it once did, but it works for you and your needs.
If you plan to utilize this space as a hobby shop, garage, or extra living quarters, you may want to consider a pole barn renovation – especially if the wood framing is good.
3) You don't want to spend a lot of money.
Building a new pole barn can be costly. If you're satisfied with the building size and purpose, why not consider renovating it to meet your needs?
Pole barn repairs and renovations can be a cost-effective solution for extending your structure's life cycle depending on what repairs are needed. Not only will your bank account be happy, but your post frame building will have greater longevity.
Sure, a brand new pole barn is a great way to ensure you get decades of use out of it. But, a simple renovation can have the same lasting effect.
How Can Pole Barn Repairs and Renovations Increase Building Longevity?
You can make numerous pole barn repairs and renovations, but there are two cosmetic actions that significantly extend your building's life cycle: re-roofing and re-skinning.
1) Pole Barn Re-Roof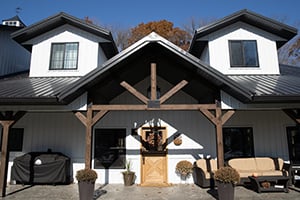 If your roof is leaking or showing its age, you'll want to consider replacing it.
A leaky roof can cause condensation, which can lead to the following moisture damage:
Mold growth

Lumber decay

Discoloring of equipment and furniture
Re-roofing can be a costly repair, but that doesn't make it a dealbreaker.
Installing a new metal roof on your post frame building can add 40+ years to your pole barn's lifecycle.
Note: Ask your post frame builder what type of fasteners they use in their building process.
For example, water will find its way around nailed-on roof steel. Whereas, some screw fasteners encapsulate the washer and form an "umbrella," which prevents roof leaks and rust.
2) Pole Barn Reskin
Metal siding tends to fade after being exposed to the scorching sun. Without a proper paint system, such as Kynar 500, ultraviolet rays can fade or chip pole barn colors to something less desirable.
A faded and rusty pole barn is unattractive. Therefore, reskinning is the perfect solution to give your post frame structure a complete makeover.
If installed properly, your siding can last 40+ years, doubling building longevity.
Altogether, replacing the metal roofing panels or siding adds much-needed curb appeal. All that's missing is a little landscaping. But that's another project for another time.
Why Should I Re-Roof or Reskin My Pole Barn When I Can Build New?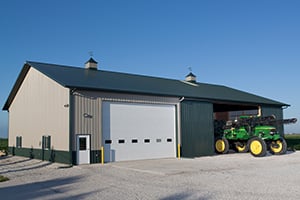 Now, you're probably thinking, "It nearly costs the same to re-roof or reskin my pole barn, so why wouldn't I build a brand new one for the same price tag?"
It's a fair question. But, it truly won't cost you the same amount of money.
Constructing a new post frame building sounds alluring, but there are other cost factors to consider (aside from the building shell):
Plus, there's the hassle of moving everything out of your old pole barn, finding temporary storage, and transferring it to the new space.
That's just the exterior work. Don't get us started on interior finishes.
When viewing the big picture, the cost of a new metal roof or siding doesn't sound too bad.
However, if your building repairs are more than just a few leaks, new post frame construction might be the best option for you.
How Do I Know When It's Time for a New Pole Barn?
Unfortunately, there will come a time when your pole barn is past the point of repair.
You must know what signs to look for, so you can take immediate action. Some signs are visible, while you'll have to dig for others...literally.
1) Columns are rotting.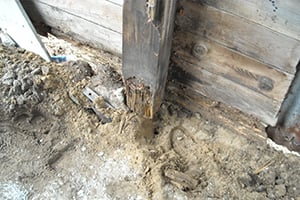 Wood, especially columns, are susceptible to rot and termite damage.
Inside, we recommend checking columns at the floor level. Outside, you'll need to dig 6''– 8" deep to expose the column at ground level. Both areas are known as the "decay zone."
As you inspect your columns, ask yourself the following questions:
Are the columns solid or soft?

Is the wood starting to crumble?

Better yet, is the column still there?
If you see any of the above signs, you'll want to give your post frame builder a call.
2) Roof purlins or trusses have water damage.
Look upwards and evaluate the state of each roof purlin and truss. These components play a vital role in the structural integrity of your pole barn. Ask yourself the following questions:
Do you see any signs of decay?

Are the water stains apparent?

Is there discoloration or black markings?

Have you noticed puddles on the ground?
These indicators will let you know if your pole barn has a leaky roof. Not only does water damage negatively impact the building components, but your (or your animals) health. Mold growth isn't something to take lightly.
3) Truss connection points are pulling away.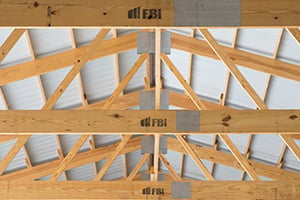 At critical points in the truss, the lumber should be joined with heavy-duty steel plates.
As you inspect the trusses, do you notice any of the following:
Are there any missing gusset plates?

Do you see joints pulling away from each other?

Are any of the truss joints broken?
Again, if you see any of the above, there's a good chance that weather-related issues caused structural damage.
Maybe the snow load wasn't calculated correctly. Perhaps, your pole barn endured high winds, which had a racking effect on the connection points.
When you see damages beyond repair, it might be time to consider constructing a new post frame building.
Will You Repair Your Existing Pole Barn or Build New?
After reading about pole barn repairs and renovations and new construction, do you know which route you'll take?
Both options may seem daunting at first, but your Project Sales Consultant (PSC) and our in-house engineers will be able to answer any questions.
As long as your pole barn is structurally-sound, you can't go wrong with either decision.
Just remember to always build with confidence.
---
Do you have more questions about pole barn repairs and renovations that are not covered in this article? If you need help designing and planning, please contact FBi Buildings at 800.552.2981 or click here to email us. If you are ready to get a price, click here to request a quote, and a member of our customer engagement team will help you determine the next steps of your project.