Subscribe
The Pros & Cons of Repairing/Renovating a Pole Barn in 2021
Posts | Building Tips | Repairs & Renovations
Now that springtime is here, homeowners are getting started on their outdoor projects.
The weather is now finally nice enough to spend time outdoors and truly focus on your plans for your home and your yard.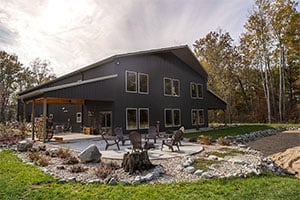 Some homeowners might partake in smaller projects such as new landscaping or a new deck to give their space a new look and feel while others might go all out and tackle something much bigger.
Something such as repairing or renovating that pole barn that's starting to look like it's seen better days.
The question is, "do I repair and renovate my post frame building, or am I better off just building new?"
It's a fair question to ask and one that we've got the answers to.
Given the current market trends we are experiencing, it's helpful to have the resources necessary to guide you through your pole barn process.
Keep reading to learn about the pros and cons of repairing and renovating a pole barn to see if this route is the best option for you.
How Do I Know If I Should Repair My Pole Barn or Build Brand New?
One of the first questions you'll want to ask yourself is if your pole barn is worth repairing and renovating or if it's safer to build a new post frame building.
If your pole barn has steel that is faded from the sun, rusted, or dented and cracked, you wouldn't need to build an entirely new post frame building.
A simple fix for this scenario would be to reskin your pole barn.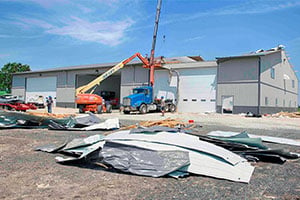 This option can be fun since now you can choose any color combination you want to truly make it your own.
The same goes for the metal roof, too.
If your roof is leaking because of cracked steel from some storm damage or is fading and rusted too, you can simply replace the roof to solve the problem.
Remember, if your roof has storm damage such as a fallen tree, it's a good idea to contact your post frame builder so they can determine if the structural integrity of your pole barn has been jeopardized or not.
If the trusses endured any damage from the heavy snow this past winter, it's crucial to get them replaced to avoid total structural failure.
In instances like this, there is the potential that repairing your pole barn could cost more than building new.
You can always talk with your post frame builder to get an idea of what repairing will cost you as opposed to building new.
What Do Current Market Trends Say About Repairing or Building A Pole Barn?
After the coronavirus pandemic hit last year, we saw some interesting trends happening in the post frame industry.
Lumber and steel commodity prices were extremely affordable which meant building a new pole barn could not come at a better time for some people.
Those that were wanting and able to build a post frame building jumped at the opportunity to make it happen.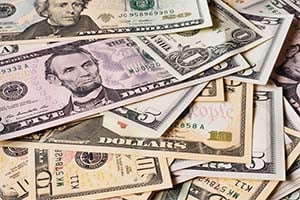 Along with numerous others who were also interested in building.
Once the economy started to open back up and money was flowing again, lumber and steel commodity prices began to rise at a fast rate.
Fast forward to today and not only are lumber and steel prices incredibly high, but we are also seeing a shortage of the two because of the high demand for them.
However, just like with any trend out there, this won't happen for long.
Eventually, we will see a break in the high prices, and building a new pole barn won't be a second thought.
Until that time comes, many customers are seeking to repair their existing post frame buildings.
In some cases, this option is the best route, but it might not be the best fit in others.
Let's take a look at the advantages and disadvantages of repairing and renovating to help you decide which route to choose.
Pros of Repairing and Renovating a Pole Barn
1) You Can Potentially Save Money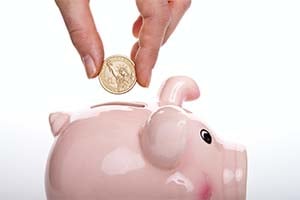 As we mentioned earlier, there are certain instances when repairing is more logical than building new.
These instances include:
Replacing rotted columns
Replacing an old roof
Re-skinning your pole barn
Fixing any leaks
Perhaps you want to transform your existing building into an event space or a place to gather with family and friends.
This can easily be done without having to alter the structure and rack up a large bill.
However, if you wish to add on or alter the structure in any way, you can expect to see a higher bottom line than you would with cosmetic changes.
If building new at this point in time is not a feasible option for you, repairing or renovating is a great way to ensure your post frame building is doing its job properly but without a hefty bottom line.
2) You Can Keep Your Existing Building
Do you have a pole barn you inherited with the house you bought?
Or perhaps you have a post frame building that has been in your family and comes with sentimental value.
If this building is structurally sound, why not repair it and make it your own for what you really want its purpose to be?
You'll save money by not having to demo the pole barn and pay someone to haul the old materials away from the site.
You can use it for extra storage space, a hobby shop for the hobby you picked up during the pandemic, or your own personal man cave or she-shed.
Not only will you get to keep your pole barn, but you'll get to turn it into what you envisioned or designed online.
3) Saves You Time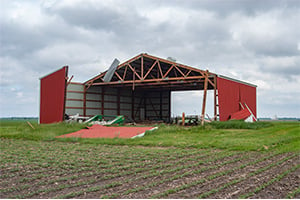 Most repairs do not require a lot of time or work to fix the problem.
Again, this is only if structural damage is not apparent for your pole barn.
Building a new post frame building could require a waiting period of a couple of months to a year, depending on its size and the backlog of post frame companies.
You'll save time by not obtaining permits, making decisions on a building design, site prep, and getting utilities all set up - all steps that require ample time and energy.
If you're in a bind and need a quick-fix, repairing just might be the way to go.
Some repairs could be done in a day or two while some might take a couple of weeks, so you won't have to wait long in order to enjoy your pole barn again.
4) A Permit Might Not Be Necessary
If you've ever built a house or a post frame building before, then you know how much of a hassle obtaining permits can be.
One of the good things about repairing your pole barn? No permits are necessary.
This is one less step you'll have to take which alleviates stress for you and gets the ball rolling much faster.
However, if you have plans to renovate your pole barn and expand for more space, adding on can potentially require permits.
Before you get started, it's a good idea to talk to your post frame builder or your local permitting office to see what you'll need in order to renovate.
Cons of Repairing and Renovating a Pole Barn
1) You Might Regret Not Building New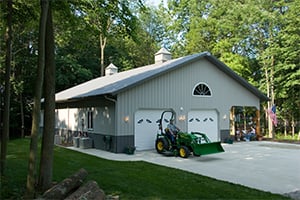 One issue you might run into is regretting not going all in and building a new pole barn.
Maybe you thought repairing or renovating would get you the vision you dreamed up, only to have it fall short in the end.
Sometimes certain post frame buildings don't always have the exact features you're looking for, or there are issues that are uncovered that end up costing you just as much as building new would.
To get an idea of what your pole barn would look like in real life, you can utilize our design online tool to see your vision come to life.
If what you've designed makes more sense than repairing or restoring what you currently have, do what your gut tells you so you don't have any regrets down the road.
2) Could Take Longer Than Expected
With the way the market has been over the last year and a half, there is a good chance you'll have to wait longer than normal to have your pole barn constructed.
Since lumber and steel commodity prices sank tremendously, post frame companies filled up their schedules and backlogs to accommodate for the uptick in building.
Because of this, and because of the unfortunate state of the economy, some post frame companies either don't have the hands to make it happen quickly or just have too many projects to get constructed ahead of your request.
If the repair needed is not detrimental to your pole barn's structural integrity, you might have a longer wait period to get the work done.
3) Unseen Surprises Could Be Uncovered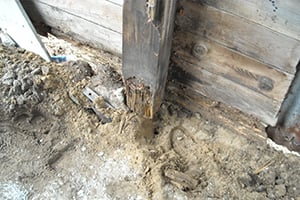 While your post frame builder is fixing the issue you called them for, there could be a chance they'll uncover something unexpected.
Perhaps when they're replacing your metal roof they notice some bowed or cracked trusses, or when they're replacing a metal side panel they notice some rotting columns.
These extra surprises you hadn't planned for can potentially cause more damage to your pole barn and to your wallet.
If the structural integrity is jeopardized, it's imperative to fix these issues, too.
This can cost you more money than you planned for and cause more stress and headaches.
Is Repairing or Renovating Your Pole Barn The Best Plan For You?
Now that we've talked about the pros and cons of repairing and renovating a pole barn, will you decide to take this route or will you decide to build a new one?
Regardless of which option you choose, our post frame professionals are here to help you every step of the way.
If you have questions that need answers you can give us a call and we'll walk you through every step of the way.
In the end, whether you choose to repair, renovate, or build new, we're confident you'll love the pole barn you've made your own.
Just remember to build and repair with confidence.
---
Do you have more questions about the pros and cons of pole barn repairs and renovations that are not covered in this article? If you need help designing and planning, please contact FBi Buildings at 800.552.2981 or click here to email us. If you're ready to get a price, click here to request a quote, and a member of our Customer Engagement Team will help you determine the next steps of your project.