Subscribe
Is a Pole Barn Addition Right for You?
Your pole barn or post frame building is key to your operation. Your day-to-day activities happen in this building. Your future generations will be working in this building. Or maybe, if you're in the commercial industry, your monthly income is dependent on this building.
But, what happens when the building gets crowded? What happens when you realize that you're running out of space? What happens when it finally hits you that this building just isn't big enough?
Don't worry...you're not alone. How do we know? Because we hear it all the time from our customers who didn't build their post frame building big enough the first time.
They have regrets with the size of the building they originally chose and they want to know how we can help them solve their problem...especially when building a new pole barn or post frame building isn't an option.
What's our answer to that problem? How do we help them navigate to find the best solution? We ask them the following question.
Is a pole barn addition, connection, or lean-to a viable option to give you more space?
If it's something you've never considered, maybe you should. But, where do you even start when considering this option? How do you even know it's the right thing for you to do?
Many times, adding square footage to your existing building proves to be a viable option.
It's always something to consider as an option when needing more space. There are many considerations to incorporate into your planning to prove the feasibility and cost-effectiveness of a building connection.
These guidelines will help you determine if a post frame building addition is right for you.
3 Guidelines for Pole Barn and Post Frame Building Additions
1. Clearly Define Your Uses & Objectives
The convenience of having your whole operation under one roof is compelling; walking even a short distance to another building can be a chore when it's pouring down rain or if there's a few feet of snow on the ground.
Others seek to maximize the flow of their operation through a connection since a stand-alone building could interrupt the flow of people or vehicles around their property.
Property constraints may also factor into your consideration of a lean-to or addition. With limited land to work with, you may be able to solve your needs with only a small amount of additional space through a connection or addition.
To help you define your objectives, ask yourself the following questions:
How much additional square footage is needed? (Consider a range)

How much interior clearance (headroom) is required for the addition?

What size doors will be required? (Width and height)

What (if any) hazardous materials will be stored?

Will the addition need climate control?
2. Determine Your Site Plan Layout and Building Footprint
The layout of your site has the largest impact on your options for where to add on to your existing building. Understanding permit requirements can be key to determining where you can place your addition; the addition must meet setback requirements from other structures and local regulations can vary widely.
Water drainage is key. Examining where existing roof water runoff currently goes and planning where the proposed building's water runoff will go is important to ensure that rainwater does not pool in or around your building.
Similarly, another water-related site concern is whether existing conditions will cause condensation in your connection. If you're building over a low point in the clay below the topsoil, water can pool under the floor of your building.
Finally, plan your site with the future in mind. Position yourself so that if you need additional space in the future, you have a place to expand yet still maintain and maximize your business site's flow efficiency.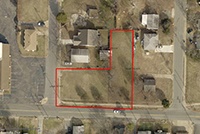 To help you determine your site layout and building footprint, ask yourself the following questions:
How will you access the building addition from the road?

What permits are required by your local governing bodies? (Setbacks, peak height, square ft.)

Is there potential need for more space in the future?

How will your site drainage be affected?

Is there existing concrete that can be utilized or any foundations that need to be removed?

Are there any utility lines or services that will limit options?

Does anything need to be removed from the site before construction can begin?
3. Understand How Your Building Will Be Affected By Your Addition
Understanding the ways an addition or connection can affect the structural integrity of your existing building is important, whether you decide to build with post frame, steel frame, stick frame, or a completely different option.
Lean-tos and new openings take special engineering consideration, as they have the potential to overload existing building components. Along with the new weight of the connection itself, the existing components need to support the extra load that the new roof will get in the winter from snow.
Your building addition will also affect the diaphragm of your existing building. Engaging a professional engineer helps to ensure that the finished building will maintain the structural integrity you need.
To help you understand how your building will be affected by your addition, ask yourself the following questions: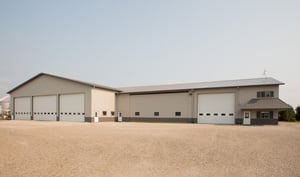 Are the building types different? (Connecting Post Frame to Steel Frame, Stick Frame, etc.)

What wall do you want to connect to?

What will the roof look like? (lean-to, valley, end-to-end connection, etc.)

Will the wall and roof lines match the existing building?

Is the shared wall going to remain for long-term use or will it be removed?

If it remains, will additional columns be needed?

If it remains, will the existing openings need to be moved or closed?

If it remains, will new openings in the shared wall be required?

If it remains, how will new trusses attach to the existing wall?

What are the strength implications if the existing wall is removed?

Is there plumbing, electrical or HVAC work needed if the shared wall is to be removed?

Will the finish floor elevation need to match?

Will building components (siding, roofing, trims, colors, etc.) look right with the addition?
We get it...making a decision like this will take a lot of thought and consideration. You might even have to run this idea by other team players that you work with. One thing is certain...when you're ready to take the next step on your building project we will be ready to help.
Take the first step toward getting the space your operation needs and download the full list today. Our goal: to get you the space you need for your operation to succeed.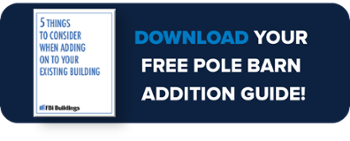 ---
Do you have more questions that are not covered in this article? If you need help designing and planning, please contact FBi Buildings at 800.552.2981 or click here to email us. If you are ready to get a price, click here to request a quote and a member of our customer engagement team will help you determine the next steps of your project.