Subscribe
FBi vs Borkholder Buildings: Who's Best for Your Project?
Posts | Building Tips | Comparisons | Pole Barn Builders
Our next builder comparison features Borkholder Buildings.
This post frame company constructs agricultural, commercial, residential, and equine facilities.
Their main purpose is "to provide people and businesses with green, attractive, and affordable building solutions through innovative engineering and applying quality components."
In this blog, we present the facts and strengths of each pole barn builder. Our goal is to provide you with a better understanding of how FBi compares to Borkholder before making a buying decision.
FBi vs Borkholder Buildings: 7 Key Differences to Look For
1) Customer Service
FBi Buildings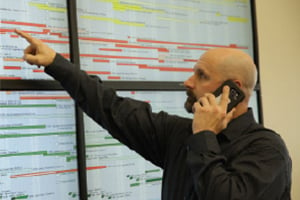 From the initial inquiry to the final call with your Project Manager (PM), FBi ensures that you're aware of every step involved with your post frame building.
Each customer is assigned their own Project Sales Consultant (PSC) that lives in their area.
Currently, FBi has PSCs spread throughout Indiana, Illinois, Eastern Iowa, and Southern Michigan covering their designated territories.
This arrangement allows your PSC to discuss your building needs in person, walk the property, and identify an ideal location for a new pole barn.
Once the contract is finalized and construction is ready to start, you'll be introduced to your Project Manager. They'll schedule crews, review building changes, handle payments, and answer questions.
FBi's Project Management team will outline your post frame project into four construction phases:
Processing

: An overview of your building project from the signed purchase agreement to the down payment. FBi will go over

site preparation

,

permitting

, and give you an approximate start date.



Design and Permitting

: FBi will follow up with you regarding your building permits and site prep updates. Your PM will review drawings and confirm the expected start date.



Pre-Mobilization

: Your PM will verify that site prep via inspection. If approved, the construction crews and material delivery will be scheduled.



Construction

: The final phase details the main milestones that will happen during or after construction.

Borkholder Buildings
Borkholder's customer approach differs from FBi's. Instead of working with a dedicated salesman for your post frame project, they have a network of independent, locally-owned dealers throughout the Midwest.
If you live near the Nappanee (IN) area, you'll work directly with Borkholder Buildings. If you live outside this territory, you'll work with the nearest dealer. These contractors have post frame experience and a good reputation within their communities.
Borkholder provides the following services to their dealers: pricing assistance, flexible floor plans, access to their licensed Design/Engineering team, construction manuals, and NFBA resources.


Who has the best customer service?
FBi wins this category for having dedicated PSCs and PMs who'll be able to spend their time on sold contracts and assisting you throughout the entire construction process. These dedicated employees will be able to answer your questions (or concerns) in a timely fashion.
In contrast, Borkholder's dealers are tasked with selling other building projects. It may be hard for them to complete projects due to their multiple roles.
Overall, both companies offer assistance every step of the way but in different capacities.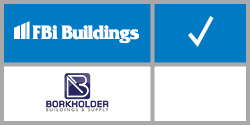 2) Service Areas
FBi Buildings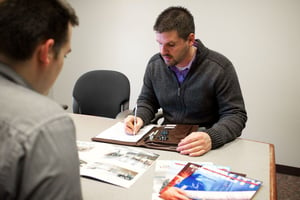 FBi is a family-owned post frame construction company that started in 1958. Their corporate headquarters is located in Remington, Indiana. During their 60+ years, they've been known as the preferred post frame builder in the Midwest.
As mentioned above, their service area is limited to Indiana, Illinois, Eastern Iowa, and Southern Michigan.
Do you have a unique building project outside of their territory? They'll pursue other options to see if it's feasible for them to be your post frame builder.
Borkholder Buildings
Borkholder is also a family-owned and operated construction company. Since 1962, they've "designed, engineered, and supplied buildings" in Northern Indiana.
Their corporate headquarters is located in Nappanee, Indiana. This location includes their lumber yard, truss plant, and delivery fleet.
As mentioned above, their independent dealers are scattered throughout the Midwest. To find the nearest one, you'll need to contact their office.
Moreover, Borkholder has built in or exported building materials to the following countries:
Belarus
Canada
China
Haiti
Honduras
Moldova
Ukraine
Their Global House division designs pole barns for "hurricane, flood, and earthquake-prone areas of the planet."
Who has the best service areas?
Both post frame companies service select counties in the Midwest. However, Borkholder gets a nod for being involved with international projects.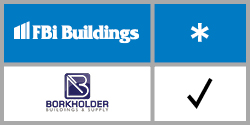 3) Pole Barn Materials
Steel
FBi Buildings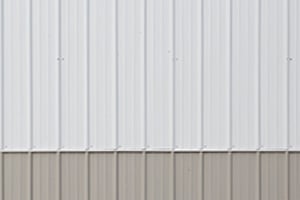 FBi's metal panels are 29-gauge, heat-treated, full-hard, high-tensile steel with a minimum yield point of 80,000 PSI (pounds per square inch). That's 60% to 78% higher than what's commonly used.
A higher yield contributes to overall steel strength and improves the structural integrity of your pole barn by providing greater resistance to impact damage.
Their post frame buildings feature galvalume steel (roof and walls) coated with aluminum-zinc alloy by a continuous hot-dip process. This coating consists of 55% aluminum and 45% zinc, with a small silicon dose for fighting corrosive elements.
Depending on your pole barn colors, FBi will use galvanized steel panels on their walls. Unlike galvalume, galvanized metal is subject to corrosion once the coating wears off.
Borkholder Buildings
Borkholder works with the same metal manufacturer as FBi to install 29 gauge/80,000 PSI high-tensile steel.
Who has the best steel?
Both construction companies are equal when it comes to the type of steel being used. Therefore, this section is a tie between FBi and Borkholder.
Wood
FBi Buildings
The type of wood that FBi uses is dependent on the building design.
For example, if you're interested in a cold storage building with large clear-span trusses, then FBi will use Machine Stress-Rated (MSR) lumber. Each piece of MSR lumber is tested for stiffness and strength before installation.
FBi uses #1 Southern Yellow Pine (SYP) lumber for post frame projects that require smaller trusses.
Borkholder Buildings
Borkholder's wood selection process is similar to FBi's. Their lumber yard is stocked with #1 SYP.
This type of wood is well-known for its strength, durability, and adaptability. Plus, Southern Yellow Pine is an economical choice for post frame construction.
Their post frame buildings feature solid sawn I-joists. This framing lumber is assembled "under climate-controlled conditions, resulting in dimensionally stable lumber with low moisture content."
Who has the best wood?
Although they both use #1 SYP, FBi has a slight edge over Borkholder. They use MSR lumber throughout their pole barns, which consistently reinforces building rigidity.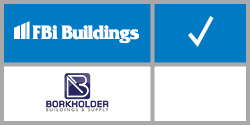 Screws
FBi Buildings
FBi uses a stainless steel capped, self-sealing screw. The screw fastener encapsulates the sealing washer to protect it from the elements and improve aesthetics.
The washer maintains its seal and is more reliable than commonly used neoprene; thus, offering superior heat, cold, weather, and ozone resistance.
Borkholder Buildings
Borkholder installs inner-drive Torx head screws with a driver. This type of fastener works well with thinner metals. Furthermore, they're low profile, meaning they won't stand out like a sore thumb.
Who has the best screws?
FBi is the better choice because all of their screws are stainless steel. Each screw head forms an "umbrella," which protects the washer from harsh elements and deterioration. This defense layer provides a long-lasting seal against leaks and rust.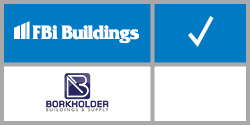 Trusses
FBi Buildings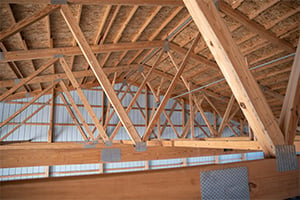 FBi's trusses are manufactured by their in-house truss plant and engineered specifically for your pole barn.
Their truss plant is regularly certified by a third-party inspection service (e.g., Truss Plant Institute) to ensure the quality fabrication of all trusses.
The lumber used to build the trusses are joined with heavy-duty steel plates.
FBi's trusses are interlocked – not just attached – to the laminated columns with structural screws. It provides the same strength as bolts, but for less money.
Moreover, FBi is the only post frame builder to screw roof purlins onto the trusses. Testing has proved that screws provide greater uplift resistance than nails.
Typically, purlins are spaced no more than 24'' on center. The spacing and orientation depend on how far apart the trusses are spaced.
Borkholder Buildings
Likewise, Borkholder has an in-house truss plant. They exclusively use #1 SYP for its structural advantages. This lumber choice "results in less bracing and quicker installation at the job site."
During their 50+ years in post frame construction, Borkholder has learned that coupling symmetrical designs with higher plating standards saves time and lowers installation costs.
In addition, they offer pre-nailed girders and pre-marked purlins for quicker assembly.
Who has the best trusses?
Both post frame companies fabricate their own trusses, but the nod goes to FBi. They incorporate MSR lumber into their trusses, which allows for longer and stronger spans.
Not to mention, their screwed-on purlins are a game-changer in the post frame industry. This fastener is less likely to be uplifted by forces, reducing the chances of rolled purlins and roof failure.
Paint
FBi Buildings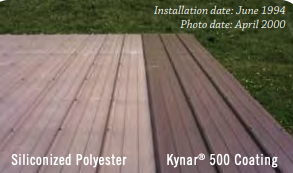 FBi's roof and wall panels are finished with the Kynar 500® paint system.
This type of paint is baked-on for excellent resistance to fading, chalking, or corrosion. Their panels are known to maintain their vibrant color for 40+ years.
Do you need help picking a color scheme? Check out these tips for selecting the perfect pole barn color combination.
Borkholder Buildings
Borkholder's steel panels are colored with Kynar 500 or Silicone-Modified Polyester (SMP).
Both paint systems are well-known applications, but Kynar 500 is preferred by metal manufacturers. It's a softer paint compared to SMPs, meaning it's less likely to fracture during metal manufacturing.
The final result is a durable structure that withstands abrasion, ultraviolet radiation, extreme weather, chemicals, and solvents.
Who has the best paint?
This category results in a tie between FBi and Borkholder as they both finish their steel panels with the Kynar 500 paint system.
Note: Borkholder charges extra for certain Kynar 500 colors, specifically Brite Red, Copper Penny, and Regal Blue.
Columns
FBi Buildings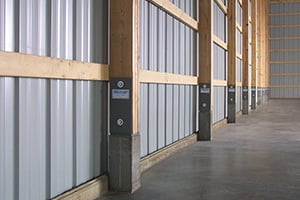 There are two types of ground contact when pricing your pole barn columns: Laminated Posts and Perma-Columns®.
Similar to their trusses, FBi creates their laminated posts in-house. These columns have greater longevity than solid posts. Each layer of lumber is completely permeated with wood preservative and kiln-dried. It prevents rot and termite damage.
But not all column treatments are equal. FBi uses columns that are treated with 0.80 lb./cu. ft. of Chromated Copper Arsenate (CCA) wood preservative. That's 33% more than industry standards, which you'll find at hardware stores and lumber yards.
Alternatively, you can opt for Perma-Columns, which are precast concrete columns sized to fit any laminated or solid post.
This solution is guaranteed to withstand insect damage, decay, and rotting. No wood goes into the ground.
Using 10,000 PSI precast concrete, Perma-Columns are 3x stronger than standard concrete. Then, the columns are reinforced with 60,000 PSI rebar welded to a ¼'' steel bracket.
Furthermore, Perma-Columns include microfibers to add shock resistance and durability. Microsilica enhances compressive strength and erosion resistance.
The corrosion inhibitor protects the rebar reinforcement and brackets from rusting. A final admixture is added for freeze and thaw protection.
Borkholder Buildings
Borkholder creates their nail laminated columns using high-quality materials.
Their posts are made out of #1 SYP treated with 0.60 lb./cu. ft. CCA and kiln-dried. The treated lumber is finger-jointed with untreated lumber until the desired column length is met.
Nail laminated columns are "straighter, stronger, lighter." They're less likely to crack or split. These advantages reduce labor costs and callbacks.
Similar to FBi, customers can upgrade to a more sustainable solution that is Perma-Columns.
Who has the best columns?
Both post frame companies use laminated posts made out of #1 SYP. FBi's columns are treated 0.20 lb./cu. ft. more, preventing rot damage and repairs. Borkholder's columns are finger-jointed, which provides a stronger connection compared to spliced. Plus, you can upgrade to Perma-Columns.
Ultimately, this category boils down to personal preference.
Doors
FBi Buildings
Sliding Doors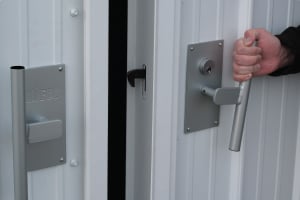 FBi's EasyMotion sliding door was introduced to the market in 2010. One of the perks included with this door option is the StepSaver Latch, which will save you time and energy.
No more running around to the walk-in door to disengage cam latches and snugger chains. You can get inside your building in less time. Just turn the key and grab the handle. It's that simple!
The EasyMotion door features the Posi-Guide Track. It's an exclusive weatherproof system that ensures your sliding door opens and closes smoothly all year round.
The guide doesn't collect rain, ice, snow, or debris (i.e., birds' nest and leaves). A unique low-friction polymer roller is protected behind and underneath the track. This interlocking system keeps the door snug to the building.
FBi offers the following center guide options for your sliding door:
Wood center door stub
Concrete center door stub (wet or dry)
Concrete apron approach (wet or dry)
Overhead Doors
Overhead doors aren't a standard feature on FBi pole barns. If you want to install an overhead door, FBi will work directly with their preferred vendors to get the style and size needed.
FBi's engineers will carefully evaluate the entire building system and specify the necessary foundation, column, and header sizes needed to carry out the anticipated loads for each door.
Borkholder Buildings
Sliding Doors
Borkholder is an authorized dealer for I-Beam Sliding Doors out of Chenoa, Illinois.
There are two options: E- and 100-series. They're "constructed out of lightweight aluminum I-beams for openings up to 48' wide and 20' high." I-Beam's door kits carry a 10-year warranty (110 mph winds).
Overhead Doors
Similar to FBi, overhead doors aren't a standard feature on Borkholder pole barns. They work directly with suppliers (e.g., C.H.I. Overhead Doors) to find the perfect style and size for your building needs.
Who has the best doors?
For sliding doors, FBi separates themselves apart from Borkholder with their Posi-Guide Track.
Again, this system sits off the ground, eliminating door jambs caused by debris. The door track is rounded and self-cleaning (no oil needed). It'll operate smoothly year after year.
I-Beam's door track is exposed, which can collect debris and cause damage. As a result, you may run into issues with opening and closing your sliding door.
If you prefer to use overhead doors, both companies can find the style and size needed.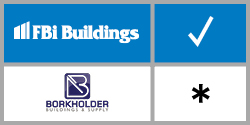 Windows
FBi Buildings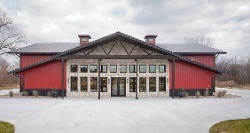 Believe it or not, there are many decisions to make when choosing windows for your pole barn.
The windows offered by FBi are energy-efficient and available in popular styles, such as:
Double-hung
Single-slider
Eyebrow
Half-round
Gothic
Full circle
Hexagon
Quarter-round
Borkholder Buildings
Borkholder works with suppliers (e.g., Pella) to provide high-quality windows for their customers. They're able to find the style and size needed for your building design.
Who has the best windows?
This category is a tie between FBi and Borkholder as they both offer windows with their pole barns.
However, we do offer one piece of advice...don't be afraid to shop around. Sometimes, you'll find similar windows for a lower price at the local hardware store.
Who has the best overall materials?
As for pole barn materials, FBi comes out on top. They win four out of the eight categories: doors, screws, trusses, and wood. Borkholder ties FBi with their columns, paint, steel, and windows.

4) Delivery
FBi Buildings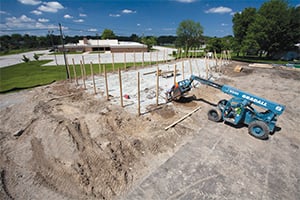 On the first day of construction, your building materials will be delivered on-site. FBi doesn't prefer to deliver materials beforehand and have them sit out in the elements until construction crews show up.
The building size will determine the type of equipment needed. Usually, FBi brings the following machinery to a job-site:
A semi for material and delivery
Gradall telehandler
Crew truck and trailer
Skid steer (if applicable)
Crane (if applicable)
Company-employed drivers deliver materials straight from their own lumber yard.
Borkholder Buildings
Independent dealers will receive building plans and material lists before delivery. Borkholder drivers and trucks will drop off the material packages at the job site.
This feature saves dealers "significant time and effort in ordering, delivery, and coordination of materials needed to complete the building project."
However, it's uncertain when these deliveries take place as we couldn't find their standard timing.
Who has the best delivery?
This category comes out to a tie as both companies will deliver your building components to the construction site.
Note: You will want to make sure your post frame builder delivers materials to the job site on the same day construction starts. Otherwise, those items could face adverse weather conditions and subsequent damage.
5) Construction
FBi Buildings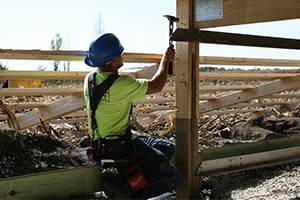 FBi's average crewmen have been employed for over 13 years. Experienced men make fewer mistakes, giving you a higher quality post frame building.
FBi has a Crew Management team of construction veterans who oversee/support foremen and their workers.
They have rigorous SafeStart safety training and Core 54 (apprentice carpenter training) programs that all crews have to complete.
In fact, FBi's safety program has won the NFBA's Gold and Platinum Level Achievement, as well as the Gail Miller Distinguished Safety Award. They've also won multiple NFBA Crew Foreman of the Year awards.
Borkholder Buildings
Your construction crew depends on your location. If you live in Northern Indiana, your building will be erected by Borkholder crews.
But, if you're working with an independent dealer, Borkholder will supply the material package. These contractors are responsible for finding their own manpower. Craftsmanship may vary.
Who has the best construction?
Both post frame companies provide construction crews, but the nod goes to FBi.
They have tenure experience between their field workers and Crew Management teams. Their resources, paired with direct accountability, is the best way to ensure quality performance.
Whereas, Borkholder's method may be harder to ensure quality hiring and training.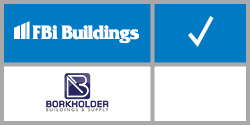 6) Warranty
FBi Buildings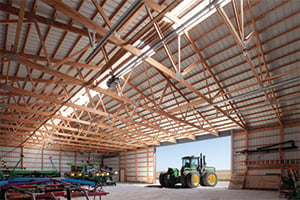 A pole barn warranty is a written promise to stand behind a certain product or service. All warranties are limited, and there isn't a standard one in the post frame industry. With that being said, you don't want to skim through them.
The following components are covered under FBi's warranty:
Columns (Lifetime)
Roof Structure (20 years)
Red Rust (15 years)
Paint (40 years)
Gloss Loss (5 years)
Roof Leaks (5 years)
Sliding Doors (Lifetime)
Borkholder Buildings
After researching Borkholder's website, it's unclear what their warranty covers (aside from sliding doors). For more information, you'll need to contact their office.
Who has the best warranty?
FBi wins this category for having a more comprehensive list of warrantied features made available to the public.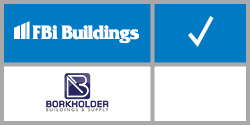 7) Cost
FBi Buildings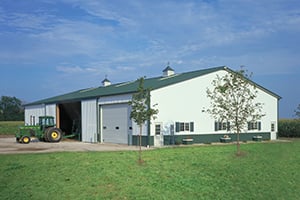 FBi is well aware that they aren't the cheapest post frame builder in the industry, but they're not the most expensive.
A standard pole barn shell can cost anywhere from $15 to $45 per square foot. Now, you're probably asking yourself, "Why is there such a big difference in price per square foot?" Here's why…
The following factors will determine if your pole barn is leaning towards the low/high side of the cost spectrum:
Total square feet
Type of features (e.g., overhangs, windows, walk-in doors,

steel liner packages

, etc.)
Current nature of the commodities market (e.g., the price of lumber and steel)
For example, adding a porch, cupolas, and numerous doors will push you closer to the $45 per square foot. If you want a basic 30' x 40' without the bells and whistles, you'll pay closer to the $15 per square foot.
Borkholder Buildings
Borkholder uses a computer pricing program (BBSprice) to calculate the "material cost, estimated labor hours, and suggested selling price." They'll also supply independent dealers with a pricing manual for easy reference.
Who has the best cost?
FBi and Borkholder are very comparable in price. Those both use high-quality materials in their pole barns. Sometimes, FBi is higher than Borkholder and vice versa. Again, multiple variables go into pricing your post frame building.
Who's Best for Your Post Frame Building Project?

Note: The star denotes personal preference based on the buyer. Please reference each section for specifics.
Every post frame builder has their advantages and disadvantages, and the final decision is solely up to you and your specific needs.
Borkholder Buildings is the way to go if you're interested in working with a local subcontractor who sells their building packages.


FBi Buildings is the right choice if you're looking to make a long-lasting investment with a more personalized sales experience.
If you're still unsure about what to do, we recommend checking out these additional resources:
We'd be happy to work with you on your pole barn project if you're located in Indiana, Illinois, Eastern Iowa, or Southern Michigan.
---
Do you have more questions that are not covered in this article? If you need help designing or planning, please contact FBi Buildings at 800.552.2981 or click here to email us. If you are ready to get a price, click here to request a quote, and a member of our Customer Engagement team will help you determine the next steps of your project.