Building Construction | Posts | Videos | Structural Integrity | Repairs & Renovations | Building Design
Can You Lift an Existing Pole Barn with the QLYFT Building System?

Subscribe
Cori grew up on her family's small grain and livestock operation in Northwest Indiana. In 2018, she graduated Summa Cum Laude with a Bachelor's degree in Business Administration & Marketing from Marian University Indianapolis. Having shown beef cattle for 12 years at the county, state, and national levels, Cori chose to pursue a career in agriculture. Today, she serves as the Marketing Content Creator on the FBi team. In her free time, Cori enjoys spending time with family and friends, watching sports, listening to live music, and traveling.
As a post-frame builder, we're frequently asked by potential customers, "Can you lift an existing pole barn?"
Typically, these customers are farmers who want to raise their post-frame building height to store larger farm equipment. For example, the evolution of a combine has grown since our parents and grandparents started farming.
Meanwhile, some homeowners purchase property with an existing pole barn garage. They want to retrofit the post-frame building to accommodate a taller boat or RV camper in the winter months.
In some cases, lifting the existing pole barn is a feasible and cost-effective solution compared to new post-frame construction. Why build a new pole barn when the current building layout meets your needs?
This article discusses the five factors determining whether you can lift your existing pole barn with the QLYFT building system.
Remember to download our FREE checklist to help decide if this renovation project is practical!
What is the QLYFT Building System?
In 2020, FBi Buildings officially unveiled the QLYFT building system to the post-frame construction industry. This construction method is an unprecedented way of building pole barns on the ground.
No, your eyes aren't playing tricks on you. We're building pole barns on the ground and raising them to the desired building height using hydraulic cylinders, I-beam frames, and scissor braces.
The QLYFT building system aims to improve construction crew safety and quality control.
Research and development for the QLYFT building system started in 2018, with the first model being assembled and tested in the same year. Our in-house structural engineers continue to perfect this building system to ensure high-quality pole barns while we transition from traditional construction methods.
However, the QLYFT building system isn't limited to new post-frame buildings. Our Repair & Renovation construction crews can use this building system to lift your existing pole barn to new heights (if it meets the criteria discussed in the following section).
For more information, we recommend downloading our QLYFT Building System Guidebook. This resource explains how the building components work together and answers first-time buyers' questions.
5 Considerations of Lifting an Existing Pole Barn with the QLYFT Building System
1) Current Pole Barn Height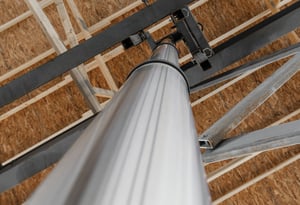 To use the QLYFT building system, an ideal pole barn height is 12 feet to 18 feet. We must be able to move our hydraulic cylinders, I-beam frames, and scissor braces inside your existing post-frame building.
The minimum pole barn height of 12 feet ensures that we can set up the QLYFT building system without hitting your trusses. Meanwhile, the hydraulic cylinders will lift the I-beam frames and scissor braces a maximum of 20 feet.
Editor's Note: Finish floor elevation is factored into the maximum pole barn height for using the QLYFT building system. We measure from the bottom of the grade board to the bottom chord of the truss to determine pole barn height.
2) Current Pole Barn Structural Integrity
Next, structural integrity refers to a post-frame building's ability to withstand anticipated loads without breaking. Any pole barn, regardless of building size and location, must be designed to resist vertical and lateral loads.
Anytime you change your post-frame building, you affect the load path and pole barn structural integrity. Below, we focus on the components impacted by raising your existing pole barn with the QLYFT building system.
Pole Barn Truss Spacing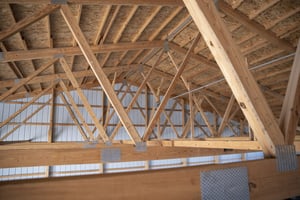 First, a truss is a rigid framework of wooden members designed to support a pole barn roof.
Trusses are comprised of a top chord, a bottom chord, and webs connected at the joints with plates. The truss profile, spacing, span, heel height, pitch, overhang, and web configuration depend on the building use.
At FBi Buildings, we use 8 feet on center trusses. However, some post-frame builders use 4 feet on center trusses.
Regardless of the original pole barn builder, we'll lift your existing post-frame building if it has at least 4 feet on center trusses. This spacing allows us to set up the tall hydraulic cylinders between the trusses.
Pole Barn Columns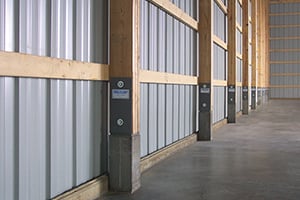 Second, a pole barn column supports the entire roof system. Columns, or posts, transfer all vertical loads to the footings and help walls resist horizontal loads.
Each post (laminated or Perma-Column®) was designed to carry the current structural loads.
Again, we're lifting the pole barn height by X feet, so we're applying additional weight to the building shell. Not to mention, we're adding more surface area for wind pressure to impact.
As a result, our Repair & Renovation construction crews will splice the existing column to extend the post. Unfortunately, this cut weakens the column strength, so we'll reinforce the post with extra ply or a metal plate on each side.
Furthermore, the end walls and side walls will carry additional wind loads. Depending on the building diaphragm, we may install shear walls to transfer lateral loads caused by wind pressure.
A shear wall is a piece of OSB or plywood between two pole barn columns. Typically, this building material is placed on the end walls.
Pole Barn Foundation
Third, every post-frame building must sit upon a solid foundation. This firm basis with proper footings supports the entire pole barn and its structural loads.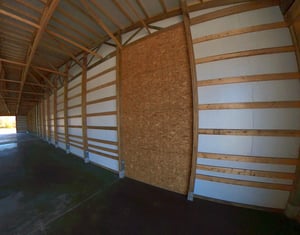 As mentioned above, our in-house structural engineers must evaluate the building diaphragm to determine if shear walls are needed.
A shear wall is a vertical diaphragm that transfers horizontal forces from the pole barn roof to the foundation.
If not installed, shear loads can cause racking of the end walls and overturn the post-frame building onto the foundation.
Editor's Note: Potential customers may be concerned that the QLYFT equipment will damage their existing concrete foundation. Weight-distributing footings are underneath each hydraulic cylinder to impose low stress on the slab.
3) Current Pole Barn Exterior
We must remove a portion of the pole barn exterior if you want to raise your existing post-frame building. Our Repair & Renovation construction crews will take off metal panels, flashing, trim, and attached fasteners.
Most importantly, we need to know the location of building features so we can dismantle and put them back together. Now is the perfect time to make the following changes to your post-frame building design:
Editor's Note: Some pole barn features, such as lean-tos and porches, will make it difficult for us to lift your existing structure.
4) Current Pole Barn Interior
Now that the pole barn exterior is uncovered, we can focus on removing the following interior finishes: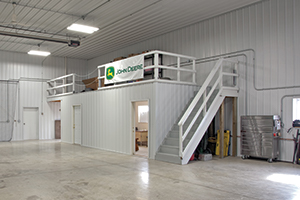 Of course, you can save these building materials for us to repurpose inside your raised pole barn. However, drywall (if installed) will need to be replaced.
Deck systems, or lofts, will be detached. You can adjust the height of this storage space or keep it as is.
On the other hand, partition walls will be challenging to work around. The QLYFT building system must be able to run the entire length of the post-frame building. You're better off demoing interior walls and replacing them entirely.
Finally, any HVAC system or electrical wiring that runs from your pole barn ceiling to the floor will be disconnected. That being said, you'll need to hire an HVAC contractor or electrician to re-establish a connection.
Editor's Note: Please remove your belongings from the pole barn to make room for the QLYFT building system and its components. Our Repair & Renovation construction crews need the entire floor to lift your existing pole barn. Your Project Manager (PM) will communicate their start date, so you have time to move and store items out of the way.
5) Current Building Location & Mobilization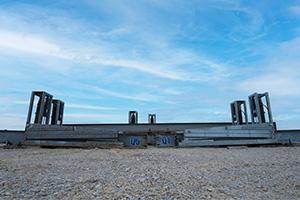 Lastly, we need to gain access to your existing pole barn with the following equipment:
QLYFT building system

Gradall forklift and skid steer

Construction crew truck and trailer

Portable restroom and dumpster
Then, we need a dry staging area for new and old building materials. A gravel driveway prevents mud and subsequent ruts when it rains. This type of perimeter access allows the Repair & Renovation construction crews to work in wet conditions and keeps your building materials clean.
Will You Lift Your Existing Pole Barn with the QLYFT Building System?
Now that you understand this renovation project better, would you still like to raise your existing pole barn with the QLYFT building system?
Sometimes the extra work is worth the cost savings in the end. Or you'll decide that building brand new is your best option.
If you have any questions, our Repair & Renovation Specialists can take a look at your post-frame building. Best of all, it doesn't matter which pole barn builder constructed the original structure!
Are you ready to request a quote? A sales team member will reach out to you within 1-2 business days.
---
Do you have more questions that aren't covered in this article? If you need help designing and planning, please contact FBi Buildings at 800.552.2981 or click here to email us. If you're ready for a price, click here to request a quote, and a member of our Customer Engagement Team will help you determine the next steps.