Posts | Building Tips | Building Design
6 Ways to Finish the Interior of Your Pole Barn

Subscribe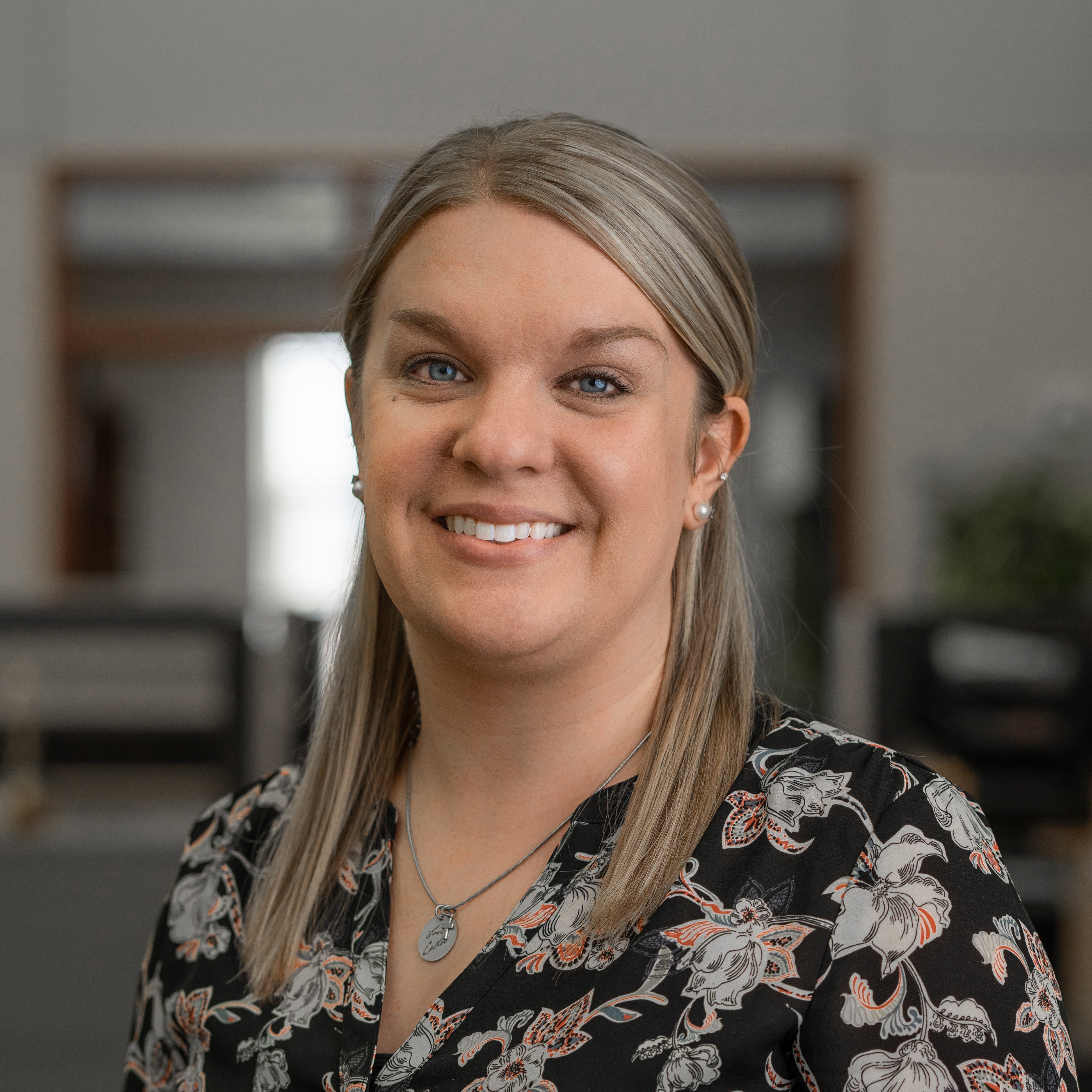 Angie graduated from Indiana State University with a Bachelor of Science in Interior Design. Prior to joining the FBi team, Angie was a kitchen and bath sales consultant in Lafayette, IN. In 2012, she started with FBi as the Inside Sales/Marketing Assistant. Today she holds the role of Sr. Marketing and Inside Sales Manager. Angie grew up in a farming community and has always enjoyed helping her family on the farm. A past 10-year 4-H Member, her passion for livestock pursued her to take a career in the agriculture field. She and her husband live in Northwest Indiana with their two daughters. In her free time, she enjoys outdoor leisure activities and spending time with friends and family.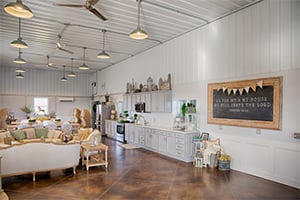 You're already aware that planning is the first thing you have to do when it comes to building a new pole barn or post frame building.
Specific post frame building styles, such as a farm shop, retail building, riding arena, or hobby shop, will determine how long the planning process will take.
Generally, the bigger the building, the longer the process. You can expect a lot of back and forth with iterations of different floor plans and pricing options.Before you're ready to call for a quote, you'll probably spend a lot of time figuring out what size you need, where you're going to place the building on your site, and what color combination you want for your walls and roof.
If you enjoy planning and designing, you've probably gone as far as making rough layouts of what you want the floor plan to look like. These are all great ways to start the planning process, but have you considered how you want the interior to be finished?
A pole barn doesn't have to be bare on the inside. There are numerous different ways that you can finish it, especially if you're looking to turn it into an office space or retail building.
If we know what your goals are for your space, we can make certain your building gets prepped for that (if it falls out of our scope of work), because we are not a full-service builder.
But don't let that stop you - just because we don't do all of the interior work doesn't mean we don't know general contractors to call.
Below, we'll take a look at the best time to build and the benefits you can reap from building during this period.
When is the Best Time to Finish My Pole Barn Interior?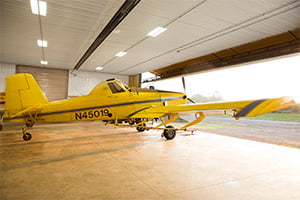 Believe it or not, but winter is the best time to work on the interior of your post frame building.
It doesn't mean the other seasons aren't a good time. However, the winter months provide significant advantages when finishing your pole barn interior.
Whether you have an existing pole barn or you're looking to build brand new, winter won't stop you from making changes to your building design.
Even though the wind is howling and snow is falling, you'll still be able to install pole barn insulation. You can run electrical wires and plumbing pipes into your hobby shop. You can even prepare your post frame building for a long-awaited concrete floor.
The best part of it all is that you can save money. Who could say no to that?
Typically, peak construction time in the Midwest is between April and December. During the lull season, some builders and general contractors might experience little to no work. Often, these builders and contractors will offer deals when the backlog is slow.
If you've been thinking about tackling the interior of your new or existing post frame building, then you'll want to continue reading this article.
Below, we detail the six of our most popular pole barn interior finishes. These materials are favorites with our customers, and we want to make sure you understand each one's benefits before making any final decisions.
6 Ways to Finish Your Pole Barn Interior
1. Plywood
If you want to work with a finishing material that's light weight and easy to install, we recommend using plywood.
Plywood is a good alternative to be considered if you're looking for a warm, natural look like the wood grain of plywood inherently brings.
So, if a man cave is what you have in mind, this might be a good option for you to select.
A rustic place to hang your stuffed waterfowl or deer heads doesn't sound so bad after all.
If you're comparing the pros and cons of plywood vs drywall, plywood is actually lighter than a sheet of drywall.
Another benefit to plywood is the ease of installation because it can be used naturally without the need for taping and finishing.
However, if you are wanting to spruce up the walls, some customers will apply a couple coats of varnish to help bring out the grain patterns, which provide a distinct and attractive finish if you prefer that style.
If you plan on using part of your building for storage, or even a mechanic area, we recommend using plywood for the walls. It's much stronger than what drywall would be (although drywall is easier to repair if it gets damaged).
But, with the structural strength that plywood offers, it's a good alternative to keep in mind if you know you're going to be hanging tools on the wall.
Do you plan on using shelves to keep all of your items in place? Another benefit of using plywood is not having to worry about finding a stud to nail hangers into. With the various strengths that come available, you don't have to worry about the risk of attachments falling off the wall.
PROS:
Many sizes and finishes available
Brings texture to the space
Can be used for finish work (e.g. painting, staining, etc.)
Does not remain swollen from water
Can be removed and replaced easily if damaged
CONS:
More expensive
Not as environmentally friendly

2. Oriented Strand Board (OSB)
Ironically enough, OSB and plywood are formed from smaller pieces of wood and come in large sheets or panels. However, that is where their similarities end.
OSB is made of many smaller pieces of hardwood and softwood mixed together in strands. While plywood is often 6 feet per sheet, OSB may be much larger, up to 12 feet per sheet.
The larger sheets may be a selling factor for some customers, but there is a downfall. OSB is not used for finished surfaces because it cannot handle paint or stain the way that plywood can. Therefore, it is generally installed beneath a finished material.
Speaking of installation, OSB is slightly more flexible than plywood, which has advantages and disadvantages depending on the setting and distance between the joists that are being covered.
PROS:
Cheaper
Larger panels available
Versatile with many uses
Can easily mount shelves or cabinets to the OSB
Can be removed and replaced easily if damaged
CONS:
Extremely absorbent
Swells with water
No finished appearance; cannot be painted

3. Drywall
Drywall is a great option if you're building a new post frame structure or remodeling an existing pole building.
Drywall installation for both ceilings and walls is common practice, especially if you're wanting to create a smooth, finished look.
So, it's only natural that most residential and office walls and ceilings are drywall.
If you know that you will be using drywall for interior walls in your building, we recommend letting your builder know before construction begins. The walls will need to be stud wall framed, and since they are not supporting a roof load, they can be placed wherever you desire.
Keep in mind that a pole barn will need insulation prior to the drywall installation so moisture does not rot the drywall. If you decide to skip this step (for whatever reason), and attach the drywall directly to the inside of the exterior post and beam walls, moisture will wick through the sides and the drywall will become saturated.
PROS:
Cost-effective
With drywall ceilings and walls, you can install recessed lighting and hang anything you want with ease
Fire resistant due to the gypsum which will prevent the fire from spreading
Gives your commercial or residential space a more high-end, finished look
Can be removed and replaced easily if damaged
CONS:
If drywall is water damaged, it must be replaced
Without plastering over the drywall, the surface is prone to damage

4. Steel
Steel liner packages can be carried out in two ways; either on your walls or on your ceiling.
This is easily the most popular finishing option that our customers choose because it helps enhance the appearance of your building, giving the interior a more finished look.
A steel liner package also protects the insulation and the outside walls. If your insulation is unreinforced, it can tear easily, and even the best reinforced materials can be damaged by sharp objects or power tools.
Although exterior walls can withstand a lot of punishment, forklifts and other heavy equipment can dent or even puncture them.
A steel liner that has been designed for your pole building will perform far better than plywood, and you'll start to notice energy savings more quickly than plywood or OSB.
PROS:
Helps reflect lights
Durable
Low maintenance
Can be removed and replaced easily if damaged
CONS:
More expensive
If damage occurs, will need a crew to replace the panels (depending on where the damage is)

5. Combination (Steel & Plywood)
A combination finish is extremely popular with our farm buildings, especially those customers who are looking for a farm shop or even a combination building.
They want to make sure their post frame building design incorporates everything they're looking for, which is a place to work on farm equipment and wash down implements.
One positive of using a combination finish is the ability to cut some cost to finish your building.
Sure, the more steel panels you add the more expensive your building is going to get. But, if you do a 60/40 split (like most of our customers do...60% steel, 40% plywood or OSB) then you will be able to cut down on some expenses.
This is also a good option if you know you're going to be working on a lot of equipment but won't need the entire shop area lined with steel.
Some customers will use the plywood/OSB portion of the walls to hang their tools or shelving so they don't have to worry about drilling holes in their steel.
PROS:
CONS:
Not a good option if you're wanting to keep a low budget
It steel gets damaged, rust could occur

6. Miscellaneous Finishes
Interior finishes are practically endless when it comes to completing your project. This is a good opportunity for customers to get creative with their building design to help it stand out from the rest of the crowd.
If you find yourself with scraps of building materials lying around that could be used as a finish, why not install and see how it looks? Some popular examples of creative, miscellaneous finishes are:
Pallet wood
Tin siding (grain bin siding)
Shiplap
Peg board
PVC Plastic
Designing your pole barn interior to fit your personality is what makes the building process the most fun. Don't be afraid to try something new; you just might start a new trend!

Which Pole Barn Interior Finish Will You Choose?
We've gone into depth explaining the six popular ways for you to finish your pole barn interior. Do you know which option you'd consider?
There's no right or wrong way to finish out the walls and ceilings of your post frame building. It's simply a matter of personal preference. That's the beauty of pole barns – they are custom designed to meet your personal needs.
If you feel unsure of which interior finish to choose, check out our Design Online Tool. This resource can be accessed from the comfort of your home. You can choose from different options to see which style will work best in your pole barn.
When you're ready to start finishing your pole barn interior, just give us a call. Our Project Sales Consultants are ready to discuss savings options that will help you get your dream post frame building.
Just remember to always build with confidence.
Resources:
---
Do you have more questions about interior finishes that are not covered in this article? If you need help designing and planning, please contact FBi Buildings at 800.552.2981 or click here to email us. If you're ready to get a price, click here to request a quote, and a member of our Customer Engagement Team will help you determine the next steps of your project.